On Newsstands Now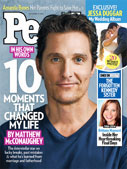 Matthew McConaughey: In His Own Words

Jessa Duggar's Wedding Album

Brittany Maynard's Final Days
Pick up your copy on newsstands
Click here for instant access to the Digital Magazine
People Top 5
LAST UPDATE: Tuesday February 10, 2015 01:10PM EST
PEOPLE Top 5 are the most-viewed stories on the site over the past three days, updated every 60 minutes
Picks and Pans Main: Song
Talking With...
How harshly should one judge the Rolling Stones? After all, their aging fans don't seem to mind that the group has been happily coasting on its reputation for years. Even by lax standards, however, Voodoo Lounge is nothing more than a rubber-stamp effort. Its rockers (particularly the opening triad, "Love Is Strong." "You Got Me Rocking" and "Sparks Will Fly") rely heavily on formula and 50-year-old Jagger's increasingly less believable me-so-horny lyrics. The album's gutsiest tracks, "The Worst" and "Thru and Thru," come from Keith Richards, whose gravelly, sage stylings are better suited to a rock-and-roll artist firmly entrenched in middle age. Die-hard Stones fans may be willing to accept another predictable album, but more discerning ones will wish that this legendary band, which has dabbled in disco and experimented with reggae, had tried to produce an innovative album, not one that preaches to the converted. (Virgin)
Sir Mix-A-Lot
Sir Mix-A-Lot's salacious shout-out to the glories of the female posterior, "Baby Got Back," sold more than 2.5 million copies and won him a Grammy in 1992. So it's not surprising that on Chief Boot Knocka' he still has behinds on his mind. Like 2 Live Crew's Luke, Mix-A-Lot specializes in bass-driven hip hop that's low on content and high on innuendo. But unlike some less clever rappers, Mix-A-Lot has a sly if predictably sexist wit and embellishes his fantasies with an oily charm that can only be called cheeky. (American)
Jack Logan
In this terrific—and aptly titled—debut, Logan crafts countrified ballads, down-and-dirty rockers, bluesy laments, folk-tinged testimonials and even a touch of punk. The only constants are his haunting, impassive vocals and straight-shooting lyrics. Like many good songwriters, Logan can simultaneously invoke the music of other artists—glimmers of everyone from Hank Williams to Derek & the Dominos abound—and still manage to display his absolutely distinctive sound. (Medium Cool/Twin/Tone)
L7
LA's grunge-heavy metal-pop queens L7 became critical darlings with their 1993 major-label debut, Bricks Are Heavy. Filled with revved-up rock and roll, its primary argument was that girls could make fun, stupid noise just like boys. But on Hungry for Slink, the initial rush of hearing female rockers go crazy has worn off. Although Hungry for Stink has its moments, most of the songs aren't particularly memorable and are hindered by bleating vocals. In the end, L7's latest effort simply proves that mediocrity cuts across gender lines. (Slash)
Harry Connick Jr.
Those who think that Harry Connick Jr. is little more than a piano-plunking Frank Sinatra manqué had better listen again: His latest album is closer in spirit and sound to a rollicking Louisiana Saturday night than an evening of Cole Porter's upscale pop.
Jazz and easy-listening purists who reveled in Connick's When Harry Met Sally...soundtrack need not fret, however. Connick's still VH-1 material—just funky, hyperkinetic and Cajun-spiced as well. (Check out that warped, slow-mo rap on "Follow the Music" and the playful groove of "That Party.") Even his take on rock music (the title song) recalls more Steely Dan's jazzy classics than Stone Temple Pilots' grunge anthems.
If Connick seems somewhat emotionally detached—She is ultimately a triumph of impeccable technique over soul—at least he's not stagnant. And if Tony Bennett can hang out with the Red Hot Chili Peppers, then Harry Connick can have his fun too. (Columbia)
>Harry Connick Jr.
THERE'S NO PLACE LIKE HOME, BUT BEing onstage comes close for Harry Connick Jr. "The only stage fright I ever feel is being too far away from it," says Connick, 26, in his thick Louisiana drawl. "That curtain goes up—it's the greatest. They have to use one of them big canes to pull me off."
The Crescent City piano man made his stage debut at 6, serving up the national anthem at his father's swearing-in as a district attorney. "I played and they clapped," recalls Connick. "I couldn't believe that they were clapping for me, so I started my second number. My dad was like, 'Whoa! Whoa! This is my day,' and pulled me off the piano."
Too late. Addicted to the applause, Connick began sitting in with local jazz bands during outings to the French Quarter with his father, Harry Sr., and mother, Anita, a small-claims-court judge who died when Connick was 13. Fifteen years after his auspicious premiere, Connick broke into the platinum circle with When Harry Met Sally...and is now enjoying a newly funked-up sound. "She is all the stuff I grew? up with," says Connick, who married former Victoria's Secret model Jill Good-acre three months ago. "I hope the fans aren't too surprised."
Connick has yet to find his signature tune, like Sinatra's "New York, New York." When it comes, it had better be good. As he says, "I don't want to be singing some song I hate for the rest of ray life."
Contributors:
Mike Flaherty,
Amy Linden,
Jeremy Helligar.
The Rolling Stones
Advertisement
Today's Photos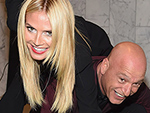 Treat Yourself! 4 Preview Issues
The most buzzed about stars this minute!