On Newsstands Now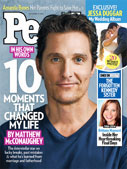 Matthew McConaughey: In His Own Words

Jessa Duggar's Wedding Album

Brittany Maynard's Final Days
Pick up your copy on newsstands
Click here for instant access to the Digital Magazine
People Top 5
LAST UPDATE: Tuesday February 10, 2015 01:10PM EST
PEOPLE Top 5 are the most-viewed stories on the site over the past three days, updated every 60 minutes
Picks and Pans: Pages
Talking With...
In 1907, on the eve of Aurora Carlington's dismissal from an English private school, she and three other girls swear a bond of eternal friendship that is tested repeatedly and finally broken in this meticulously observed period novel by one of Britain's most talented young writers. Saunders strings a tightly narrated story between a series of letters written by Aurora to her daughter ("There we are, the four of us, faded to sepia in the photograph.... Caught for all lime in clothes that have gone through fashionable and grotesque, and now merely seem quaint.") The novel also chronicles the plights of its heroines: Aurora, a politically headstrong Irish girl; Jenny, sedate and practical; Francesca, beautiful and naive; and the high-spirited, intellectual Eleanor.
Saunders exhibits a formidable knowledge of England's history and culture—the manners of its social classes, the rise of the suffragettes and the advent of socialism, all of which are overshadowed by the events leading up to World War I. The war is described with great vivacity, particularly the scenes that dramatize Aurora's stint as a battlefield nurse. Contrasting the tableaux of combat are tender, at times bawdy vignettes of these women's first forays into love and sex. Supple writing and infusions of wit and sarcasm burnish this 501-page novel with the sheen of a literary triumph. (Dutton, $22.95)
Edited by Stephen Ambrose
What they lack in sensational revelations—there are none—these journals of Nixon White House Chief of Staff H. R. "Bob" Haldeman make up for in fascinating details of the day-to-day workings of the American political system and the large-and small-minded people who run it.
The diaries—which begin in January 1969 and end in April 1973, just before Haldeman's resignation at the peak of the Watergate furor—seem to have been left intact by historian Ambrose. Haldeman never tried to lionize his boss, although he never really criticized the President either. In the early Watergate entries, which begin two days after the June 1972 hotel break-in, Haldeman shows little alarm, certainly nothing to indicate he knew what was in the can of worms that had been so foolishly opened.
Most intriguing are Haldeman's tales of bickering among Nixon insiders. There was endless petty squabbling between National Security Adviser Henry Kissinger and Secretaries of State and Defense William P. Rogers and Melvin Laird. Speechwriter Pat Buchanan once left an hour-long meeting with Nixon noting with embarrassment that he (Buchanan) had left his fly open the whole lime. Nixon himself comes across as much more compassionate than his public image, breaking into tears upon learning of the death of mentor Dwight Eisenhower and showing concern for the welfare of even low-level employees. Haldeman's meticulous detailing of the array of crises Nixon faced can also only generate sympathy for Nixon—or anyone who occupies the White House. (Putnam, $27.50)
by Anka Radakovich
Judging from this collection of her irreverent columns, Radakovich, 29, who is the "sexual affairs" correspondent for the quasi-hip men's magazine Details, believes that playing around is something that should also be played for laughs. Twice a year she convenes the Wild Girls Club, a gathering of 20 or so single girlfriends, in a loft in lower Manhattan. At these meetings, she reports, "nothing is too personal to say, and no one drinks 10 beers and throws up."
Instead the girls talk about men and sex. (Mentionable) topics include famous men they have slept with (Mickey Rourke was "really hot"; Matt Dillon is a romantic "sex maniac") and the fact that "a lot of guys think they deserve a supermodel, particularly the ones who look like a drooling Danny DeVilo."
The rest of the year Anka is on her own. In the line of duty she recruits "research boys" and test-drives assorted condoms and aphrodisiacs, spends a night at home ordering in from male escort services and tackles the perennial problem of men and their clothes. The raunchy, high-spirited Radakovich clearly loves her job. Who could blame her? (Crown, $18)
by Frederick Forsyth
You may think you never want to hear another word about the Gulf War, but this gripping fictional "inside story" from the creator of The Day of the Jackal combines derring-do entertainment with a political message. Forsyth apparently believes the U.S. and its allies were very lucky not to face biological, chemical or nuclear warfare, and he blames them for greed in letting a tin-pot dictator buy access to the technology of mass destruction. He implies that not even the massive, costly war to oust Saddam Hussein from Kuwait taught governments and global arms merchants that lesson.
There are passages when Forsyth shows off about the history of spying or whizbang technology. But mostly this is propulsive narrative. Forsyth's lone ranger is British major Mike Martin of the Special Air Service, dark enough and fluent enough in Arabic to infiltrate occupied Kuwait and then wartime Iraq. The author doesn't squander a lot of time on Hollywood-style romance; nobody loves Martin but the reader. This is a boy book. Action and danger are the kicks. (Bantam, $23.95)
by Tom Eidson
Beach Book of the Week
OKAY, SO LEATHERY COWBOY NAT Swanson (fleeing a posse across the New Mexican desert) and flinty old nun Sister Agnes (shepherding a passel of orphans) are right from central casting. And the tale of how they hook up and deal with an Apache attack is as straight as a Hollywood arrow. But public relations executive Eidson brings more to this lean, noteworthy first novel than a blend of Father Goose and Lonesome Dove (although Larry McMurtry is already at work on a screenplay).
Faith is the most powerful protagonist of this story. Sister Agnes believes Nat has been sent by God to save the children, and Nat bridles at playing angel, but by the end everyone has seen the light. Eidson's spare style and distaste for sentiment provide an added spiritual boost. (Putnam, $19.95)
>Kate Saunders
MORE SEX, PLEASE
BEFORE BRITISH AUTHOR KATE Saunders, 34, became a novelist, she was a successful actress who began her career alongside Oscar winner Emma Thompson in the Victorian stage melodrama Lady Audley 's Secret. "We both played men, best friends in suits with false mustaches," Saunders remembers. Emma went on to Cambridge, while Saunders landed a role in a soap called Angels and eventually joined Britain's renowned National Theatre.
Not that all went smoothly. "Having to take orders brought out the anarchist in me," says Saunders, who often got on the theater's "show report" list for misconduct. "I got on once for sticking my chewing gum on the proscenium arch before went onstage. And I used to start the final applause myself from the wings because I wanted to get to the greenroom bar before it closed."
Bored by rehearsals, Saunders began reading "everything from Shakespeare to Trollope to Dickens. Then I started writing to amuse myself." She penned her first novel, The Prodigal Father, at 18 and revised it until she sold it at the age of 25. Writing horoscopes, comic strips and fairy stories for children, Saunders quickly rose to writing book reviews and features for London's Sunday Times and judging Britain's Booker Prize.
Of her new novel, Saunders, who lives in London with "my sexy writer husband," Philip Wells, 42, and 15-month-old son Felix, says, "I love writing about sex. Someone once told me writing multiple orgasms was cliché, but I say they are not cliché, they are classic, like a Chanel handbag. You can't go wrong."
Contributors:
Joseph Olshan,
Ralph Novak,
Lisa Rusell,
William A. Henry III,
J.D. Reed.
by Kate Saunders
Advertisement
Today's Photos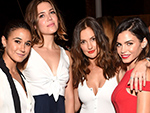 Treat Yourself! 4 Preview Issues
The most buzzed about stars this minute!