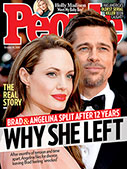 This Week's Issue!
People Top 5
LAST UPDATE: Tuesday February 10, 2015 01:10PM EST
PEOPLE Top 5 are the most-viewed stories on the site over the past three days, updated every 60 minutes
Picks and Pans Main: Tube
Tv Nation
(Fox, Thursdays, 9:30 p.m. ET)
A
This cop comedy was by far the funniest program of the new season last fall. And it was the lowest-rated one. Even news specials on healthcare legislation could get a higher Nielsen share.
Fox never gave Bakersfield lime to find an audience for this low-key satire of small-town life and other police shows. It was quickly put on "hiatus" (TV-speak for "get it out of our sight"), but now the network has generously decided to revive the program for a summer-run coup de grâce.
Bakersfield is Hill Street Blues meets Mayberry R.F.D.—with an attitude. Giancarlo Esposito stars as an African-American big-city cop who transfers to Bakersfield, Calif., a town of nearly 200,000 people about 100 miles from Los Angeles, and ends up working with a collection of the strangest yokels this side of Floyd the Barber. Among them is a partner raised on TV cop shows (Ron Eldard) and a captain (Jack Hallett) who can never make decisions, whether he's ordering lunch or a drug raid.
The jokes arc subtle, the show laugh-trackless; and in such episodes as this week's "There Goes the Neighborhood"—in which Esposito attempts to move into a white area—there are attempts to fold in a moral or two without getting pedantic about it.
This series is as funny as TV gets, which doesn't necessarily mean much for the show's future in a world where Full House is considered a valuable commodity.
USA (Thurs., July 21, 9 p.m. ET)
C+
There are TV movies you watch for exciting action or intimate character studies or superb acting. Then there's Snapdragon, a TV movie watchable mostly because it is so bad.
This is the unintentionally laughable story of a serial killer (Baywatch's
Pamela Anderson
) who is being courted by her shrink (Steven Bauer) and pursued by his cop girlfriend (Chelsea Field).
Consider Snapdragon a sort of Aaron Spelling version of a murder mystery, thanks in large part to Anderson's tendency to walk around pouting prettily and exposing a fair amount of her chest. Meanwhile, Bauer emotes with all the intensity of a dead carp. Field shows up occasionally to ask cop clichés: "Why are you so interested in this case?" And then there's the "surprise" ending that any daytime soap opera or '60s sitcom would be proud of (hint: think Samantha and Serena). All this silliness is played straight, adding to the camp quotient. The film is like a Twinkie: You know it's not good for you. And that's what makes it hard to resist.
(HBO, Sat., July 23, 8 p.m. ET)
B
There's just one problem with thrillers about international intrigue. It's often hard to make them thrilling. That's certainly the case in this well-made but uninvolving cable film. It is the true tale of Gerald Bull (Frank Langella), a Canadian scientist hired by the Iraqi Army to build the most powerful artillery piece in history. A renegade CIA agent (Kevin Spacey) and an Israeli spy (Alan Arkin) are out to stop him, while U.S. and British officials quietly encourage him to continue helping Saddam Hussein.
The story is fascinating. The acting, particularly that of Spacey and Langella, is compelling. However, the entire film is nothing but one scene after another of characters standing in rooms talking to each other. Sometimes they're happy. Sometimes they're angry. But they're always explaining everything they do before they do it. This makes The Doomsday Gun a literate movie, but also one of those films where reading the script would probably be more entertaining than watching it acted.
(Fox, Mon.-Tues., July 25-26, 8 p.m. ET)
B-
At least this documentary knows how to keep viewers from getting bored. When things start to get a bit slow, just throw in a few gruesome pictures of rubbed-out mobsters. This happens several times during this two-part, 4-hour program, which is co-executive-produced by Wiseguys author Nicholas Pileggi. There are lurid, fascinating interviews with aging mob figures and their relatives, offering details about the good old days when Al Capone and Bugsy Siegel shot up the streets. It's asking too much, though, to stretch it to 4 hours. The stories get repetitive, and as Loyalty and Betrayal goes from the American mob's immigrant beginnings to its present nadir, even the onslaught of photos of bloodied bad guys eventually loses its shock value. The biggest crime of all when telling mob tales is to kill your audience's interest.
(NBC, Tuesdays, 8 p.m. ET)
B-
Apparently this summer newsmagazine, created and hosted by filmmaker Michael (Roger & Me) Moore, is supposed to be a 60 Minutes for those who figured Spy magazine wasn't sarcastic enough. And to be fair, there are funny segments, such as those on a Minnesota prison without prisoners and pets who need Prozac, both reported by the always amusing Merrill Markoe. A past segment featuring African-American actor Yaphet Kotto trying to get a cab in New York City is also pure genius. Some good ideas, such as having CEOs of major corporations test their products on-camera, never come together because Moore seems to think he's much funnier than he is. Worse, the reporting on serious stories can be deceptive. A piece about AIDS patients who sell their life insurance policies to obtain spending money castigates the policy buyers without offering the point of view of any of the patients. A newsmagazine with a hip attitude is basically a good idea. A newsmagazine with a flip approach is not.
(David Hiltbrand is on vacation.)
The good news is that baseball has finally returned to free network television, courtesy of Major League Baseball's new deal with ABC and NBC (the game had been restricted to cable nationally until after the All-Star break). The bad news is that a potential strike could end the season prematurely. Should that happen, fans desperate for a sports fix might want to turn to talk shows, such as Montel Williams's or Jenny Jones's. These programs offer the same thrill as, say, pro wrestling. The host is the ringmaster; the guests are the bizarre combatants, taunting each other with ridiculous statements. The audience decides whom to root for. A league could be formed, with catchy team names such as the Cleveland Husbands Who Slept with Their Mothers-in-Law or the Seattle Hermaphrodites in Love with Convicted Killers or the Larchmont Bimbos Who Give Jenny an Excuse to Say "Threesome" in a Sexual Context.
Advertisement
Treat Yourself! 4 Preview Issues
The most buzzed about stars this minute!