People Top 5
LAST UPDATE: Tuesday February 10, 2015 01:10PM EST
PEOPLE Top 5 are the most-viewed stories on the site over the past three days, updated every 60 minutes
Picks and Pans Main: Song
Weezer
Sophie B. Hawkins needs to find herself. On the follow-up to her 1992 debut, Tongues and Tails, which spawned the Top 5 single "Damn I Wish I Was Your Lover," she seems to think she's every woman. Though Hawkins's new songs are crisp and catchy, when she starts switching personas—she's knowingly sexy one moment, sweetly innocent the next—and musical poses, Whaler becomes a puzzler. It's impressive that she can tackle bouncy hip-turners ("Don't Don't Tell Me No" and "The Ballad of Sleeping Beauty"), Deborah Harry mannerisms ("Let Me Love You Up"), ersatz drama ("I Need Nothing Else") and even a borderline show tune ("Mr. Tugboat Hello"), but her supple vocals, which sound a lot like
Madonna
in her early fluff-pop mode, aren't distinctive enough to make them all cohere. Whaler would be more satisfying if Hawkins had chosen one road and avoided detours. (Columbia)"
Velvet Crush
Choirboy harmonies, swelling choruses, fey romantic lyrics and loud-yet-melodic guitars—it sounds like Velvet Crush thinks their competition is the Beatles and the Byrds, not Biohazard and the Beastie Boys. On their second album (and their first for a major label), this Rhode Island trio looks back to the '60s for inspiration and comes up with sweet-rocking pop songs. "Faster Days" and "Time Wraps Around You" would sound swell in any decade. Even the group's version of "Why Not Your Baby" (an obscure gem by the late ex-Byrd Gene Clark) is everything a country-rock ballad should be. The members of Velvet Crush say they view songcraft as a sacred thing and, indeed, there is something divine about the group's pristine yet spirited approach to guitar pop. (550 Music/Epic)
John Pizzarelli
Try, just try keeping your seat when singer-guitarist Pizzarelli lets loose—backed by big-band bonhomie—with a galvanic "Fools Fall in Love." You'll fall in love on the spot. That goes just about double for Pizzarelli's propulsive cover of Rosemary Clooney's signature "Come on-a My House." Here is a Harry Connick Jr. without pretensions. What Harry can do on piano, John can do on guitar (as befits the son of Bucky). What Connick can do as a composer, Pizzarelli can do with equal flair. Witness the upbeat little charmer "I'm Your Guy": "I juggled fire in the carny/ Played some golf with Jack and Arnie/ Even wrote some songs for Barney." He displays a more tender finesse with his cover of "Beautiful Maria of My Soul," from the 1992 movie The Mambo Kings, and seems to know just how to work within the limitations of his slightly twangy, pleasantly nasal voice. Though the album flattens out toward the end—Pizzarelli lacks the emotional punch Tony Bennett brought to "Why Do People Fall in Love"—it's rescued by an infectiously swinging "Oh How My Heart Beats for You" with a Les Paullaced arrangement. Play it again (and again), Pizzarelli. (Novus/RCA)
Weezer
The moniker Weezer might possibly be a cruel nickname for the sickly kid in grade school who, after a long series of beatings from the cool kids, develops a twisted view of the world. The rock group Weezer is what happens when that kid grows up and learns how to play electric guitar in order to get even. This highly promising band comes across as a bunch of cool social misfits whose rock is fueled by a healthy dose of jaded attitude. The Los Angeles quartet's debut album, produced by the Cars' Ric Ocasek, would have been at home during the new wave days of the late '70s. No matter how rowdy songs like "No One Else" or "Surf Wax America" get, the melodies make them ingratiating rather than irritating. The catchiness also makes it much easier to listen to the wonderfully warped words, from an ode to a couple who look like Buddy Holly and Mary Tyler Moore ("Buddy Holly") to "In the Garage," wherein a lad proudly points out where he hangs his Kiss posters (especially the one with Ace Frehley). (DGC)
Contributors:
Jeremy Helligar,
Tom Sinclair,
Joanne Kaufman,
Craig Tomashoff.
Sophie B. Hawkins
Advertisement
Today's Photos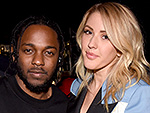 Treat Yourself! 4 Preview Issues
The most buzzed about stars this minute!