People Top 5
LAST UPDATE: Tuesday February 10, 2015 01:10PM EST
PEOPLE Top 5 are the most-viewed stories on the site over the past three days, updated every 60 minutes
Dying for a Medal
Gymnast Christy Henrich Starved Herself in a Quest for Perfection
A tragedy that Moreno and others say was precipitated by the sport itself. Henrich, 22, one of the nation's top gymnasts during the late 1980s, suffered from bulimia and anorexia nervosa, afflictions that seem as much a part of competitive gymnastics as leotards and back flips. Such famous gymnasts as Kathy Johnson and Nadia Comaneci have admitted to fighting eating disorders, which, according to a 1992 American College of Sports Medicine study, afflict 62 percent of females in sports like figure skating and gymnastics; 3 to 6 percent of the most serious of eating disorder cases end in death. Cathy Rigby, the 1972 Olympian who battled anorexia and bulimia for 12 years and twice went into cardiac arrest because of it, burst into tears at the news of Henrich's death. "I felt frustrated and angry," says Rigby, 40, who met Henrich as a TV commentator. "The sport is fertile ground for anorexia."
Indeed, gymnastics seems designed for the disease. According to Dr. Gail Vaughn, a licensed Missouri counselor who treated Henrich during the last year of her life, anorexia preys mainly on young women who balk at becoming adults and starve themselves to stay thin and girlish. This is a virtual description of what today's female gymnast—whose average size declined from 5'3", 105 lbs. in 1976 to 4'9", 88 lbs. in 1992—must do to stay competitive at the highest levels.
And yet Diane Stockard, one of Henrich's early coaches, warns against wholesale condemnation of the sport. Henrich, she says, was not the average gymnast. "All the variables were right for Christy to explode," says Stockard. "If you changed one of them, the bomb wouldn't go off. She was in a driven program. She had a supportive family, which can feel like pressure. She was judged on how she performed and how she looked—and she was a perfectionist; she saw things in terms of failures instead of small successes."
Growing up in Independence, where her father, Paul, owned a gas station and her mother, Sandy, was a homemaker, Henrich knew nothing but success in her early years. Al Fong, her primary coach since childhood, remembers the 8-year-old Henrich's first day at Great American Gymnastics Express, where she trained in nearby Blue Springs. "She was all smiles and confident," says Fong, "a real fireball."
Fong worked his charges 7 hours a day six days a week, and Henrich was his prize student. He called her E.T. for extra-tough, because she seemed able to endure any pain if it meant a shot at an Olympic medal, which for her was a possibility. In June 1986, at 13, she took fifth in the all-around at the national junior championships; in early 1988 she finished 10th at the senior nationals, considered a stepping-stone to the Olympics.
Yet Christy was already making comments that now seem significant. Says Fong: "She would say, 'Look at those skinny Romanians, look how good they are, look at those leg muscles and how much they show." Fong assured her that her muscles showed as well.
Then, in March 1988, after a meet in Budapest, Henrich had a critique session with a U.S. judge who, she later told Fong, had said Christy was too fat and needed to lose weight to make the Olympic squad. Her mother later spoke of the look of panic on her daughter's face when Christy repeated the remark to her.
Over the next several months, Christy shaved off several pounds, dropping her weight to 90. But her worst fears seemed to be borne out in August. She failed to make the 1988 Olympic team, missing by a heartbreaking 0.118 of a point on a vault in the compulsories.
Shortly afterward, Henrich bragged to Diane Stockard that she could exist on three apples a day. "My personal opinion is that [Christy's crisis] started right after the Olympic trials," says Stockard. "She saw herself as a failure at the trials, then she had a stress fracture and couldn't control her workouts. But she could control her diet."
Stockard was so concerned about Christy that she checked out library books on eating disorders and then talked with the teenager. "All the descriptions fit Christy," she says. "She was running in a sweatsuit in 95-degree temperatures, she'd lost muscle tone, she developed a paranoia that made her less sociable, and there were a number of illnesses and injuries. But I couldn't convince Christy that it was serious."
Because Henrich trained before and after school and was away from home from 4:30 a.m. until 9:30 p.m. daily, she could conceal her eating problems from her parents. When she did share a meal with them, she would eat heartily then go into the bathroom and vomit.
But Moreno, who had started dating Henrich in 1988 after meeting her at Fort Osage High School, was becoming concerned. A high school wrestler who had had an eating disorder of his own, Moreno suspected what Henrich was up to and confronted her. "She'd say she was eating more," says Bo. "I just didn't see her eat. I would tell her I knew she wasn't being honest, but I'd get so much denial."
It was not until late 1989 that Fong sensed the gravity of Henrich's problem. He noticed that when he went out to lunch with Christy and her teammates, Henrich would make excuses and leave the restaurant. "I realized she was only eating an apple or a salad, and not much of it," he says. After she had an uncharacteristic emotional outburst, Fong sat Henrich down and asked: Was she throwing up? Taking laxatives? "I had to pry the answers out of her," says Fong. "Then she cried and said, 'I had to do it to get thin!' "
That day Fong met with Henrich and her parents to talk about getting help. Fong says he found her a psychologist and a nutritionist. But she hated talking to them and, by the fall of 1990, stopped going to the sessions. Her deterioration continued. "She'd get so mad," says Fong, "she'd throw herself to the ground—it was scaring me to death."
After consulting with experts, Fong decided that in order to help Henrich, he had to take from her the thing she loved most—her training. He told her she couldn't come back "until she worked with professionals and got healthy." Henrich responded by retiring from the sport in January 1991.
In the months and years that followed, Henrich was hospitalized continually. "My life is a horrifying nightmare," she told a reporter last year. "It feels like there's a beast inside of me."
In December 1993, after a five-month hospital stay, Christy heard the recorded version of a song Moreno had written for her, called "I Believe in You." She put on 20 pounds in a month. "She cried and cried when she heard the song," says Bo. "She said, 'You saved my life.' "
Christy, in fact, seemed to be on the mend. "She called me around Christmas," says Irene Yohe, Christy's grandmother. "She wanted me to make her some mock turtlenecks to cover up her neck because it was so skinny. But I thought that was a good sign. She was getting out, asking for help."
Thus, the final relapse caught everyone by surprise—except the doctors. Dr. David McKinsey, who treated her during the last days, said that Henrich had passed "the point of no return." Christy had a general physical breakdown. Her body quit at the moment her spirit had decided to live.
On July 12, Henrich slipped into a coma. Two weeks later she was dead. "I only hope her death reaches others," says Erica Stokes, a former teammate and bulimic who was at the funeral, "that other girls get the message that starving to win is not worth it."
WILLIAM PLUMMER
PAM GROUT and BARBARA SANDLER in Kansas City, JOAN JENKINS in Houston and SUSAN CHRISTIAN GOULDING in Los Angeles
Contributors:
Pam Grout,
Barbara Sandler,
Joan Jenkins,
Susan Christian Goulding.
WHAT KEPT CHRISTY HENRICH going during the last year of her life was the thought of getting married. She had purchased a long wedding dress, which still hangs in a closet in her Independence, Mo., home. The gown had not been altered though. She and Bo Moreno, her fiancé of four years, had been waiting patiently for the time when the 4'10" gymnast's frightening weight loss would end and she would be healthy enough to fit the dress to her recovering body. But that was not to be. On July 26, Henrich, whose weight had plummeted as low as 47 pounds, died of multiple organ failure—the result of years of eating disorders. "Christy never could see that we loved Christy Henrich the person, not Christy Henrich the gymnast," says Moreno, 23, an electrician. "It was a needless tragedy."
Advertisement
Today's Photos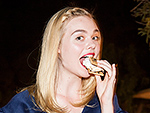 Treat Yourself! 4 Preview Issues
The most buzzed about stars this minute!