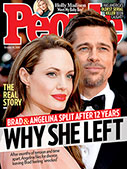 This Week's Issue!
People Top 5
LAST UPDATE: Tuesday February 10, 2015 01:10PM EST
PEOPLE Top 5 are the most-viewed stories on the site over the past three days, updated every 60 minutes
Heat of the Night
An Alabama Principal May Have Sparked the Furor That Destroyed a Troubled High School
The fire was caused by arson, authorities said. But few in this east Alabama hamlet (pop. 900) doubt that the match was struck back on Feb. 24. On that winter's morning, Hulond Humphries, principal of Randolph County High School for 25 years, had addressed the assembly and asked how many students planned to attend the upcoming junior-senior prom with dates "outside their race." When several teens raised their hands, Humphries snapped, "How would that look at a prom, a bunch of mixed couples?" Then he canceled the dance.
"Everybody was just stunned," recalls junior-class president Revonda Bowen, 17, whose mother is African-American and whose father is white. "I raised my hand. I said, 'Who am I supposed to take to the prom?' " Humphries, she claims, replied, "That's just it. Your mom and clad made a mistake having you as a mixed child." Several other students assert that Humphries then added, "I don't want anyone else to make that mistake."
Humphries, 56, retracted his prom ultimatum the next day and issued a statement explaining his remarks as prompted by concern over "the risk of disorder" at the dance. But many Wedowee residents—especially African-Americans—demanded that the part-time hog farmer and father of two either step down or be fired. He was suspended with pay for two weeks, but then the school board reinstated him without a public hearing. That prompted some parents, including Revonda's, to yank their children out of the high school and temporarily enroll them in "freedom schools" organized by two civil rights groups and held in two local African-American churches. Even so, Revonda and her boyfriend, Chris Brown, 19, went to the prom on April 23. The only mixed-race couple to show up, they were treated politely, she says, but were shocked when the crowd gave Humphries a loud ovation when he made his official entrance.
By then the Bowens had allowed the Southern Poverty Law Center, an organization famous for its successful civil litigation against factions of the Ku Klux Klan, to file suit in federal district court against Humphries and the seven-member school board on Revonda's behalf. The suit, claiming violation of her civil rights, was dropped June 21 when the board's insurance company decided to settle, awarding Revonda $25,000. "A lot of people are saying I just wanted money, but that wasn't it," says Revonda. "What Mr. Humphries did was wrong. He shouldn't be able to get away with it."
In May the prom incident prompted the U.S. Justice Department to move in federal district court that Humphries be ousted for violating antidiscrimination provisions of a 1970 desegregation-consent agreement. On the clay of the fire, the Southern Christian Leadership Conference, a prominent civil rights group, planned to demonstrate in Wedowee for Humphries' removal but canceled the march when state troopers informed them that members of the Ku Klux Klan were coming from Georgia to stage a counterdemonstration. Just hours before the demonstration would have started, the fire broke out.
Humphries, one of the first on the scene, joined others in trying to save whatever could be salvaged. Obviously distraught, at one point he shouted racial epithets at Bill Gill, an African-American TV cameraman. Gill says Humphries rushed him—a charge Humphries denies—and says he plans to take legal action. Two days later, the school board removed Humphries as principal and gave him new duties. He is now in charge of rebuilding the school—and of finding temporary quarters for most of its 680 students. "I don't think this is the end," says Charlotte Clark-Frieson, the only African-American board member. "I like to think of it as a beginning. I hope we all emerge as better people."
SUSAN REED
KATHY KEMP in Wedowee
Contributors:
Kathy Kemp.
MOST PEOPLE WERE IN BED when the phones started jangling in Wedowee, Ala., early on the morning of Aug. 6, but news of the fire engulfing nearby Randolph County High School spread as quickly as the blaze itself. Firefighters, residents, students and teachers rushed to the school, but even as flames were destroying the beloved 60-year-old structure, they were also rekindling black-white tensions that had surfaced at Randolph last winter.
Advertisement
Treat Yourself! 4 Preview Issues
The most buzzed about stars this minute!