Archive Page - 12/1/12 39 years, 2,080 covers and 53,257 stories from PEOPLE magazine's history for you to enjoy
On Newsstands Now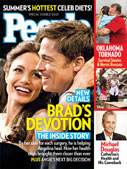 Brad's Devotion: The Inside Story

Oklahoma Tornado: Heroic Rescues

Michael Douglas on Catherine's Health
Pick up your copy on newsstands
Click here for instant access to the Digital Magazine
People Top 5
LAST UPDATE: Thursday May 23, 2013 09:10AM EDT
PEOPLE Top 5 are the most-viewed stories on the site over the past three days, updated every 60 minutes
New Cowboy in Town
Reborn NFL Player Barry Switzer Takes Over in Dallas
Hard to believe, but this is the same Barry Switzer who created such a ruckus in college football just five years ago. As the infamous former trail boss of the University of Oklahoma Sooners, it was Switzer who infuriated weaker opponents by confidently predicting his team would hang "half-a-hundred" on them, and who prowled the sidelines as if hankering to get in a few licks on his own. Switzer, alas, was also the guy forced to resign from college coaching in 1989, after a year in which several of his players seemed to be auditioning for America 's Most Wanted instead of the Orange Bowl. In a span of one month, Oklahoma footballers were involved in a shooting, a rape and selling cocaine. "I'll admit I was surprised when I was offered the [Cowboys] job," says Switzer. "But I also know I have always been a good football coach. I've always had the opinion that things work out for the best."
Time will tell. Cowboys owner Jerry Jones hired Switzer, 56, last March after his smoldering relationship with Jimmy Johnson, who had coached the Cowboys to back-to-back Super Bowl victories, finally went up in flames. "I've known Barry for four decades," says Jones. "I've always been impressed with his ability to I judge talent. This is a veteran team—Barry will let them-play and let them win." Starting this week—the Cowboys open their season against the Pittsburgh Steelers on Sunday—Switzer will have a chance to prove that he is more than a symbol of the owner's vanity run amok.
Reborn with a salary of $1 million a year, Switzer is already a testament to human resilience. His life reads like the down-but-not-quite-out lyrics to one of those country songs that pass for anthems in his native Arkansas. The new coach of America's team grew up in poverty in Crossett, Ark. (pop. 6,300)—out on the edge of town, in a shack without electricity or running water. He also had to live down the unsavory reputation of his father, Frank, who had ended up doing time as a bootlegger. "Among the kids at school," says boyhood buddy Bill Holder, now a paper-mill supervisor, "there were no bad feelings toward Barry. But their parents viewed him as an outcast."
Barry and his younger brother, Donnie, were outstanding athletes and students at Crossett High School. Still, says Donnie, 51, now a lawyer in Little Rock, "both of us spent most of our life running away from our background." Barry not only served as grist for local preachers' sermons, but he had to rely on his friends to pick up his dates. "It was no fun," he recalls, "to hide in the backseat while your friend went up to the front door."
But no one in the family had it harder than the boys' mother, Mary Louise, who spent her days reading novels and sinking deeper into a depression fueled by Frank's nonstop womanizing. In 1959, Barry was a senior at the University of Arkansas, where he was expected to center the offensive line. In his 1990 best-seller, Bootlegger's Boy, Switzer tells how on one fateful August night his mother tried to talk to him before he went back to school. But Switzer, seeing that she was "loaded on prescription drugs and booze," spurned her, turning his face away when she tried to kiss him. Mary Louise then walked out on the porch and shot herself.
"All she wanted was my love," wrote Switzer. "I have carried this guilt with me the rest of my life. I'll never be able to forget turning my face away."
Frank paid for his carousing 13 years later. He died in a flaming car crash while being driven to the hospital by a girlfriend who had shot him in the chest after catching him with another woman. "Psychologists have since told me that Donnie and I were raised in a totally dysfunctional environment," says Switzer. "We didn't know the meaning of the word stability."
If stability was what he was looking for, he found it in football. In 1961 he landed his first job, as an assistant coach under Frank Broyles at Arkansas. Two years later he married steady girlfriend Kay McCollum, with whom he has three children: Greg, 25, Kathy, 24, and Doug, 21. In 1964, coincidentally, he coached two men at Arkansas whose careers would intersect with his own: Jimmy Johnson and Jerry Jones.
Switzer moved to Oklahoma in 1966 and was soon in charge of the offensive line. In 1973, at 36, he was made head coach. During his 16 years in that job, Switzer won 157 games and lost only 29, posting the fourth-best winning percentage in college football history. He was ahead of his time in using African-American players in the so-called skill positions, notably at quarterback. Switzer, who has no truck with political correctness, says he learned back in Crossett, while playing basketball with his neighbors, that black athletes were generally superior to whites. "All I needed to know about physiology," he says, "I learned in the ninth grade."
While Switzer was known as an astute recruiter and a first-rate motivator, the key to his success, say his old players, was that he treated his team as family. "He made us work hard," says former running back Joe Washington, 40, "and he made us go to class. But he understood talent, and he let the kids be individuals. Maybe in a way he did have loose reins, because he always believed in giving kids a second chance. This was Barry's family, and you don't kick your kid out of the house after he messes up the first time."
But by 1988 it was Switzer who was messing up. Divorced since 1981, he developed a reputation as a party animal. He had even had an affair with the wife of one of his coaching assistants, Larry Lacewell, who promptly quit. (Whatever wounds were inflicted seem to have healed; Lacewell, currently the Cowboys' director of scouting, recommended Switzer for the head coach's job.)
In December 1988, the NCAA found the Oklahoma football program guilty of 20 infractions and put the team on three years' probation. Most of the transgressions were minor—such as scalping game tickets or paying for players' rental cars—but the NCAA action made the university skittish. Then in 1989, Switzer entered what he calls his career's twilight zone. In January one of his players shot and wounded another during an argument in the football dorm; eight days later three players were charged with raping a 20-year-old woman at a dorm party (one was acquitted); three weeks after that, starting quarterback Charles Thompson was arrested for selling cocaine to an agent during an FBI sting.
University administrators and the media charged that Switzer had lost control of his team. But why, Switzer asked, was he responsible for what his players did when they weren't playing football? "When I left Oklahoma," says Switzer, who feels he was hung out to dry by the university, "I knew I didn't want to coach college football again."
Switzer spent the last five years pursuing real estate and oil and gas investments, getting closer to his children and, to set the record straight, writing his book. He took a job as a radio announcer for University of Arkansas football games so he could watch Greg—then a linebacker, now an aspiring concert pianist—play every week. He grew close to Kathy, who was studying at Oklahoma, and gave pointers to Doug, a sophomore quarterback at Missouri Southern State College.
Meanwhile, Jerry Jones had bought the Cowboys, hired Jimmy Johnson and begun the clash of high-powered egos and wills that concluded with Jones inviting his old Arkansas mentor to try his hand again at coaching—this time with professionals.
So far, Switzer is glad he said yes. He is slowly winning over the players. "I think everyone is beginning to see that Barry is a pretty good guy," said all-pro receiver Michael Irvin, who was furious when Johnson was replaced.
But the new, laid-back Switzer is not going to get into a lather over matching Johnson's Super Bowl success. "If I lose, I'll just be some damn Okie," he says. "If I win, I'll be treated as a native son. I'm not paying any attention to any of it, because, no matter what, I'll still have my kids that love me." Then, with that old cockiness, Switzer adds, "Hell, I plan to win three or four Super Bowls before I'm through."
WILLIAM PLUMMER
DAN McGRAW in Dallas
Contributors:
Dan McGraw.
THE GREATEST FOOTBALL TEAM ON Earth is practicing up a storm at sweltering St. Edward's University in Austin, Texas. Helmets are cracking, and 300-lb. athletes are gasping for air, but the new head coach of the Dallas Cowboys is calm and collected, if not exactly cool. Amid the sea of players in silver and blue, Barry Switzer moves unobtrusively from drill to drill, putting an arm around one of his assistants, getting down on one knee with a player. The only time you see his face is when he lifts his panama hat and wipes his brow.
Advertisement
Treat Yourself! 4 Preview Issues
The most buzzed about stars this minute!