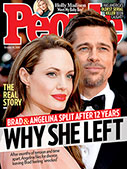 This Week's Issue!
People Top 5
LAST UPDATE: Tuesday February 10, 2015 01:10PM EST
PEOPLE Top 5 are the most-viewed stories on the site over the past three days, updated every 60 minutes
Mother's Little Helper
Karis Jagger, Daughter of Mick, Tries the Role of Mother's Little Helper
It isn't any ordinary actress Karis is directing; it is Marsha Hunt, author of the novel on which the play is based—and Karis's mother. A former rock singer and model, Hunt, now 48, gave birth to Karis after a yearlong affair with Mick in the late '60s. Shortly after the baby was born, Mick abruptly broke off with Hunt, and until Karis was 3, no one—save the onetime couple's families and close friends—knew who her father was. Mick himself refused to admit paternity publicly until 1979. Not that Karis defines her life by her father's early absence: "I don't think I ever felt something was missing," she says, adding that her mother was "an ever-present rock...I had a very happy childhood. I never moped around thinking, 'How tragic.' "
Time, in fact, mellowed Mick, and now Karis sees him often—most recently in the New York City studio where he recorded the Rolling Stones' new Voodoo Lounge album last February. Embraced by his family, including his parents and brother Chris, 46, also a singer, she is close to half-sister Jade, 22, Mick's daughter with first wife Bianca; Karis also attends family gatherings with his current wife, Jerry Hall, and their three children. Currently on a worldwide tour, the head Stone couldn't make it to her directorial debut on Aug. 13 but did send Karis and Hunt opening-night flowers. Karis says Mick holds no mystique for her: "He's just my dad, you know. The only difference is that I probably meet more interesting people than someone with a regular' dad."
Born in Philadelphia, Karis's mother was a 22-year-old expatriate rock singer who had starred in the London production of Hair when she met Mick in 1969. They spent the night together on their first date and soon began planning their future. "The arrangement was that we liked and respected one another and wanted to have a child together," she says. Although Mick (then 26) came bearing gifts for Karis when she was born on Nov. 4, 1970, he told Hunt 10 days later that he had never loved her and would not acknowledge Karis as his daughter. Hurt and shocked, Hunt somehow met the challenge of single motherhood. "I'd had a big splash of success and I was spoiled, but Karis brought discipline to my life," says Hunt, who took a role in a West End musical and delayed touring with her rock band so she could be near Karis.
Feeling financially secure, she did not press Jagger for support. But in 1972, Karis was badly scalded when she overturned a glass of tea in West Germany, and her mother filed a paternity suit to force Jagger to pay the mounting medical bills. Mick, who by then was married to Bianca, agreed in 1973 to set up a $15,000 trust for Karis but still refused to acknowledge paternity. The legal wrangling continued until 1978, when Hunt (by then living in L.A., nearly broke and unemployed after stints as a radio talk show host and cabaret singer) hired palimony lawyer Marvin Mitchelson. The following year a Los Angeles court declared that Jagger was indeed Karis's father—and ordered him to pay an additional, undisclosed amount in support. Hunt, who claims she never felt any real rancor toward Jagger, says they are now on "very good terms. I see Mick occasionally and his mum calls me most Sundays."
But life wasn't all courtrooms and legal battles. A backstage baby, Karis spent her childhood in dressing rooms with her nanny and Hunt, who at various times sang and acted in Portugal, Australia, England and L.A. "I used to love going to work with her," says Karis. "I was really fortunate to have a mother who cared so much about me."
It was no surprise, then, when Karis became a theater junkie while attending Bedales, an artsy boarding school in Hampshire, England. After honing her craft in student plays (including Hair, for which she borrowed her mother's old costume), Karis attended Yale, where she produced and stage-managed two plays and, during one summer, worked as an intern with George Lucas on The Young Indiana Jones TV series. Since graduating with a history degree in 1992, Karis, a dual citizen of the U.S. and Britain, has worked on a touring nonpartisan voter-registration drive and volunteered as an assistant kindergarten teacher in New York City's Harlem. Last year she worked as a project director at the antebellum Hunt-Phelan House in Memphis, where her maternal great-great-grandfather had been a slave.
Meantime, Hunt had developed into a writer after being commissioned to pen her autobiography in 1986. When the Edinburgh Festival agreed to stage her own adaptation of Joy, "I immediately thought of Karis," says Hunt. "She knows the book and the characters." In June the two decamped to Hunt's rustic hideaway—a converted 18th-century dairy—in northern France and rehearsed for six weeks before opening in Scotland. "I'm normally very difficult to work with," says Hunt, "but I really respect Karis's opinions." When joy, which has received mixed reviews, ends its run Sept. 3, Karis plans to return to Berkeley, Calif., where she and her boyfriend (whose name she won't divulge) have shared an apartment since March. After pigging out on sushi, says Karis, "I want sleep, sleep, sleep"—then she wants to do the play somewhere else with an actress closer to the character's age of 70. That's not, she insists, a crack against dear old mum, who has a bit of advice for other actresses looking for direction from their children. "Be nice to your baby," Hunt says with a laugh. "She might employ you one day."
STEVE DOUGHERTY
TERRY SMITH in Edinburgh
Contributors:
Terry Smith.
IN MANY WAYS, IT'S NOT THE SORT OF place one would expect to find any child of Jumping Jack Flash. Karis Jagger, 23, oldest daughter of the invincible Mick, is sitting in a makeshift theater in the Assembly Rooms, a cultural civic center in Edinburgh, waiting for an audience of 50 to take their seats. Virtually hidden by a rudimentary sound-and-light console, the sensational-looking Jagger (who inherited her father's distinctive mouth and mother's doleful eyes) is wearing a drab shirtdress that does nothing for her pencil-slim frame. But glamor isn't the point. As director of this one-woman show, Joy, the story of three singing sisters as told by their wardrobe mistress, Karis watches intently as the lone actress takes her place behind an ironing board onstage and begins her monologue with the words, "Every family got their secrets."
Advertisement
Treat Yourself! 4 Preview Issues
The most buzzed about stars this minute!