People Top 5
LAST UPDATE: Tuesday February 10, 2015 01:10PM EST
PEOPLE Top 5 are the most-viewed stories on the site over the past three days, updated every 60 minutes
Starting to Recapture the Rapture
Anita Baker Rebounds from Stress and Miscarriage with Two Kids and a Hot Album
BAREFOOT AS SHE DESCENDS THE winding marble staircase in her elegant, 15-room mansion in exclusive Grosse Pointe, Mich., pop diva Anita Baker takes little notice of the trappings of success around her. Padding through the ballroom-size living room, past the French doors with their spectacular view of Lake St. Clair, the seven-time Grammy winner heads for the sunroom, where one of her happiest creations gurgles in a kiddie swing. "There he is," Baker coos over her 5-month-old son, Edward. "Here's my big boy!"
Little wonder that Baker dotes on baby "Eddie Bear" and his 20-month-old brother, "Little Walter." Both boys were born during a three-year hiatus that began in 1991, when the exhausted and stress-plagued Baker abruptly canceled the remainder of a concert tour and afterward suffered her second miscarriage. Now that she's fully recovered and ready to resume her career, Baker, 36, is loath to let the boys out of her sight. Some of the recording sessions for her new hit album of sumptuous romantic ballads, Rhythm of Love—her first since 1990's Compositions—were held in a studio built close enough to the home she shares with her husband of nearly six years, Walter Bridgforth, 37, a real estate developer, for the singer to bicycle to work. And when Baker begins a yearlong world tour in December, the boys, two nannies and Bridgforth will go along for the ride. The company will be good for Baker, who admits to feeling apprehensive about going back on the road. "She feels an enormous relief now that she has this family," says Baker's longtime manager Sherwin Bash. "It wasn't something that happened very easily."
For Baker, whose mother abandoned her at age 2 and who never knew her father, family ties are hard won. Cared for by her maternal grandparents and, following their death when she was 13, raised in Detroit by members of her Baptist church congregation, Baker saw her mother only sporadically during her teen years. Finding solace singing in the church choir, she became lead vocalist for a popular Detroit rhythm and blues group, Chapter 8, in the late 1970s. After going solo in 1980, she released her first album, The Songstress, in 1983. Three years later her Grammy-winning breakthrough Rapture sold 5 million copies and established Baker as one of R&B's premier vocalists. In the studio or on the road almost continually afterward, the 5'1" singer seldom stopped to catch her breath. "I'd come home long enough to pick up one bag and drop another," she remembers.
In January 1989, when she learned she was pregnant, Baker jubilantly announced the news to relatives and friends. "The older women in the family said, 'Just wait. Don't tell anybody.' They understood that you don't always make it through that first trimester. But I was like, 'Oh, please,' " she says. A month later, she says sadly, "I went to the doctor's office for my checkup, and they couldn't find the baby's heartbeat." Shattered by the loss and given no time to recover by her grueling schedule, she found that by January 1991, when she arrived in Chicago for a concert date, both her nerves and her voice were shot. Walking into her hotel suite, "I just started crying," she says. "I just lost it, totally."
At Bridgforth's urging, Baker canceled the rest of the tour. After several months she became pregnant again, only to lose the baby in a devastating second-trimester miscarriage. When doctors induced labor, Baker says, "I had to deliver what I knew was going to be a stillborn baby in the same [hospital] ward with women who were delivering healthy babies. People don't understand how painful [miscarriage] can be."
Baker admits that at first she could not share her grief, even with her husband. "I would cry alone because I didn't want to upset him. Unbeknownst to me, he was grieving alone because he didn't want to upset me. Then one day we were walking past each other in the hallway, and I just said, 'I need you.' "
With Bridgforth offering support—"I tried to make sure she knew she wasn't alone," he says—Baker began to recover, and the couple tried once more to conceive. "Every few months I would say, 'Walter, I'm pregnant.' But we'd go to the doctor, and I'd have to tell Walter, 'No, I'm just a little late. "Finally, in the summer of 1992, after a home pregnancy test read positive, Baker and Bridgforth consulted a specialist in problem pregnancies who performed a cerclage, a procedure that secures the fetus by stitching the cervix. Just seven months after Walter was born, in January 1993, Baker learned she was pregnant again. Thanks to a second cerclage last year, she was able to bear Edward Carlton—in honor of the Ritz-Carlton Hotel in Dearborn, where she believes he was conceived—last May.
Baker, who finished recording her new album while pregnant with Edward, went back to work soon after he was born. The babies' nannies, though, are sent home at 5 p.m. sharp. "We don't want our kids calling the nanny Mommy," says Bridgforth, who handles late bottle feedings so his wife can rest after long days in rehearsal. "In the evening, that's the quality time we spend together. We try to live our lives normally."
Which is not to say life will be boring for the newest members of the family. Pleased that Rhythm's reviews have been positive, Baker is eager to see one would-be critic's reaction to her live show when she takes the family on tour in December. "I can't wait to have Little Walter standing in the wings watching me do my thing," she says. "He's going to freak."
STEVE DOUGHERTY
FANNIE WEINSTEIN in Detroit
Contributors:
Fannie Weinstein.
Grammys are great, but being Mommy is more so
Advertisement
Today's Photos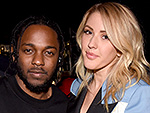 Treat Yourself! 4 Preview Issues
The most buzzed about stars this minute!