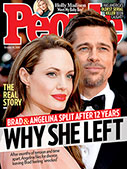 This Week's Issue!
People Top 5
LAST UPDATE: Tuesday February 10, 2015 01:10PM EST
PEOPLE Top 5 are the most-viewed stories on the site over the past three days, updated every 60 minutes
Let It Be—Again
Fab Even Now, 30 Years Later, the Beatles Launch a Fresh Assault on the Charts with Live at the BBC
Never mind that the band broke up a quarter-century ago and that John Lennon has been dead 14 years. The living Beatles and their record company—EMI and its U.S. affiliate, Capitol—could well have a hit on their hands. With more than 1 million CDs shipped to record stores in the U.S., where they will go on sale Dec. 6, the group is likely to land back in the Billboard Top 10 after a nearly 18-year absence.
Recorded between 1962—when the Beatles were an unknown, unsigned bar band—and 1965, when Beatle-mania was everywhere, Live features 15 Lennon-McCartney tunes ("A Hard Day's Night," "I'm a Loser," "Ticket to Ride"), snippets of Beatles banter and 41 raucous, high-energy covers of American rock classics (first recorded by Chuck Berry, Little Richard, Smokey Robinson and Carl Perkins, among many others) and obscurities, such as a 1961 Ann-Margret single, "I Just Don't Understand," and "Clarabella," a 1956 non-hit by a group of former Bill Haley and the Comets members who called themselves the Jodimars. "The appeal of this record is that it is the Beatles at their purest, the Beatles raw," says deejay Brian Matthew, 66, who hosted the BBC's early-morning Saturday Club programs that featured the band. "The Beatles were fun in those days. You seldom got a straight answer out of them because they were larking around so much. But at the end of a three-hour session, which included time to set up their instruments, they'd have recorded five cracking-good numbers, which is extraordinary by today's standards."
The BBC brass, whose attitude toward rock musicians back then was "decidedly patronizing," says Bernie Andrews, 61, producer of Saturday Club, were unaware of the trove of Beatles music their broadcasts had generated. But in 1982, when a listener named John Walker, now 45, suggested that they commemorate the 20th anniversary of the Beatles' first radio appearance—on the Teenager's Turn (Here We Go) program of March 7, 1962—they assigned Kevin Howlett, then a 25-year-old producer, to launch a search for tapes of the nearly forgotten BBC studio sessions and live radio shows. It was a difficult task, complicated by bureaucratic indifference. "There was no procedure whatever for storing and archiving such tapes," says Andrews. "The BBC often wiped them because of their attitude to pop music."
When Howlett's search produced barely a dozen tapes—some were discovered covered in grime in a colleague's dusty cupboard—he turned to listeners for help. "You'd be surprised how many people with good reel-to-reel machines made illegal recordings off the air," he says. "Thank God!"
More than 40 of the songs Howlett unearthed were broadcast in a 1982 radio special. Still, it was thought unlikely that the material would ever come out on disc due to legal complications. But earlier this year, EMI and the BBC reached a licensing agreement. Soon after, the surviving Beatles and Lennon's widow, Yoko Ono, approved an album release. The tapes were cleaned on a digital editing machine, and "every hiss and hum" filtered out, Howlett says. Martin then made his selections and sent them to McCartney for approval. "Some of the stuff they did wasn't all that great," Martin says, when asked why all the performances weren't included. "So why put it out? That's my role as selector: I'm the keeper of the flame. I want that flame to be a bright one."
But will Live's collection of golden oldies, recorded 30 years ago, find an audience today? Deejay Alan Freeman, 67, who hosted two BBC Beatles specials in 1964, thinks so. "There was a simplicity and innocence about [the Beatles sound] that I found totally irresistible," he says. "It set you alight. Thirty years on, they still give me a lift. Whenever I play them, the old feeling comes back."
STEVE DOUGHERTY
TERRY SMITH in London
Contributors:
Terry Smith.
NO, BEATLEMANIACS, THAT wasn't a flashback. That small army of reporters and photographers who invaded the BBC's Maida Vale studios in London on Nov. 22 was assembling for a time-trippy event: a press conference celebrating the release of a brand-new album by—yes—the Fab Four. Of course, there were no screaming teenage fans and none of the pandemonium that made meet-the-Beatles press events of yore so memorable. Missing too were the group's three surviving members. Ringo Starr and George Harrison were out of the country, and Paul McCartney sent his blessings in a letter in which he wished everyone "a wonderful launch." In their place the erstwhile moptops were represented by life-size cutouts and could only stare mutely through cardboard eyes as their famed former producer, George Martin, announced the release of Live at the BBC, a new album of previously unreleased, and mostly unheard, Beatles music. "These records," Martin said of the 56 tunes he culled from 88 numbers recorded for broadcast over BBC radio, "show just how good the Beatles were."
Advertisement
Treat Yourself! 4 Preview Issues
The most buzzed about stars this minute!