People Top 5
LAST UPDATE: Tuesday February 10, 2015 01:10PM EST
PEOPLE Top 5 are the most-viewed stories on the site over the past three days, updated every 60 minutes
Lights, Camera—Bradys!
Polyester Be Damned, the New Brady Bunch Is Hamming on Hallowed Ground and Loving It
"Cut! Great! That's what I want!" cries Betty Thomas, formerly Sgt. Lucy Bates on Hill Street Blues and now director of The Brady Bunch Movie. Thomas throws her arm around actress Henriette Mantel, who, in her sky-blue work dress, starched white apron and pinned-up hair, has the considerable task of filling the clodhoppers of actress Ann B. Davis. Yes, Brady Bunchers, a cinematic version of the series that ran on ABC from 1969 to '74 is due at your local theater in February, bell-bottoms, polyester pantsuits and all. It stars Cheers vet Shelley Long and Gary Cole (Midnight Caller) as Mom and Dad—roles once inhabited by Florence Henderson and the late Robert Reed—plus a sextet of newcomers. And if the Bradys and their disarmingly prosaic domestic problems seem as dated now as Dagwood and Blondie, the scriptwriters are flaunting the time warp by plunking America's most functional family down in the dysfunctional '90s. "It's like Rip Van Winkle waking up 20 years later," says producer Sherwood Schwartz, 78, the show's creator.
"The movie is like a clash between two worlds," adds Thomas, an Emmy Award winner now directing her first feature film. "And I'm partial to the Brady world."
It's a simple place, with a complicated recent history. "The original script I'd written with my son was an affectionate satire of the show," Schwartz explains. "But eventually it got rewritten as a trashing of the Bradys—Marcia has a lesbian love affair, Mr. Brady works at McDonald's, Alice sleeps with every man who comes to the house." Schwartz mercifully won out. "We felt," he says, "that everybody who wanted to see a Brady Bunch movie would want to see the Bradys as they remember them."
Paramount Studios agreed. The Brady house and grounds—as well as the family's prelapsarian values—were faithfully reproduced on the same Hollywood lot where the TV series was shot. All of which was a quite a hoot to the youngsters stepping into the roles of Greg, Marcia, Jan, et al. "Walking on the sets for the first time was like walking on hallowed ground," jokes Christopher Barnes (Greg). "We had to tiptoe around." Says Jennifer Elise Cox, who subs for Eve Plumb as Jan: "It was too weird and too cool at the same time. We had grown up with this place, and suddenly there it was. The first thing I did was run upstairs and slam the door, just like they used to do."
Perhaps the toughest job fell to Long, who admits she was never a Brady Bunch viewer—and who was aghast at the wardrobe. "I had to wear a blue polyester pantsuit that was hot, horrible and, I believe, one of the most unattractive pieces of clothing ever worn," she says with a laugh. "And it was amazing to even look at the Carol Brady wig. It had a life of its own."
So, these days, do several of the original Bradys, who said they were too busy to accept cameo roles. Maureen McCormick (Marcia), 38, was playing Rizzo in the Broadway reprise of Grease, while Plumb, 36, was filming...And God Spoke and a TV series. Henderson, 60, unhappy with the role offered, declined any participation. There are, however, appearances by several of the TV bunch, including Barry Williams (Greg). Now 40 and an actor-author (his book Growing Up Brady was published in 1992), Williams plays the record producer to whom the new Greg is—you got it—-trying to sell a song. "We're all just waiting to see how this turns out," Williams admits. "I'm concerned about the legacy of the show, but all we can do is put in our two cents' worth and see what happens."
Other members of the cast, though, are certain that the cherished spirit of The Brady Bunch has properly informed the Brady movie. Says Long: "When I do the Carol Brady voice, I just end up smiling." Adds Cox: "I've noticed the Bradys seeping into my life. There's no stopping it."
MARK GOODMAN
CRAIG TOMASHOFF in Los Angeles
Contributors:
Craig Tomashoff.
HERE'S THE STORY, OF YOUNG GREG BRADY, POSING BEFORE HIS bedroom mirror with an electric guitar and beaming at an imagined throng of female fans. And here's Alice, the forever plucky housekeeper, egging Greg on, then commandeering the mirror herself, once he exits, to belt out a number into a vacuum-hose microphone. "Move over, Rover!/ Let Alice take over!" she sings with rasping enthusiasm—until she's bent double by a sacroiliac attack.
Advertisement
Today's Photos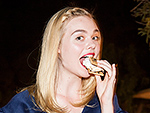 Treat Yourself! 4 Preview Issues
The most buzzed about stars this minute!