People Top 5
LAST UPDATE: Tuesday February 10, 2015 01:10PM EST
PEOPLE Top 5 are the most-viewed stories on the site over the past three days, updated every 60 minutes
Refuse to Lose
Newcomer Jada Pinkett Gets What She Wants When She Wants It
Pinkett herself may be the best part of Shame. "Miss Pinkett, whose performance is as sassy and sizzling as a Salt-n-Pepa recording, walks away with the movie," raved The New York Times critic Stephen Holden. The other coast concurred: Los Angeles Times reviewer Kevin Thomas said she "lights up the screen."
In fact, Pinkett has been lighting up screens more or less nonstop for the past two years, playing such diverse roles as an unwed teenage mother in Menace II Society, a petulant beach babe in The Inkwell and a dreamy-eyed lover in Jason's Lyric. "She is the consummate professional, even though she's very young," says director Doug McHenry, who cast her in Lyric. "People are only beginning to know the potential of her range."
Though she is being offered dozens of scripts, and Eddie Murphy, among others, is clamoring to work with her, Pinkett knows that as a black actress she faces narrower choices than, say, Winona Ryder. "I'd love to play Juliet," she says. "I'd like to see Basic Instinct cast with black people. Still, we're getting there, slowly but surely."
Slow has never been Pinkett's speed. At age 19, after only a year at the North Carolina School of the Arts, she moved to Los Angeles. Within a few weeks, she met Wayans at a party and asked him for a job as a choreographer on his TV show In Living Color. Her qualifications? She had assisted with the dance routines for a high school play. She didn't get the job, but Wayans helped her get an agent, and by 1991 she had begun a two-year run as the street-smart Lena James on the NBC sitcom A Different World. "I'm pretty hard to stop," she says. "When I want something, I go get it."
It was, says Pinkett, her maternal grandmother, Marion Banfield, a social worker, who instilled this drive. "She taught me that I can achieve whatever I want to achieve," Pinkett says. "Grandma wanted her grandchildren to have every possible experience—ballet, tap dancing, piano lessons, gymnastics. She didn't ever want us to ever think we were deprived."
Pinkett's childhood wasn't easy, with much of it spent in the gritty Pimlico section of northwest Baltimore. Her mother, Adrienne Banfield, now 42 and a nurse, was in high school when she became pregnant with Jada, and though she married Jada's father, Robsol Pinkett Jr., a contractor, the marriage lasted only a few months. "We were more like sisters in some ways than mother and daughter," says Jada. "We leaned on each other a lot." At 14, she won a coveted spot at the acclaimed Baltimore School for the Arts, where her classmates included rapper Tupac Shakur. The two remain close. Of his recent conviction on charges of sexually assaulting a female fan, Pinkett says, "No is no, and rape is rape, but I know for sure, without a doubt, that he's not capable of that action."
Pinkett lives alone these days in a two-bedroom house she leases in L.A.'s Studio City. "I don't have time to be serious about anyone," she says of her dating life, "and that's been a real sacrifice for me." In addition to her movie work, Pinkett recently launched Maja, a line of women's T-shirts and dresses that are emblazoned with the slogan "Sister Power" and sold mainly through small catalogs. She also directs music videos for such fledgling rap groups as Y? n—Vee and Shug & Dap, and regularly pays motivational visits to inner-city schools and shelters. "I tell the kids that from struggle comes strength," she says. "And if everything's easy, then how do you know how to survive when, inevitably, there comes a time when things aren't so happy-go-lucky?"
In January she'll be saving humanity from evil in the horror movie Tales from the Crypt: Demon Knight. Watch for her at your local theater—and not just onscreen. "I love sitting in the back with a big hat on so nobody can recognize me," she says, "and watching people having fun during one of my movies. They're going, 'Yeah, Jada—go girl!' Wow! It doesn't get any better than that."
SHELLEY LEVITT
TOM NUGENT in Baltimore
Contributors:
Tom Nugent.
SCHWARZENEGGER MAY BE brawnier, Stallone more practiced in the ring and Van Damme a quicker kicker. But Jada Pinkett, who stars as Peaches, the feisty lovelorn assistant to Keenen Ivory Wayans's detective in his latest hit film, A Low Down Dirty Shame, may be the only action hero who delivers knockout punches while sporting two-inch fuchsia fingernails. And lest you mistake the 5', 100-lb. Pinkett for a hip-hop Charlie's Angel, this 23-year-old's idea of a good time, she says, "is rolling down the stairs and having someone kick me around the set. The stunts were the best part of making the movie."
Advertisement
Today's Photos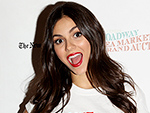 Treat Yourself! 4 Preview Issues
The most buzzed about stars this minute!