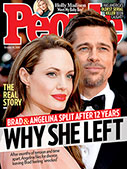 This Week's Issue!
People Top 5
LAST UPDATE: Tuesday February 10, 2015 01:10PM EST
PEOPLE Top 5 are the most-viewed stories on the site over the past three days, updated every 60 minutes
Knot Again—and Again!
Christie Brinkley Weds a Mogul on a Rocky Mountaintop, While Heather Locklear Trades Vows with Another Rocker in Paris
"It was a very simple ceremony," says Brinkley's friend Sandra Carradine (estranged wife of actor Keith Carradine) of the brief proceedings. "They just exchanged vows and said, 'I do.' "
Half an hour later, Brinkley, who wore black ski boots with her wedding dress, hiked up her gown, stepped into her bindings and, with her groom at her side, schussed halfway down the mountain to the warmth of the Gorrono Ranch Restaurant. That would be, she said, her last ski run for quite a while. Why? Because, Brinkley announced, she was four months pregnant. Then the bride ripped open an envelope which, she said, contained information, previously unknown to her, about the sex of the child. "It's a boy!" Brinkley screamed. The guests cheered—then went back to a buffet of turkey, ham, salmon and pasta. The kids, meanwhile, resumed tearing around the reception hall while a roving magician attempted to paint their faces.
As she recalled the scene, Brinkley laughed. "We were bound and determined to elope," she says. "My parents even sent Ricky a ladder."
"Somehow what started out as a ladder up to the window," adds Taubman, "developed into a massive wedding on top of a mountain."
How that happened is not much of a mystery. Brinkley decided on the wedding site shortly after Thanksgiving, when she and Taubman were skiing through the countryside where he has had a home for nearly 20 years. "This is the most gorgeous spot," Brinkley told her fiancé. "This is where we should get married." Within days, Brinkley was making sketches for the wedding outfit she had designed, and Alexa was drawing a picture for the invitations. But the decision to wed more than two miles above sea level was not entirely the act of impetuous romantics. The mountain, say the newlyweds, had symbolic meaning for them both.
Nine months ago, Brinkley and Taubman were heli-skiing on a nearby mountain when the craft suddenly turned sharply during landing and tumbled 200 feet down a slope. Brinkley sustained only bruises and a sprained wrist. Taubman, the most seriously injured of the six people on board, suffered 12 broken ribs, a broken collarbone and a collapsed lung—and considers himself lucky. "No one should have survived that crash," he says. "It's a miracle we're alive."
At the time of the accident, Taubman and Brinkley were newly introduced friends. He was a divorce with a son, Wyatt, 8. Brinkley was in the 10th year of what many outsiders thought to be a dream marriage to rock star Billy Joel, 45. As she eventually told Taubman, the reality was different; the marriage, Brinkley said, "pretty much disintegrated the last two years." The reasons were many: Joel wanted to remain on the East Coast, Brinkley longed to move West, closer to her home state of California; she wanted a tight-knit family with Alexa, their only child, he was often on tour. Despite the affection they still felt for each other, she said, the marriage "wasn't working."
She and Joel had already come to an informal agreement to split when, last March, a mutual friend of Brinkley and Taubman invited her and Alexa to Telluride. Brinkley stayed in the guest house on Taubman's multimillion-dollar Victorian estate. But she rarely saw her host, she says, and it wasn't until just before her return to Amagansett, N.Y., where she and Joel still shared a home, that the two truly noticed each other. "One morning I walked into the kitchen wearing glasses and a housecoat," says Brinkley, "and Ricky looked at me like, 'Who is this weirdo?' "
Taubman remembers the moment differently. "I was very intrigued," he says.
The next thing Brinkley knew, Taubman, an experienced pilot, was taking her and Alexa on a three-day, cross-country adventure in his Cessna Grand Caravan 12-seater airplane. When Taubman dropped Brinkley off at the Telluride airport for her trip home, he said, "I sat on the hood of my car as her plane took off and thought, 'Geez, I haven't felt like this since I was a teenager.' "
Ten days later, Taubman was back at the airport—picking Brinkley up. That day, she says, they held hands for the first time, on a chairlift. The following day they were in the helicopter accident. While Taubman lay in intensive care, Joel flew into Telluride to take his wife back home.
Two weeks later she and Joel announced the end of their marriage. And by the end of the month, Brinkley was back at Taubman's side in Telluride. In May Taubman proposed, and though her divorce was still four months away, Brinkley accepted: "I knew Ricky was the person I should be married to."
"The crash obviously had a major impact on us," says Taubman of the swift decision.
"Especially on your ribs," teases Brinkley. A second later her world-famous smile fades. "Every experience in life changes you," she says. "After the crash there was no reason to deny what we felt." As she explains, she and Joel, who has been dating New York-based artist Carolyn Beegan, 28, since this summer, have remained on good terms. "Ricky and I received a lovely letter from Billy congratulating us on the marriage and wishing us lots of happiness," says Brinkley. Though she has physical custody of their daughter, Joel visits Alexa as often as he likes. And Alexa, Brinkley says, is adjusting "wonderfully" to both the divorce and her new life in Telluride. She, like her mother, is excited about the coming addition of a new member to the family. "Everyone's ecstatic," says Brinkley of the boy she is expecting. "The kids, us, everyone. I'm looking forward to being a family of five." Most of all, she says, she is looking forward to being happily married for a long, long time. "Life is short," says Brinkley. "Ricky and I realize how lucky we were. We want to be together all the time."
KAREN S. SCHNEIDER
TODD GOLD in Los Angeles and MICHAEL HAEDERLE in Telluride
Contributors:
Todd Gold,
Michael Haederle.
Advertisement
Treat Yourself! 4 Preview Issues
The most buzzed about stars this minute!