People Top 5
LAST UPDATE: Tuesday February 10, 2015 01:10PM EST
PEOPLE Top 5 are the most-viewed stories on the site over the past three days, updated every 60 minutes
Picks and Pans Main: Song
Talking With...
years ago change frontmen—from David Lee Roth to Sammy Hagar—without dropping a stitch. This, after all, is Eddie's show. And his high-test blend of technical virtuosity and sheer propulsion has rarely sounded better.
Oh, there are some mellifluous songs here, like "Can't Stop Loving You" and "Not Enough." And the best track, "Take Me Back," gingerly treads a middle path between the pretty and the potent. But those are just moments of respite wedged in between Richter-ready rumbles like "Amsterdam" and "Aftershock." Though producer Bruce Fairbairn has brought depth and sheen to Balance, this is still unregenerate headbanger music. Every Van Halen album is like spring break: a thinly veiled excuse for mayhem. (Warner Bros.)
Flaco Jimenez
If the thump of robotic party music has worn out the rug in the rec room of your brain, consider recarpeting with wall-to-wall Flaco. The merry squeal of the 55-year-old Texan's accordion refreshes frayed nerves better than a toe wiggle in deep polyester pile.
Flaco means skinny in Spanish, but Jimenez is a heavyweight in Texas Chicano (or Tejano) music. Joined on individual cuts by vocalist Raul Malo of the Mavericks and solo artists Radney Foster and Lee Roy Parnell, Jimenez and his electrified band rollick, frolic and swing. About the only mistake in an album that otherwise cries crossover is a failure to translate the Spanish lyrics. But can those who don't speak Spanish still enjoy the CD? To translate the title of the opening song, "Seguro Que Hell Yes": "Sure, What the Hell, Yes!" (Arista/Texas)
Cecilia Bartoli
Over the course of this, her seventh solo album, Cecilia Bartoli, the 28-year-old mezzo-soprano, can be coy, repentant, scornful, shy, but behind every role lies the self-confidence of a five-star general. Maybe it's the bred-in-the-bone training she received from her opera singer mother—her father is a singer too—in her native Rome, or her brief, late-teens excursion into flamenco dance. But every syllable of these Mozart arias, from Cost fan tutte, The Marriage of Figaro and Don Giovanni, plus the little-heard cantata, Davidde penitente, and the crowd-pleasing Exsultate, jubilate, is infused with life. All this—and a smile that could melt icebergs—makes Bartoli seem destined for the sort of stardom accorded a once-in-a-generation soprano. (London)
Melissa Manchester
Melissa Manchester unveiled "In a Perfect World," the first single from her new album, on General Hospital not long ago. The soap opera setting was appropriate: the song is awash in the sort of big emotions that play well on daytime TV.
With her first new album in five years, Manchester is understandably eager to prove she still has the voice that powered such hits as "Midnight Blue" (1975). Maybe too eager. This album works best when she plays off her backup singers, as in the gospel-tinged "The House That Love Built." Left on her own, she sometimes slips into sentimental overload: the lumbering title track would need help from NASA getting aloft. But Manchester's fans won't be disappointed—as long as they remember they're not living in a perfect world. (Atlantic)
>Eddie Van Halen
THE GOLFING LIFE
In the '90s, the rock star lifestyle isn't all tequila and tour bunnies. So attests Eddie Van Halen, groggily calling in from a band rehearsal at his home studio in L.A. Too much partying, Fast Eddie? "Nah. My kid [3-year-old Wolfgang] has got chicken pox. Two nights with no sleep. It's a lot worse for him than for me. The poor guy."
And that radical haircut the guitar legend is sporting isn't some Melrose Place makeover. It's the result of playing golf with Buffalo Bills' quarterback Jim Kelly in a charity tournament. "I lost a stupid bet," admits the shorn rocker, sheepishly. "So I shaved my head."
Luckily, Van Halen, who turned 40 last week, is less interested in the lifestyle than in the work, a focus that he thinks contributes to the band's enduring popularity. "We've never followed any trends," he says. "I've always thought that if I like a piece of music, at least a couple of million other people are going to like it too."
His single-mindedness sometimes rankles his wife, TV actress Valerie Bertinelli, particularly because it isn't limited to waking hours. "When Valerie and I first met," recalls Eddie, "she'd wake me up and go, 'Stop tapping your foot!' I'm always thinking music. I'm even humming while I'm sleeping."
Also affecting his marriage is the rock star's bane: hearing loss. "My brother [band drummer Alex] has lost more than I have. Drummers sit ear level with their cymbals. Still, I've been told that at 10K, which is 10,000 HZ cycles, I have the hearing of a 70-year-old. But it isn't too bad because that's the frequency of someone screaming at you. So," he says, chuckling, "when Valerie and I fight, I just don't hear it."
Contributors:
David Hiltbrand,
Eric Levin,
Joseph Poindexter,
Mark Lasswell.
Van Halen
Advertisement
Today's Photos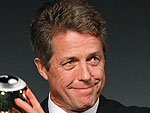 Treat Yourself! 4 Preview Issues
The most buzzed about stars this minute!