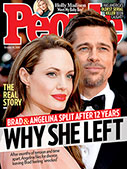 This Week's Issue!
People Top 5
LAST UPDATE: Tuesday February 10, 2015 01:10PM EST
PEOPLE Top 5 are the most-viewed stories on the site over the past three days, updated every 60 minutes
The Last Matriarch
At 104, Rose Fitzgerald Kennedy, the Steel-Willed Founder of a Political Dynasty, Dies


Late Sunday night, Ted Kennedy finally released a statement. "Mother passed away peacefully today," he announced. "She had a long and extraordinary life, and we loved her deeply. She was the most beautiful rose of all."

To many, of course, she was also the queen mother of American politics, the founder of a dynasty that had known both giddy triumph and crushing tragedy for the better part of a century. With her late husband, Joseph, Rose Kennedy had raised a roisterous "royal" family. She had seen three of her nine children elected to the U.S. Senate and one of them rise to the Presidency. She had endured the death of her firstborn son and a daughter in terrible accidents; she had seen her sons Jack and Bobby gunned down by assassins. "Wasn't there a book about Michelangelo called The Agony and the Ecstasy?" she once asked. "That's what my life has been like."

That life began in 1890, a few months before the Battle of Wounded Knee and 18 years before Henry Ford's first Model T rolled off the assembly line. Rose's father, John "Honey Fitz" Fitzgerald, was the first Irish-American congressman from Boston—and later the mayor of the city—and Rose, the oldest of his six children, learned early to savor both the bright lights and bare-knuckle infighting of politics. Shyness kept her mother, the former Mary Josephine Hannon, out of the public eye, but Rose happily began accompanying her father on his official rounds. "I believe the early years were the happiest part of her life," says historian Doris Kearns Goodwin, who spent nearly five years interviewing Rose and other family members for her 1987 best-selling biography, The Fitzgeralds and the Kennedys. Together, Rose and her father toured Europe, traveled to Washington and threw out the first ball at Fenway Park. When Rose, at 15, graduated second in her class from Dorchester High School—and was presented with her diploma by her father the mayor—it was front-page news in Boston.

Although Rose was accepted at Wellesley College, Honey Fitz—pressured by a church official—sent her to convent schools in Boston, Holland and finally New York City. "It was a real turning point," says Goodwin. "When I asked what her greatest regret was, I expected it would be the death of her sons. Instead it was that she didn't get a chance to go to Wellesley." At the convent schools, says Goodwin, "the values that were stressed were family and motherhood. Independent ambitions were not fostered."

Back in Boston at age 20, Rose found herself awash in eager suitors. But she finally settled on a saloon keeper's son named Joe Kennedy—disapproved of by her father—whom she married in 1914—and stuck with for 55 years.

By the time of their marriage, Joe, 26, was already the country's youngest bank president, and together he and his new bride set out to start a family—and fashion a dynasty. Joe, who is rumored to have dabbled in bootlegging in the 1920s, eventually amassed a fortune (his wealth was estimated at more than $250 million in 1957) in banking, real estate and stock holdings. Meanwhile, Rose, who could be a strict disciplinarian, took charge of the children. "Mother would have made a great featherweight," Teddy once said. "She had a mean right hand."

The Kennedys had nine children—Joseph Jr., John, Rosemary, Kathleen, Eunice, Patricia, Robert, Jean and Edward—homes in Massachusetts, New York and Palm Beach—and more family troubles than were generally known. Joe was a notorious philanderer. On a 1929 trip to Europe, Joe and Rose joined Gloria Swanson, his favorite mistress. "If she resented me," wrote Swanson in her memoirs, "she never gave any indication of it." According to Goodwin, Swanson wondered if Rose was "a fool, a saint or just a better actress than she was." Still, in its way, the marriage worked, according to author Charles Higham, who has written a new biography, Rose. Joe was a rover, yes, but he was also fabulously rich and well-connected enough to be appointed ambassador to Britain's Court of St. James's in 1937. "[Rose] enjoyed everything that went with being with Joe Kennedy," says Higham. "She relished the parties, the galas, the politics and all that went with it."

Even in those years, though, life was not all champagne and ball gowns. Eldest daughter Rosemary was mentally retarded, and in 1941, without seeking Rose's approval, Joe agreed to have his 23-year-old daughter lobotomized, believing the operation would help control her behavior. Twenty years passed before Rose learned the truth, and according to intimates it was the one act for which she never forgave her husband. Rosemary never spoke intelligibly again and, at 76, remains institutionalized.

Shortly before America entered World War II in 1941, Joe Kennedy resigned from his post in London. Three years later his Navy pilot son, Joe Jr., was killed when his reconnaissance aircraft exploded over the English Channel. Then in 1948, Kathleen, the family's golden girl, died in a plane crash in France.

By that time, Jack's political career had already started. When he announced his candidacy for the Senate in 1952 against Henry Cabot Lodge II, Rose weighed in with a velvet fist. As Kennedy aide Dave Powers once recalled, "She was the greatest pol we had. In the North End she'd put on a babushka and talk to the women about children. The next stop might be West Roxbury, so in the car she'd change her shoes and put on a mink jacket."

Rose's crowning success came as she stood by her son and his wife, Jacqueline Bouvier Kennedy, on Jan. 20, 1961, as Jack was sworn in as the first Catholic President of the United States. But calamity continued to shadow the family. Later that year, Joe Sr. was felled by a stroke from which he never fully recovered. Then came Jack's assassination, followed, five years later, by Bobby's. The Chappaquiddick scandal was next. When Mary Jo Kopechne drowned in Ted Kennedy's car on July 18, 1969, Ted's—and Rose's—presidential ambitions were dashed. Whatever grief Rose felt she bore stoically and with the help of her faith. "If I collapsed," she once said," it would have a very bad effect on the family."

Rose remained active in the family until she suffered a stroke in 1984. After that she withdrew to the Hyannis Port compound and her faith, saying her rosary daily, assisting at mass at home on Sundays with a local priest and sitting on the porch overlooking Nantucket Sound to watch the next generation of Kennedys gamboling on the wide lawn. And when she died, they all turned out, 28 grandchildren and 41 great-grandchildren, to say one last farewell at St. Stephen's Catholic Church in Boston, the same church where Rose had been baptized 104 years before. There, last Tuesday, Teddy delivered her eulogy in a voice choked with emotion. "Mother knew this day was coming," he said, "but she did not dread it. She accepted and even welcomed it—not as a leaving, but as a returning. She has gone to God. And at this moment she is happily presiding at a heavenly table with both of her Joes, with Jack and Kathleen, with Bobby and [grandson] David. She is home."

MARK GOODMAN, with JENNIFER LONGLEY in Hyannis Port, S. AVERY BROWN in Boston, and bureau reports


Advertisement
Treat Yourself! 4 Preview Issues
The most buzzed about stars this minute!