People Top 5
LAST UPDATE: Tuesday February 10, 2015 01:10PM EST
PEOPLE Top 5 are the most-viewed stories on the site over the past three days, updated every 60 minutes
For PETA's Sake
Dan Mathews Has Turned His Antifur Fervor into a Cause Celeb
Indeed, as the spin doctor for PETA (which raises $10 million annually), Mathews, 29, has staged highly theatrical celeb-studded stunts that he estimates have landed him in 20 different jails around the world—though never for longer than 25 hours at a time. "We live in a tabloid era," he says. "People want to be entertained, not educated."
Mathews has obliged with headline-catching events such as parading naked through the streets of Tokyo, Madrid, Paris and six American cities to promote PETA's "I'd rather go naked than wear fur" campaign. In 1993 he persuaded supermodels Christy Turlington and Cindy Crawford to pose au naturel and Kim Basinger followed suit (birthday, that is). Then, last January, Mathews led a group of 17 activists on a raid of Calvin Klein's New York City offices where they put PETA stickers on the hairy merchandise.
Days later, Klein stopped using fur in his collections, a decision he says had nothing to do with the PETA action. Others, though, are quick to credit Mathews with making his brand of radicalism chic and increasing the public's awareness of PETA: Since he joined the organization in 1985, membership has grown from 60,000 to 500,000, making it the largest organization of animal-rights activists in the U.S. "Dan can talk anyone into doing these outrageous things," says Peterson. "He got my husband [producer Mark Pierson, 39] to dress up as a rat and get arrested [for protesting General Motors' use of animals in crash tests]."
More recent antics, however, have some wondering if Mathews' vision is more focused on self-promotion than PETA's cause. In November, he was arrested with talk show host Ricki Lake, an animal-rights neophyte, after breaking into designer Karl Lagerfeld's Manhattan offices and applying Fur Hurts stickers on fur coats. Since the caper came in the middle of a TV ratings sweeps month, many found the timing suspicious. "He's a total product of the media who has hyped himself," says retail consultant Alan Millstein. "The implied threat of negative publicity has been enough to terrify designers." But Mathews defends his and Lake's actions. "We're a movement, not a Tupperware party," he says. "Sometimes things go beyond your wildest imagination."
Mathews, born and raised in Orange County, Calif., bonded with animals early in life. After his parents divorced when he was 7, Dan and his two older brothers lived with their mother, Perry, a secretary and animal lover who encouraged her boys to bring home stray cats. "We had 22 at one time," he recalls. When he was 12, Mathews had an epiphany. During a fishing trip with his father, Ray, a restaurateur, Dan caught a flounder and "suddenly realized I had ripped this fish away from his world," he says. Mathews threw the fish back in the water and hasn't had seafood since.
Two years later, Mathews became a strict vegetarian. It was the same year he attended his first animal-rights demonstration at an Anaheim animal lab that performed experiments on sheep. "A truck full of sheep pulled in," he says. "I thought, 'Let's at least hijack the truck.' It got me into the movement."
Mathews' sympathy for victims of what he saw as abuse was heightened when, as a teenager at Costa Mesa High School, he came out as gay. He was beaten by classmates and responded by defiantly dying his hair "every color in the rainbow." After a brief stint modeling and acting in Rome, Mathews enrolled at American University in Washington and graduated in 1985. In 1988, in Maryland, he became a receptionist for PETA. Within a year, Mathews, who now earns $30,000 a year, was organizing protests.
Home for Mathews is a tiny apartment in the Washington suburb of Alexandria, Va., but he spends little time there and even less cultivating a love life. "Relationships take a back seat to animal rights at the moment," he admits. "But I have a lot of friends, and I don't feel lonely." Nor does he feel defeated, despite the fact that fur sales have risen 20 percent over the last two years to $1.2 billion (though that reflects a decline from $1.8 billion in 1987). "When it's freezing outside, you want to be warm," says Karen Handel, spokeswoman for the Fur Information Council, a trade group that represents retailers. "PETA's impact on our business is minimal." Millstein agrees: "When I see Aretha Franklin wearing wool coats, then I'll know PETA is having an impact."
Not so, counters Mathews. "Fur farms have gone belly-up all over the country," he contends. "The nation's largest fur chain, Evans Inc. of Chicago, had over 120 outlets at the end of the '80s. They're down to 78 now. By the end of the decade, the only place you'll see a fur coat will be in a museum."
PETER CASTRO
JOHN HANNAH in Los Angeles
Contributors:
John Hannah.
ON THIS FALL DAY IN LOS ANGELES, Dan Mathews is playing a languid game of fetch with Rottweilers Bram and Bela in the backyard of his friend Cassandra Peterson—Elvira to late-night horror fans. The scene smacks of a Lifestyles of the Rich and Famous segment—a Hollywood house, a celebrity vixen and her decorative pets. And while Mathews, director of international campaigns for People for the Ethical Treatment of Animals (PETA), has himself cultivated a clique of sympathetic stars as friends, the 6'5" model turned activist denies any hint that he's in it for the glamor. "I'm not the Robin Leach of the animal-rights movement," he says. "Being around celebrities doesn't excite me. I'm much more comfortable being led away in handcuffs."
Advertisement
Today's Photos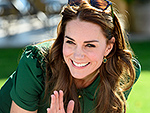 Treat Yourself! 4 Preview Issues
The most buzzed about stars this minute!