People Top 5
LAST UPDATE: Tuesday February 10, 2015 01:10PM EST
PEOPLE Top 5 are the most-viewed stories on the site over the past three days, updated every 60 minutes
The Fabulous Ex-Baker Girl
Lynn Whitfield Won An Emmy as Josephine Baker—Then Her Career Hit a Bump
For her, it's a matter of keeping up her spirits as well. Three years ago, Whitfield was riding high after winning the coveted title role in HBO's The Josephine Baker Story. She also won the heart of the movie's director, Brian Gibson. The two wed in July 1990, five months after meeting; a year later both won Emmys for Josephine and their baby Grace was born. But good fortune disappeared as quickly as it came for Whitfield. She seemed to be typecast as Josephine, and no meatier roles came along; her marriage was short-lived. It was "a humbling experience," says Whitfield.
Humbling, yes; defeating, no. She decided that if work didn't find her, she would find work. Last summer she and Grace moved from Los Angeles to Manhattan for a new job on NBC's The Cosby Mysteries. Whitfield plays Barbara Lorenz, a physical therapist friendly with Bill Cosby's crime-solving character, Guy Hanks. Her role is relatively small, but she's itching to make it bigger—and has given her producers notes on how to do it. (George E. Crosby, Cosby's co-executive producer, is noncommittal. He says her wishes "are being given consideration.")
Whitfield is dating again and has, of late, been seen regularly on the arm of Rep. Kweisi Mfume of Maryland, outgoing chairman of the Congressional Black Caucus. While she remains mum about Mfume—declining to confirm or deny a romance—she will say, "There is one person I find wonderful, who I'm very proud of, and we always have a great time."
She is proudest, though, of Grace, whom she drops off at preschool every day and spends most of her evenings with, sharing dinner and bedtime stories. "Having Grace was absolutely the most rewarding and best thing I have ever done in my life," she says.
Unlike many single mothers, Whitfield maintains an exceedingly friendly relationship with her ex, talking with him daily. An involved father, Gibson, 50, flies cross-country to see Grace every two weeks, and the three of them spend holiday vacations together. "Because we're not married, we're more forgiving of each other," says the British-born Gibson. "We can see each other doing things that might be annoying, but we just let go of it and laugh."
That's an improvement. After they wed, Gibson's career kept momentum (he later directed What's Love Got to Do with It?), while Whitfield's slowed in the serial bind of pregnancy, new motherhood and the scarcity of roles for black actresses. "Bit by bit," says Whitfield, the marriage began to sour as Gibson and she failed to talk to each other about what was going wrong. "We didn't know each other. It was like two strangers saying, 'Okay, let's set up a perfect home right now,' " she says. "It was just two people walking blindly into something, and we just as blindly walked out of it, out of fear."
They separated in April 1992 and were divorced eight months later. (For Whitfield the divorce was especially painful because it was her second. At 19, while studying theater at Howard University, she had married Vantile Whitfield, a theatrical director 22 years her senior. That marriage lasted four years.) After the breakup with Gibson, Whitfield sought solace in religion, sampling a number of churches before joining a Pentecostal congregation, the West Angeles Church of God in Christ, in L.A. "I decided to surrender to God's plan for my life, flow a little bit and just trust more," she says.
She also received strong support from her family, an achievement-oriented clan from Baton Rouge with roots in southern black aristocracy. Her father, Valerian Smith, who died in 1992, was a dentist and composer; her mother, Jean Butler, is president of the Louisiana Housing Finance Agency. Her older brother Valerian Butler III is an investment banker and now, conveniently, lives across the street from her in Manhattan. One sister is a congressional aide in Washington; the other is a homemaker in Northern California. "Some families are close," says Valerian. "I would say ours is hermetically sealed."
Two years after her divorce, Whitfield is eager to be top banana again. "You can't always have a good time," she says, "but I mean to kick up my heels and dance on a few tables before it's all done."
CAROL SCHATZ
NANCY MATSUMOTO in New York City
Contributors:
Nancy Matsumoto.
IT MAY ONLY BE A MANHATTAN ICE-cream parlor, but Lynn Whitfield is impeccably coiffed, impossibly manicured and importantly dressed in a Vertigo ruby blazer and black pants as she shares an after-school snack with her daughter Grace, 3, who is herself picture-perfect in a navy blue pinafore. Wouldn't it be easier to do this in jeans? Perish the thought. "One of my missions," says the 40-year-old actress, "is to keep glamor going."
Advertisement
Today's Photos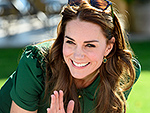 Treat Yourself! 4 Preview Issues
The most buzzed about stars this minute!