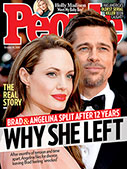 This Week's Issue!
People Top 5
LAST UPDATE: Tuesday February 10, 2015 01:10PM EST
PEOPLE Top 5 are the most-viewed stories on the site over the past three days, updated every 60 minutes
Picks and Pans Main: Tube
This Week


Syndicated (Check local listings)

C+

What comes to mind when you think of the nursing profession? Hot-tub sessions? Quickies in empty operating theaters? Easy access to controlled substances? No? Well, those kinds of things are what mega-producer Aaron Spelling thinks of. And that's why his mansion in Southern California overlaps three counties while you're wondering if you can make it until summer without replacing the worn-out tires on your car.

Except for that deceptively clinical title, this show about four student nurses is a carbon copy of Nightingales, a short-lived, Spelling-produced NBC series from 1989 about a flock of student nurses who were always shucking their uniforms. University Hospital, you see, is a soap opera with real soap. Once an episode you get a gratuitous shower scene, or—for a healthy alternative—a Lycra-sheathed yoga stretching interlude. Yet the four young leads (Hudson Leick, Rebecca Cross, Alexandra Wilson and Hillary Danner) bring a degree of commitment to this flimsy material that lends it a surprising vitality.

The medical procedures are few and far-fetched. In one episode, a patron in a local deli started choking on his lunch. An orderly from the hospital immediately jumped up and performed an emergency tracheotomy using a butter knife and a drinking straw. Seemed a little overzealous to me. Of course, I'm not a trained orderly.

ABC (Sat, Feb. 18, 8 p.m. ET)

B+

In a fun, facile remake of the 1970 Disney comedy, Kirk Cameron (Growing Pains) plays a goof-off college student who becomes, literally, a computer brain. In this updated version from Walt Disney Television, Cameron is wired directly into the Internet. Instead of fleeing a gangster, as Kurt Russell did in the original, our hero is suspected of being a notorious hacker.

The film is most enjoyable for its cast. Cameron's slacker roommate is played by Andrew Woodworth, who bears a striking resemblance to the late Kurt Cobain. Dan Castellaneta has a wonderful cameo, spoofing Alex Trebek as the host of a College Bowl-like TV show. And Larry Miller reprises his role as a weaselly campus administrator from Necessary Roughness. Of course, no light comedy from Disney would be complete without Dean Jones, here as a scheming scoundrel from a rival university.

ABC (Saturdays, 10 p.m. ET)

B

Jeff Fahey plays Deputy U.S. Marshal Winston MacBride. He's the guy you call in when a dangerous felon takes it on the lam. Hunt 'em down? Hell, half the time MacBride, like the heroic hare in the Bugs Bunny cartoons, is sitting there waiting when the bad guy gets where he's going.

That premise could make for a crisp and slick adventure hour; it did in the pilot. Already, though, Fahey's character is losing definition because of a string of unfocused scripts.

It's still an enjoyable show, but I worry for its future. My 8-year-old wandered into my office while I was watching a tape of The Marshal, took one look at Fahey with his pale, spooky eyes and said, "Ugggh, that guy's scary looking." And she doesn't even have any outstanding warrants.

NBC (Sun., Feb. 19, 9 p.m. ET)

B-

In this ceremonious miniseries, Sally Field plays the heroine of Elizabeth Forsythe Hailey's novel. A child of this century, she seeks fulfillment as a wife and mother, but chafes at the traditional restrictions on her gender. Her fortunes ebb and flow; men come and go. The only constants in her long life are love, devotion and sacrifice.

Airing over three nights (Sunday, Monday and Wednesday), the melodrama propels Field from a spirited young lady in the late Edwardian period (wait until you see the muttonchops sported by Charles Durning) to a hunched-over great-grandmother in the 1970s. It's more engaging than last year's reeling-through-the-decades miniseries, Oldest Living Confederate Widow Tells All, primarily because Field's character grows on us. Still, despite some moving moments, this is a drawn-out, stuffy and lugubrious project.

Field gives a bountiful if precious performance. Tony Goldwyn, Brenda Fricker, Ron Silver and Jack Thompson costar.

CBS (Tues., Feb. 21, 9 p.m. ET)

C+

Jennie Garth (Beverly Hills, 90210) plays a New Yorker who is swept off her heels by a mysterious stranger (Costas Mandylor of Picket Fences). Elsewhere in the city, numerous women are being thrown out of the windows of high-rise apartments. Are these events related? It's hard to tell in this murky thriller, where everyone is made to seem a likely suspect, even the detective (Billy Dee Williams) who is hunting down our serial defenestrator.

Eventually, Garth becomes a victim but survives, albeit with a concussion that leaves her unable to identify her attacker. Now she's being stalked anew.

The film creates an eerie, threatening atmosphere, but oh that jagged plot! Could you imagine what kind of world this would be if amnesia was as prevalent in fact as it is on TV?

Quote of the Week

"IN AN INTERVIEW, O.J. DEFENSE ATTORNEY Johnnie Cochran said, 'I'm not in it for the money.' Yeah, and I came to CBS just so I could work with Morley Safer."—David Letterman in a Late Show monologue.

>TUBE: Sally Field spans the century in A Woman of Independent Means; Kirk Cameron recycles The Computer Wore Tennis Shoes; 90210's Jennie Garth is stalked in Falling for You

SCREEN: Sharon Stone and Gene Hackman save The Quick and the Dead; In the Mouth of Madness features a disturbed—and disturbing—Sam Neill; Jerky Boys is a wrong number

SONG: Neal McCoy insists You Gotta Love That! Alison Krauss grows '90s bluegrass; Julie Andrews brings back the sound of Richard Rodgers

PAGES: Brenda Maddox takes a loving look at D.H. Lawrence's marriage; Jeff Noon explores the future; Anita Brookner reveals A Private View


ON A RECENT EPISODE OF ELLEN, OUR favorite farceuse introduced a man she was dating, a stuffy academic type, to the plebeian pleasures of prime time. After raptly soaking up an hour of Melrose Place, the donnish date marveled, "Who is this gentle bard whose finger is on the pulse of all that makes us human?" To which Ellen responded, "Aaron Spelling?" Well, the gentle bard is back with a new meditation on the modern psyche. Actually, upon closer consideration, Spelling's latest, University Hospital, isn't new at all (see review).
Advertisement
Treat Yourself! 4 Preview Issues
The most buzzed about stars this minute!