People Top 5
LAST UPDATE: Tuesday February 10, 2015 01:10PM EST
PEOPLE Top 5 are the most-viewed stories on the site over the past three days, updated every 60 minutes
In An Ivy League of Her Own
Lampoon Her If You Like, Feisty Barbra Streisand Draws Rave Reviews and a Full House at Harvard


At 52, Streisand would appear to have little to be anxious about, yet she spent one final night before her academic debut nervously polishing her speech ("It was not ghostwritten," says a spokesman) in the $l,500-a-night Presidential Suite of the nearby Charles Hotel. "She agonized over it," says a Charles staffer, who caught a glimpse of Streisand rehearsing in her room amid roses, lilacs, lilies and gardenias. "She wanted it to be taken very seriously."

Streisand, whose formal education never went beyond Brooklyn's Erasmus Hall High School, spent two full days at Harvard. On Thursday she toured the campus, sat in on a constitutional law class and lunched with John F. Kennedy Jr. and about 25 students at the Kennedy School's Institute of Politics. When she walked to the microphone at 5 p.m. on Friday, the woman who had campaigned hard for President Clinton in 1992 seemed ready to rumble. Some of the topics that aroused her political passions:

On fighting the good fight: "I am...very proud to be a liberal. The liberals...fought slavery, fought for women to have the right to vote, fought against Hitler, Stalin, fought to end segregation, fought to end apartheid. What's to be ashamed of?"

On turning celebrity into a personal soapbox: "For 30 years Paul Newman has been an outspoken defender of civil liberties and a major philanthropist. Would it be better if he just made money and played golf?"

On family values: "I'm disappointed that I've read so little in defense of [George] McGovern. This son of a Republican Methodist minister has been married to the same woman for 51 years and flew 35 combat missions in World War II. Isn't it odd that his patriotism can be disputed by a person [Newt Gingrich] who never served in the military and whose own family history can hardly be called exemplary? But then, no one should have to conform to some mythical concept of the ideal family—not even Mr. Gingrich."

On the opposition: "I promised myself I wouldn't get too partisan here. Some of my best customers are Republicans."

So, of course, are some Harvard students. "I didn't agree with much in her speech," says Christopher Garcia, 21, a senior from Mineola, N.Y., who referred to Streisand in the question-and-answer session as one of the "cultural elite."

"I resent that," shot back Streisand. "Why all the name-calling?"

In fact, that was about the only confrontational moment in a day that segued smoothly into a private dinner in Streisand's honor. Like most of the two days' events, the fete, attended by 100 guests, including economist John Kenneth Galbraith and Harvard professor Henry Louis Gates Jr., reflected the ambiguous social role occupied by politically active celebs. "She was delightful," says historian Doris Kearns Goodwin, who attended a small soiree with Streisand on Thursday night and admired, with professorial reserve, the star's "lovely black suit dress. It had cable stitching on the lapels." The whole experience, says the historian, "was a lot of fun."

S. AVERY BROWN in Cambridge


SHE HAD COME TO THE AUGUST precincts of Harvard University on Feb. 3 as an invited guest to speak of welfare reform and gay rights and against threatened federal cutbacks for the arts. And so she did, for 40 minutes, to an audience of 700 students and faculty crammed into the cafeteria of the John F. Kennedy School of Government. Her speech, replete with references to Plato and Michelangelo, was titled "The Artist as Citizen." Her outfit—a pinstriped Donna Karan dress and a single strand of pearls—was as no-nonsense as her topic. But inevitably the Brooklyn in Barbra Streisand showed through. Responding during the question time to a young woman who heaped praise on the speaker, Streisand cut off the stream of compliments by asking hopefully, "You've got a guy for me?"
Advertisement
Today's Photos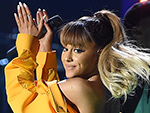 Treat Yourself! 4 Preview Issues
The most buzzed about stars this minute!