People Top 5
LAST UPDATE: Tuesday February 10, 2015 01:10PM EST
PEOPLE Top 5 are the most-viewed stories on the site over the past three days, updated every 60 minutes
The Flight of Alex Kelly
Eight Years a Fugitive, a Young American Prepares to Face Rape Charges
Contributors:
Anne Longley,
Lorna Grisby,
Joanne Fowler.
IN TINY KLÄDESHOLMEN, AN ISLAND FISHING village on the west coast of Sweden, it sometimes seems that everyone's life and character is an open book. Under that kind of scrutiny, no one fared better than a young American expatriate named Alex Kelly. Arriving around 1990, Kelly was quickly welcomed as a straight arrow with an easygoing charm. He was helpful to the elderly. He taught the teenage boys in town how to wind-surf. He learned to speak passable Swedish. Somehow it only seemed fitting that such an exemplary fellow would move in with the town beauty, Elisabeth Jansson. Asked once by a friend if he ever intended to return to the U.S., Kelly said no. "He said he never planned on going back," says Johan Kock. "He said he didn't like it there." [P] What he didn't tell the people of Klädesholmen was that while he had no desire to leave, his home state of Connecticut very much wanted him back. On the run from the police, he was facing charges of raping two teenage girls in the wealthy suburb of Darien nine years ago. Only last month was Kelly, now 27, finally brought to ground after eight years as a fugitive during which he apparently lived all over Europe. With authorities close on his trail, he agreed to surrender to police in Switzerland and to be extradited to stand trial. The case is complicated by accusations that his parents, Joseph and Melanie Kelly, helped him while he was on the run. "We believe there's no way that he would have been in Europe all these years without the active support of his family," said David S. Golub, a lawyer for one of the alleged rape victims. [P] In the years leading up to the rape charges, Kelly was a teenager with a mixed reputation. The son of the prosperous owner of a plumbing company, Kelly was a bright, model-handsome jock whose football and wrestling heroics, as well as his romantic prowess, made him a minor high school celebrity. "He was in the popular crowd," says former classmate Milda Lietuvninkas. "They were the beautiful people of Darien." Not so beautiful was Kelly's penchant for serious trouble. In 1984, as a junior at Darien High, he was convicted as a youthful offender for committing nine burglaries and placed on probation. He also spent four months in a drug rehabilitation program. Returning to school in the fall of 1984, he seemed ready to turn his life around. He established himself as one of the top wrestlers in the county and even began getting good grades. "He'd gone through a rough period," says one former classmate. "I think everybody was rooting for him." [P] All the same, many who knew Kelly sensed a cruel streak that no smile could hide. Jeff Bouvier, who coached the Darien wrestling team, recalls that Kelly, the team's cocaptain, was almost scarily proficient as an athlete. "It was no accident in my mind that he excelled at violent sports," says Bouvier. "He knew how to mete out punishment. When he came back after the burglaries, he excelled at wrestling, pinning kids in seconds, but also hurting kids too." Bouvier particularly recalls Kelly's performance in one match against a wrestler from rival New Canaan. "I can still see it," says Bouvier, shaking his head. "He played with him a little bit. He was like a spider with a fly in his web." [P] But it wasn't long before Kelly was the one in a web. On Feb. 10, 1986, and on Valentine's Day four days later, say police, two girls were raped in separate incidents. According to authorities, the two girls, one a 17-year-old from nearby Stamford, the other a 16-year-old from Darien, charged that Kelly had attacked them while driving them home from parties. Police have released few details, but, as lawyer Golub recently put it, "this [wasj not a date-rape type rape; this [wasj a nasty, violent rape." Within days, police had charged Kelly with the rapes and with kidnapping. [P] Kelly spent 17 days in jail until his parents could raise a $200,000 bond by putting up their house, then valued at more than $450,000, as collateral. Proclaiming his innocence, Kelly returned to school but was forced to graduate in March. Under the terms of his bail, Kelly could only leave his house when accompanied by his parents. But that fall, after he had appeared as required for several court hearings, he was allowed to travel to Colorado to take a job at a restaurant. "We're not here to prevent people who have not been convicted from earning a living," says assistant state's attorney Bruce Hudock of the decision to let Kelly leave. [P] Days before Kelly's trial was to begin, on Feb. 18, 1987, he met with his family and lawyer Michael Sherman in Leadville, Colo. Sherman says that at the time Kelly seemed "apprehensive" and "depressed." The family was outraged that the court, for reasons of expediency, had decided to try the two rape cases simultaneously. They viewed that decision as stacking the deck against Alex. "We had argued bitterly against this," says Sherman. "We brought in research to show that a jury would not allow someone the presumption of innocence because of the feeling that two people can't be wrong." Two days before the trial, the family flew back to Connecticut, leaving Alex behind to take a later flight that day. [P] He never showed up. Connecticut police immediately began looking for him but couldn't pick up his trail. When the court revoked Alex's bail, his family faced the loss of their home. Instead, they eventually paid $140,000 in cash to cover the bond. Prosecutors believe that at various times Kelly lived not only in Sweden but also in France, Ireland, Germany and Switzerland. In Darien the case continued to provoke fierce debate. The issue of Alex's guilt or innocence "split the town in half," says one former classmate who believes him guilty. "I can't count the number of fights I've gotten into over this." [P] Kelly's life as a fugitive appears not to have been terribly arduous. He met Elisabeth Jansson, who is now in her mid-20s, while she was on a ski trip in Switzerland. The pair returned to Klädesholmen and set up housekeeping together, making money by working as clerks at the local grocery store, owned by Elisabeth's father, Mats. In their off-hours they rented videos, hung out in town and regularly attended services at the local Pentecostal church with Elisabeth's parents. Several months a year they went off skiing or rock-climbing in Switzerland. But Kelly, who used his real name, was living his idyll on borrowed time. All along, Connecticut police had been keeping tabs on his parents, though they refuse to say exactly how. Last July investigators obtained a warrant to search the Kelly home. There they found photos of Alex and letters bearing the Jansson return address. Within hours, Swedish authorities came looking for Kelly in Klädesholmen but discovered that he had fled once again, apparently after being tipped. With his passport due to expire soon, Kelly, whose movements since July are unclear, contacted Swiss officials and offered to turn himself in. [P] Thomas Puccio, a highly regarded former federal prosecutor who is now serving as Alex's lawyer, insists that his client decided to give himself up in order to clear his name, not because he was on the verge of being captured. "He had been thinking about this for a long time," says Puccio. "We all do things when we're 18 that we wouldn't do when we're 27." As for the issue of whether Kelly's parents helped him while he was a fugitive, Puccio will only say, "Mere knowledge of his whereabouts is not enough to support a prosecution." That is true, but if evidence turns up that they provided assistance or that they alerted him that police were closing in, they could be charged with hindering prosecution, a possibility that assistant state's attorney Hudock is leaving open. [P] Whatever the truth, Alex's former lawyer Michael Sherman is sympathetic to the parents. "It's so easy for all of us to second-guess," he says. "I don't know that any of us can say what we'd do in the same situation." Sherman is aware, too, that in 1991, while Alex was on the run, his older brother Chris, then 26, died of a drug overdose. [P] At the moment, Kelly himself is still being held in Switzerland while authorities work out the details of his extradition, a process that could take several months. Meanwhile the residents of Klädesholmen are still standing by the Alex Kelly they knew and liked. "We can't believe it," says one white-haired parishioner at the church Kelly attended, "We'll do anything to help him." And in the United States, the two alleged victims, who have been in limbo themselves for eight years, are preparing to testify against the man they say raped them. "They are finally going to be able to tell their stories," says Darien Police Chief Hugh McManus. "Finally these two victims will be able to get on with their lives." [P] BILL HEWITT [BR] ANNE LONGLEY and LORNA GRISBY in Darien and JOANNE FOWLER in Klädesholmen [P]
Advertisement
Today's Photos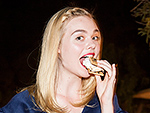 Treat Yourself! 4 Preview Issues
The most buzzed about stars this minute!