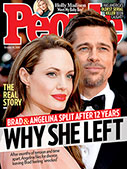 This Week's Issue!
People Top 5
LAST UPDATE: Tuesday February 10, 2015 01:10PM EST
PEOPLE Top 5 are the most-viewed stories on the site over the past three days, updated every 60 minutes
Witness for the Prosecution
L.A. Cop Mark Fuhrman Is Caught in An Unwanted Spotlight


Fuhrman soon found something else: that being a star prosecution witness means being a prime target of an aggressive defense. "They don't have any choice but to attack Fuhrman because if that glove was there, you have overwhelming evidence of O.J.'s guilt," says Harland W. Braun, a defense lawyer in the 1992 Rodney King beating trial. Fuhrman professes not to be worried. "I don't care," the 43-year-old detective told the Spokane Spokesman-Review in the only interview he has given since Simpson's arrest in June. "When I testify, I'll testify. I don't need to sit around chewing my fingernails."

Defense lawyers hope to convince jurors that Fuhrman is a racist who planted damning evidence to frame Simpson—whom he first met in 1985 when he responded to a call from Nicole Simpson, claiming O.J. had smashed her windshield with a baseball bat because she was late coming home. But allegations of racism will not be easy to prove. Last month, Judge Lance Ito forbade mention at the trial of two incidents from Fuhrman's past. The first concerned his statements to psychiatrists 14 years ago when he filed an unsuccessful suit seeking a disability retirement pension. Fuhrman complained that while serving in the Marines, "there were these Mexicans and niggers, volunteers, and they would tell me they weren't going to do something." He also told doctors that working as a cop battling gangs in the predominately black and Hispanic sections of L.A. had increased his hostility.

The second exclusion by Judge Ito involved allegations raised in a lawsuit filed by a black armed robber, Joseph Britton, who was shot five or six times by police officers, one of whom was Fuhrman, when he tried to flee a crime scene in 1987. Britton, who maintained his civil rights had been violated, has claimed that either Fuhrman or a partner taunted him afterward by saying, "Why don't you go ahead and die and save us the paperwork?" Fuhrman denies making the remark.

But Ito is allowing the Simpson defense to question the detective about an incident that allegedly took place in 1985 or '86. In a sworn statement, real estate agent Kathleen Bell, 31, told of a conversation in which, she said, Fuhrman told her he would pull over any vehicle occupied by a black man and a white woman. "If I had my way, they would take all the niggers, put them together in a big group and burn them," Bell quoted Fuhrman as saying. Fuhrman denies the charge, and a private investigator he hired, Anthony Pellicano, claims to have found three witnesses to back him up. "This is not a racial issue," Fuhrman said. "This is about a guy that murdered someone. And he was sloppy. I did my job. It irritates the defense the most because I did it right."

The course of Fuhrman's life has rarely run smooth. Before he was born, in Eatonville, Wash., an older half brother had died of leukemia, and his mother, Billie, Fuhrman later told psychiatrists, was "overprotective." When he was 7, his truck-driver father, Ralph—whom Fuhrman once described as an "irresponsible" big talker—and his mother, a waitress, divorced. As a boy, Fuhrman "was feisty, the macho type," says Eatonville elementary school classmate Nancy Call. "He could get into a fistfight pretty easily."

At 18, Fuhrman joined the Marines. In the Vietnam War he was a Marine Corps machine gunner. During his tour he married, dental assistant Barbara Coop, the first of his three wives, and after leaving the Marines in 1975 he entered the Los Angeles Police Academy, graduating second in his class. Two years later he and Barbara divorced, and he married Janet Sosbee, a teacher.

In 1978 a good friend, Richard Steed, was killed by a deranged person while working as a police officer in San Clemente, Calif. Steed's death and the pressures of his own job propelled Fuhrman into a depression. "After a while he began to dislike the work, especially the 'low-class' people he was dealing with," wrote psychiatrist Ronald Koegler. "He bragged about violence he used in subduing suspects, including choke holds, and said he would break their hands or face or arms or legs if necessary." Such hostility was understandable, his second wife, now Janet Hackett, says. "He is 6'3" and has light hair and blue eyes and was working plainclothes in [heavily minority] East L.A.," Hackett says. "He was a constant target." Fuhrman and Janet were divorced in 1980, and several years later he married Caroline Lody, 32. They have two small children and enjoyed an apparently unexceptional family life—until the Simpson-Goldman murders. Now, Fuhrman finds himself, involuntarily, famous. Says ex-wife Hackett: "Instead of going off and shooting somebody, Mark got some counseling, became a detective and turned his life around. Now he's getting screwed for it."

Fuhrman, too, seems anxious to retire from the LAPD next fall and move to Idaho. "If you're a big celebrity, you get money to be private. I'm just a working stiff. I don't get bodyguards or alarm systems," he told the Spokane paper. "If I could afford it, I'd buy 1,000 acres and put my house right dead-center."

LYNDON STAMBLER in Los Angeles, CATHY FREE and BILL DONAHUE in Washington


FROM HIS FIRST APPEARANCE IN court last summer, it was clear that Det. Mark Fuhrman was going to be more than just another player in the O.J. Simpson murder trial. After all, it was Fuhrman who discovered blood on Simpson's Ford Bronco the morning after O.J.'s ex-wife Nicole and Ron Goldman were killed. And it was Fuhrman who vaulted the wall at Simpson's Brentwood home and said he found on Simpson's property a key piece of evidence—perhaps the key piece of evidence—a bloodstained, right-handed leather glove.
Advertisement
Treat Yourself! 4 Preview Issues
The most buzzed about stars this minute!