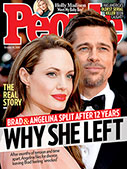 This Week's Issue!
People Top 5
LAST UPDATE: Tuesday February 10, 2015 01:10PM EST
PEOPLE Top 5 are the most-viewed stories on the site over the past three days, updated every 60 minutes
Picks and Pans Main: Tube
This Week


CBS (Wednesdays, 8 p.m. ET)

C

In this new sitcom, the Cheers veteran plays the cohost of a radio show, Points & Plugs. Together with his brother (Pat Finn), he dispenses automotive advice from a makeshift studio inside their car repair garage. (The premise is lifted from the popular NPR show Car Talk, hosted by Tom and Ray Magliozzi. That program is based in Boston, but Wendt, opting to put some miles between himself and Norm, situates this show in Madison, Wis.)

Wendt and Finn deliver their lines with such assurance and crisp rhythm that you may be puzzled after a few minutes to find that you're not laughing. These guys sure act funny. The problem is they're driving a lemon. Under the hood: stale and obvious writing. Combine the running-on-empty humor with a woeful supporting cast, and you have a sitcom hitting on about two cylinders.

Fox (Wed., March 22, 8 p.m. ET)

B-

Fox, home of the supernatural, introduces another "speculative" series. In his basement, a San Francisco graduate student and inventor (Jerry O'Connell) accidentally discovers a gateway leading to other worlds. These alternate universes actually look a lot like ours except that a few key elements will be out-of-kilter or reversed. Elvis might be alive, or a green traffic light might require motorists to stop. The Bay Area might be an Arctic region, or it could be under the thumb of a communist police state.

O'Connell's fellow travelers include his physics prof (John Rhys-Davies), his coworker at a computer store (Sabrina Lloyd) and a soul singer (Cleavant Derricks) who was driving down the street at the wrong time and passed through O'Connell's floating portal with his Cadillac convertible. As this foursome "slide" from one looking-glass world to another, they often encounter altered versions of themselves.

The drama is sci-fi lite, rendered with gee-whiz energy and a sense of levity. And it's frivolous and under-imagined. That was also true of Quantum Leap—yet that show had its loyal advocates. If you liked Leap, you should definitely be in front of the set for Sliders. I, however, will not be joining you.

After this 2-hour premiere, the series assumes its regular slot: Wednesdays at 9 p.m. ET.

Showtime (Sun., March 26, 8 p.m. ET)

B

The cable channel has revived the occult '60s anthology series that leaned heavily on goofy-looking extraterrestrial visitors. This two-hour pilot stars Beau Bridges as a scientist at a top-secret military installation who is nurturing organisms brought back in soil samples from Mars. (Bridges' father, Lloyd, as well as his 10-year-old son Dylan make appearances.) When the project is declared unsafe and shut down, Bridges steals some of the eggs and sets up a home nursery. Soon he's gasping into his audiovisual log, "The experiment has taken on a life of its own!"

There's nothing earth-shattering about this cable revival. The plots so far are rehashes of familiar schemes. But, like its progenitor, the series has been able to attract good actors. Later in the week the show assumes its regularly scheduled position, Fridays at 10 p.m. ET.

PBS (Sun., March 26, 9 p.m. ET)

A-

Old Martin Chuzzlewit (Paul Scofield) cannot escape his ravening relatives. They are climbing over one another to lay claim to his estate. On this foundation, Charles Dickens constructed a grand comic opera, a meaty meditation on the theme of greed.

This sprawling Masterpiece Theatre treatment has a gray, claustrophobic atmosphere and a literate, languorous screenplay by British novelist David Lodge. The fact that this 5½-hour adaptation moves along at the pace of a plow horse ceases to matter after two installments. That's how long it takes for the story's carnival of characters to completely win you over. Personalities like those of the besotted nurse Mrs. Gamp (Elizabeth Spriggs) and the unctuous chiseler Montague Tigg (Pete Postlethwaite) are still vivid and appreciable a century after Dickens dreamed them up. The centerpiece of this tale, though, is Pecksniff (Tom Wilkinson), Chuzzlewit's distant but insinuating relative. Pecksniff is a sanctimonious, self-seeking sort with a voice and a manner like warm milk and the soul of a reptile.

NBC (Tuesdays, 8:30 p.m. ET)

A-

Spring is busting out all over. And so are new series on the networks' prime-time schedules. The funniest of the lot is this sitcom, which stars daffy Dave Foley (Kids in the Hall) as the flustered, just-hired overseer of a Manhattan all-news radio station.

Saturday Night Live alumnus Phil Hartman plays a smarmy if sonorous newsreader. Stephen Root is the station's loopy, acquisition-mad millionaire owner. Andy Dick (Get Smart) plays an extravagantly sensitive reporter. Maura Tierney is an ambitious announcer, and Vicki Lewis is Foley's candid but cracked secretary.

The sensational pilot took off like a toboggan, gathering comic momentum until it ran out of hill. A second episode wasn't nearly as breathtaking, but the sitcom promises to go far, thanks to a marvelous ensemble and a lunatic sense of humor. NewsRadio is a nervier, more sophisticated version of WKRP in Cincinnati, updated to a time when people are much less secure about their jobs and far more wary about each other.

>TUBE: Charles Dickens returns to TV with Martin Chuzzlewit; Phil Hartman ventures into NewsRadio; a '60s favorite, The Outer Limits, is updated

SCREEN: Outbreak, a thriller about a killer virus, moves at a feverish pace; Losing Isaiah comes down flatly on both sides of an interracial custody battle; just when you thought it was safe to go to the dry cleaner's, here's The Mangler

SONG: Matthew Sweet slings 100% Fun; Marianne Faithfull gets mileage out of A Secret Life; Steve Win wood shows a taste for The Finer Things

PAGES: Elinor Lipman delivers a love story of sorts in Isabel's Bed; Swifty Lazar's memoir debuts two years after his death


JUST RECENTLY I WAS WATCHING Frasier on NBC when a stentorian promo announced it was "exactly 500 days to America's games." It took a minute to register that the games in question were in fact the 1996 summer Olympics in Atlanta. Does this campaign strike anyone else as just a little premature?
Advertisement
Treat Yourself! 4 Preview Issues
The most buzzed about stars this minute!