Archive Page - 12/1/12 39 years, 2,080 covers and 53,257 stories from PEOPLE magazine's history for you to enjoy
On Newsstands Now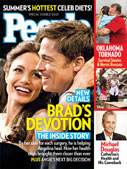 Brad's Devotion: The Inside Story

Oklahoma Tornado: Heroic Rescues

Michael Douglas on Catherine's Health
Pick up your copy on newsstands
Click here for instant access to the Digital Magazine
People Top 5
LAST UPDATE: Thursday May 23, 2013 05:10AM EDT
PEOPLE Top 5 are the most-viewed stories on the site over the past three days, updated every 60 minutes
Love Story
Seeking Work for a Down Syndrome Child, the Roys Didn't Stop at a Job—they Created a Company


Special Persons arose from the Roys' desire to see their own Down syndrome daughter, Jennifer, 23, secure a place in the world. It has wound up providing a haven—and a small paycheck—for 21 others. And it has managed to survive, even to edge slightly into the black, without a penny of government subsidy.

In 1991, Jennifer, the youngest of the Roys' three children, started looking ahead to graduation from Princess Anne High School, a public school where she had received intensive special education. "I could just see the handwriting on the wall," says her mother, Floy, 61, a bookkeeper for a Roman Catholic parish. She had seen what happened to other handicapped people when they finished school: "All of a sudden they had no place to go; their lives were at a standstill. Yet I felt they had a lot they could offer the community."

The Roys have been fighting for their daughter since she was born. At the time, recalls Art, 67, "everybody said, 'Don't take her home. She's not going to have a normal life.' " But the Roys, convinced that putting people with Down syndrome in institutions tends to shorten their lives, did take Jennifer home to join their sons Norman, now 42, and Gary, 36. "She has always been a joy and the focus of our lives—it's been a happy time," says Art. "Down syndrome children are real loving; they teach you a lot about patience, love and understanding."

As Jennifer's graduation approached, Floy had an inspiration. Her church, St. Pius X, had piles of collection envelopes to be labeled and mailed. These were skills Jennifer had been taught in special ed, so Floy asked the pastor if he would allow Jennifer and four of her handicapped friends to pitch in as trial volunteers.

In March 1991, with Floy and Art supervising, Jennifer and crew set to work in the Roys' brick suburban home. Not only did they lick the job but their reliability soon brought them recommendations for similar jobs—all unpaid—for the Special Olympics, the ASPCA and the Boy Scouts. By June the operation had picked up enough steam to move into donated office space, and in September the Roys began billing clients at competitive rates and paying their growing roster of eager employees. While most of them are too profoundly handicapped to fully grasp the concept of money, says Art Roy, they enjoy their weekly trip to a local bank, where they deposit their wages and are fussed over by the tellers. "The amount in the pay envelopes isn't important," says Art, a former career Navy officer who spends what would have been his retirement managing the mailing service, "but it gives them a sense of doing something important."

Special Persons gets half its employees from Skill Quest, a Virginia Beach program that teaches job skills to handicapped people and pays the company a fee of $20 a day for each of its clients working there. Under an exemption from federal minimum-wage laws, the workers are paid an average of $3 an hour, with most taking home between $60 and $90 a week. At least one employee, Wanda Beasley, 29, who says labeling is her favorite thing about work, is saving her money. Her plans include summer camp and shopping. "I like to buy clothes," she says.

For the parents of the Special Persons work force—most of them retirees who volunteer one or two days a week and help with the more difficult tasks such as sorting by zip code—seeing their children off to work is an uplifting experience. Earlene Whittle, a retired special-ed teacher, says her Down syndrome daughter, Shari, 26, "would go to work seven days a week" if it were up to her. Word has gotten around. There is now a waiting list of prospective employees.

Corporate customers are delighted too. Nancy Walton, advertising manager for Checkered Flag Toyota, in Virginia Beach, found Special Persons in the Yellow Pages a year-and-a-half ago; she learned that its employees were disabled only after they had successfully completed their first job for her. Impressed, she has continued to hire them, sending about $19,000 worth of work their way last year. For Walton, as for other customers, there's an added benefit. "You get off the phone, and you say, 'Wow, I've done something good today,' " she says. "You need that every once in a while."

In fact, Special Persons is doing so well that, after vacating its donated space in September 1993 and moving to $550-a-month rented quarters, the company already is looking for a bigger place. "It just kind of mushroomed," says Floy, noting that the company finally turned a profit after about two years of operation. "I don't think we ever intended for it to be this big." Art, though, who doesn't draw any salary, is leery of too much financial success. "I sort of would like to keep it like a mom-and-pop grocery," he says, "where you have that atmosphere and attitude."

In a larger company, Heidi Wendt, 38, who spends her day stamping mailing permit numbers on flyers for the Toyota dealership, might not look at Art and say, "He's my sweet, lovable boss." And Art might not be able to shake his head and say, "Instead of one child, I feel I have about 20."

JENNIFER MENDELSOHN in Virginia Beach


LIKE EMPLOYEES IN MANY CLOSE-KNIT COMPANIES, the labelers, staplers and collators of the Special Persons Mailing Service in Virginia Beach, Va., trade gossip, celebrate each other's birthdays and go out together after work on Friday. But they sometimes need a little extra help. There's the young woman who never can remember which day of the week is payday. There's the employee who asks the boss for help in buckling his belt after a trip to the bathroom. And, from time to time, a seizure will disrupt the quiet office routine. Two things distinguish the employees at Special Persons: They are all mentally handicapped—many with Down syndrome—and they are unusually devoted to their jobs. "A lot of outfits would like to have people with their work habits," says Art Roy, who, with his wife, Floy, founded the company four years ago. "I don't think you could chase them out of here."
Advertisement
Treat Yourself! 4 Preview Issues
The most buzzed about stars this minute!