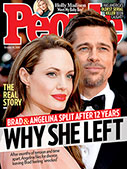 This Week's Issue!
People Top 5
LAST UPDATE: Tuesday February 10, 2015 01:10PM EST
PEOPLE Top 5 are the most-viewed stories on the site over the past three days, updated every 60 minutes
Picks and Pans Main: Tube
This Week


NBC (Sat., May 20, 8 p.m. ET)

B

At his mother's funeral, a man (John Ritter) finds an unexpected mourner: the father (Andy Griffith) he hasn't seen in decades. The old man worms his way into the family, lavishing most of his charm on his 8-year-old grandson. Viewers soon realize that Gramps has a very sinister side. The movie slogs through this material, but it's great to see Griffith playing against type. After so many years as a goody-goody in Mayberry R.F.D. and Matlock, it's easy to forget the kind of acting range he has. Nice guys make the best villains.

ABC (Mon., May 22, 9 p.m. ET)

B+

Gail O'Grady (NYPD Blue) portrays Paula Coughlin, a Naval officer whose complaint of sexual harassment at the Las Vegas Tailhook convention in 1991 set off the scandal that rocked the Navy. Despite a stiff-necked, almost documentary-style narrative, the film is powerful. And the recreation of the Tailhook gauntlet is truly harrowing. An impressive supporting cast includes Hal Holbrook, Rip Torn, Robert Urich, Cameron Bancroft and Bess Armstrong.

Fox (Tues., May 23, 8 p.m. ET)

A-

This dark fantasy film is set in the year 3040 on a far-off, bifurcated world named Rusta. The inhabitants on one side live quaint, pastoral lives in constant daylight. On the other side of a great, planet-girdling wall, another, more medieval society lives in the dark. Neal McDonough plays a new doctor serving a six-month internship on Rusta. Reminiscent of the 1974 sci-fi film Zardoz, this fanciful, lore-laden film was written by Bruce Wagner (Wild Palms) and produced by Francis Ford Coppola. Wagner's fable—Manichaean, mystical and macabre—is somewhat esoteric and unfocused. But it makes interesting-viewing. Paul Winfield and CCH Pounder costar.

>TUBE: Andy Griffith shows his dark side in Gramps; Gail O'Grady rocks the boat in the docudrama Tailhook; White Dwarf takes us to a peculiar planet

SCREEN: A Little Princess may offend the book's die-hard fans; the Oscar-winning Burnt by the Sun shows a chilling portrait of life under Stalin; Chuck Norris cuts the mustard in Top Dog

SONG: The Benedictine Monks are en-chanting us again; M People are M-m-m good; Blessid Union of Souls' debut doesn't quite come together

PAGES: Life after Forrest Gump finds Winston Groom at a decisive Civil War battle in Shrouds of Glory; the creator of The Cat in the Hat gets a fawning new biography, Dr. Seuss & Mr. Geisel


I WASN'T PERMITTED TO PREVIEW THE week's biggest TV event, Liz: The Elizabeth Taylor Story—and I couldn't be happier. Don't get me wrong; the embargo has in fact piqued my interest. NBC isn't sending out tapes, in part because the network is afraid early reviews will spur Taylor to seek a court order forbidding the airing of the film. Good news! I've had it with stale TV tales about celebrities like Roseanne, O.J. and Mike Tyson that amount to toothless takes of well-known incidents. So the whiff of controversy around Liz has me pumped. (Sun. and Mon., May 21 and 22, 9 p.m. ET)
Advertisement
Treat Yourself! 4 Preview Issues
The most buzzed about stars this minute!