People Top 5
LAST UPDATE: Tuesday February 10, 2015 01:10PM EST
PEOPLE Top 5 are the most-viewed stories on the site over the past three days, updated every 60 minutes
Picks and Pans Main: Song
Talking With...
Welcome to U2 labs, where progress is their most important product. The latest experiment by these rock scientists was originally to be an EP—or mini-album—to accompany this summer's European leg of their extended Zoo TV tour. But the Dublin quartet got carried away in the studio and produced a full album of 10 songs instead. The hurried nature of this project has taken the band even further into the gritty garage where they parked 1991's Achtung Baby. By letting spontaneity rule, U2 has defeated its tendency toward heavily layered, sometimes mannered music. But some of these songs needed more planning and polishing.
As an extension of the Zoo Tour, Zooropa is partly an attack on the stultifying aspects of mass culture. The title track opens the album by lancing the blister known as advertising, suggesting that beneath the empty slogans lies confusion about what really matters. The album concludes with "The Wanderer," featuring a stoic lead vocal by Johnny Cash, who was recruited by Bono and pals after he played a concert in Dublin. Bono retooled the lyrics slightly for his fellow man-in-black, and Cash does a fine post-apocalyptic accounting of what could be described as truth decay.
On these tunes, and a few others, the band matches its finest efforts, setting tough-minded sentiments to relentless soundscapes. But tracks like "Numb" and "Some Days Are Better Than Others" are too minimal for their own good—the simple catchy grooves can't rescue lyrics that, as the lilies suggest, pound home the same idea over and over. "Dirty Day," on the other hand, tells a powerful story of generational conflict, but you wouldn't know it from the rather muddled arrangement. U2 could have released a magnificent EFJ but that's available now only to those with programmable CD players. (Island)
Carlene Carter
Sure, her mom is June Carter and her stepdad is Johnny Cash. And her videos gel airplay on the Nashville Network. And she lives in Tenessee. But Carter, bottom line, is a skilled pop-rock singer (who cowrites most of her songs) and her latest record is Top 40 fine.
Letters has its share of twang and jangle, but what makes it so invigorating are up-tempo, hook-heavy tunes like "Ever)-Little Thing" and "I Love You 'Cause I Want To." They are little love letters special-deliveried by Carter's gutsy growl and relentlessly happy guitar riffs. "Unbreakable Heart," a sweet, slow and sad acoustic ballad by former Tom Petty keyboardist Benmont Tench (part of the sharp Letters core band), adds a welcome touch of rocking-chair-on-a-dusty-porch soul. (Giant)
Odds
Despite the moniker, there is absolutely nothing peculiar about this charmingly straightforward quartet from Vancouver. Each of the 12 cuts is a brief, snappy, pop-rock gem harking back to the angular energy of the late '70s-early '80s new-wave scene. Lean tangy guitar, sweet hooks, witty lyrics that don't strain to be brainy. Fortunately for the Odds, music has no truth-in-labeling law. Otherwise they'd have to call themselves the Delightfully Normals. (Zoo)
Greg Osby
An ocean of ink has been devoted to the new hybrid of jazz and hip-hop. But many of these bold collaborations break little new ground, emphasizing the hip-hop and relegating the jazz to exotic flavoring. Thai's not the case in Osby's intense and challenging fusion, which may well be the first jazz record to bear a warning sticker for strong language.
Formidable saxophonist Osby, best known for his tenure with the Brooklyn-based M-Base Collective, effectively shuts down the snobbish argument that hip-hop is just noise. Osby teams with Ali Shaheed Mohammad of A Tribe Called Quest (one of hip-hop's most innovative groups) and producer Eric Sadler, a driving force behind Public Enemy's brutal sound, to make a record that cuts no corners as either jazz or rap. (Blue Note)
>U2's the Edge
THE VALUE OF SPONTANEITY AND NO SLEEP
"THERE IS A KIND OF MADNESS GENERALED on tour," says the Edge, 32, U2's thoughtful and adventuresome guitarist, reflecting on how the band emerged from the studio with a full album, Zooropa. instead of the expected ER L2 spent most of last year playing its high-tech Zoo TV tour in the U.S. and the U.K. When the tour ended last November, says Edge, "we wanted to harness some of the energy that had come from the road." Before the European tour leg—retitled Zooropa—kicked off in May, about three months were available for recording. "We felt no real peace and quiet was possible in that space, so the best use of time was to keep going.
"The process was different than anything we'd done before—looser, more spontaneous. We went on instinct, with almost a naive appreciation of things—if we liked it, we went with it. There's a risk, of course. It's easy to second-guess every decision when you're a big band and such significance is attached to every-release." But by loosening up, U2 finished Zooropa "without letting the material get tired. When you're being very deliberate, you can often finish a song and then try it different ways. You can gel dazzled by options in the studio, and sometimes the songs don't improve. But the lack of a high sheen gives the listener more of a way in—you can almost trust the work more. There are a few mistakes—a guitar fluff in 'Stay,' a halted bass thing in 'Lemon,' and I played piano notes in the wrong order on the intro to 'Zooropa'—but we didn't have time to iron them out, so we left them in. I'm actually getting into them."
Loosening up also tapped more energy. "By mid-April we realized this could be a real album," Edge says. "So we worked extra hard. In May we'd come back from playing Spain and Portugal, go directly from the airport to the studio, work all night and head back to the airport. We didn't all do that every night—Flood [who co-produced the album with Edge and Brian Eno] did without the most sleep. Some people have said the album has a drug feel." Edge laughs. "Sleep deprivation was probably more the influence."
Contributors:
Ron Givens,
Craig Tomashoff,
Amy Linden,
Eric Levin.
U2
Advertisement
Today's Photos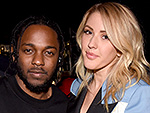 Treat Yourself! 4 Preview Issues
The most buzzed about stars this minute!