People Top 5
LAST UPDATE: Tuesday February 10, 2015 01:10PM EST
PEOPLE Top 5 are the most-viewed stories on the site over the past three days, updated every 60 minutes
Picks and Pans: Pages
Talking With...
In action-packed, high-octane prose, in a rollicking, incorrigible voice, Jones tells tall tales about Vietnam skirmishes, asylum stays, epileptic seizures, boxing bouts and sexual conquests. He exaggerates with a willful, zany abandon, racheting up the outrageousness until realism reaches silly heights and topples over. Yet the author's put-ons and send-ups are so infused with vivid description that readers can't help but suspend disbelief. In the title story of this collection, a hospitalized epileptic relates, "A nurse from the V.A. bought a pair of Staffordshire terriers for me and trained them to watch me as I sleep, in case I have a fit and smother face down in my bedding." The narrator himself sums up, "Isn't this incredible?"
Yes, incredible. And darkly humorous. Jones's irrepressible imaginings come equipped with hints that they should not be taken too seriously. As Vietnam's horrors erupt in "Break on Through" and "The Black Lights," Jones exuberantly presents "the dull bap, bap, bap of AK-47 fire" and savors enough stomach-turning details to remind any sensible reader of the sixth-grade recess yard. Sex is a happy condoms-be-damned frenzy.
Read Thom Jones! See him drop imagery like water balloons from Schopenhauer altitudes! Hold on as he zooms into metaphorical overdrive with his shameless, trashy-novel, V-12 prose! But for all the devilish gleam, one story in the bunch is a bona fide heart-wringer. Be prepared, upon putting down "I Want to Live," to phone your mother in her retirement home to tell her you love her. (Little, Brown, $18.95)
by Diana Abu-Jaber
While Abu-Jaber's first novel mines familiar turf—the immigrant experience—she digs into a singular and little-known community: Arab-Americans in a poor-white small town in upstate New York. Matussem Ramoud is a jazz-loving displaced Jordanian who married an American only to have her die of typhus on their first visit "home."
But where is home? The question has resonance not only for Matussem and the endless stream of relatives who ferry back and forth between the old and new countries, but also for Matussem's American-born daughters, the dreamy and drifting Jemorah and her sister, Melvina, a fanatical nurse whom even the matchmaking Auntie Fatima accepts as pretty much doomed to spinsterhood. Arabian Jazz is thick with sympathetic characters who revel in and curse their plight in hilarious fractured English. But while Abu-Jaber, daughter of an American mother and a Jordanian father, renders the people poignantly, the story is wan and skids to an unsatisfying hall. (Harcourt Brace, $21.95)
by Marc Eliot
The subtitle of this revisionist biography says it all, at least as far as the author is concerned. Eliot, whose previous books include Down Thunder Road, a 1992 Bruce Springsteen bio, reveals the warts, but not much else, of the man who built a Hollywood studio and the world's best-known amusement parks on the back of an animated mouse.
Eliot's big shocker, for which he makes a relatively convincing case via documents obtained under the Freedom of Information Act, is that Disney was an informant for the FBI, reporting on suspected communist sympathizers in Hollywood. He also tells us that Disney groundlessly worried all his life that he had been adopted, that he drank too much, suffered impotency, hogged creative credit, threw giant temper tantrums and was distant with his wife and two daughters (or, alternately, smothered his kids with excessive attention).
Eliot, whose prose never rises above the pedestrian, fails to create a full portrait of Disney, much less of those surrounding him or of the times. What proves most irritating and least persuasive is Eliot's constant psychoanalyzing: "Made during the time when both of Walt's parents died, Bambi expresses a melancholic desire on Disney's part to return to his childhood and revisit the animals who first stirred his artistic soul. The climactic fire that destroys Bambi's forest is, in effect, Walt's acknowledgment of that impossibility." And you thought it was just about a baby deer. (Birch Lane, $21.95)
by Michael Covino
Gangsters and movie moguls share "a fundamentally religious belief in the big score," muses Frank Furio, who, as the Ivy-educated scion of a Bronx Mafioso, knows both. Just how much the two types have in common he discovers in this mordantly comic first novel. After cooling his Guccis for two years in Allenwood for real estate swindling, Frank is all ears when film professor Wilbur Blackfield approaches him with a seemingly sure-fire scheme: stealing the negative, before prints have been made, of High Plateau of Stars II, the eagerly awaited sequel to one of the biggest blockbusters ever. But the plan backfires because Doug Lowell, the film's driven, half-mad director, has mortgaged ail he owns on the epic, which in his view is hopelessly flawed. He actually would like nothing better than for the film to be destroyed so he can start all over with the insurance money.
What ensues is a suspenseful cat-and-cat game, skillfully intercut with black comedy. Most comes at the expense of Hollywood poseurs, whom Covino clearly encountered in his former life as a script reader for Francis Ford Coppola's Zoetrope Studio. In the end, what Covino manages to convey is a real sense of movie magic, as in his description of a spaceship's landing in High Plateau II. "On this planet things are the same, but not quite the same—something about the way the sun filters and shimmers through the trees, the peculiar pitch of the light; the colors seem subtly different, tainted, as though the very molecules vibrate to the music of a different god." (Viking, $21)
by Slavenka Drakulic
This book by a Croatian journalist charts how the ethnic war in the former Yugoslavia forever changed a single life—her own. Drakulic, author of the novel Holograms of Fear and the acclaimed memoir How We Survived Communism and Even Laughed, made headlines last autumn when she reported on the systematic rape of roughly 13,000 Muslim and Croatian women by Serbian soldiers. In The Balkan Express she is a witness as the war waged by Serbian forces slowly approaches and engulfs her home town of Zagreb in the winter of 1991-92.
In 18 taut essays, Drakulic illustrates how a person who hardly gave a thought to the differences between Serbs, Muslims and Croats becomes caught up in an ethnic conflict: The author's college-age daughter flees the country after their home is shelled. Drakulic's mother, cut off from her pension money, worries about surviving food shortages.
The most powerful section, "What Ivan Said," is a simple conversation between Drakulic and a 19-year-old Croatian soldier who defended the city of Vukovar before it fell to the Serbs. He calmly describes seeing a young neighbor burn to death after a shell hit his car, cleaning up heaps of corpses after sniper attacks and watching a Serbian fighter being beaten to death by Croatian soldiers.
Drakulic ruefully concludes that in Yugoslavia—the most "open" of the former Communist nations—a complacent citizenry was unprepared for independence: "We didn't build an underground of people with liberal, democratic values...because the repression was not hard enough to produce the need for it." Those who seek a factual, chronological account of who did what to whom will not be enlightened by The Balkan Express. It is, however, a powerful reminder of the human cost of this mad conflict. (Norton, $19.95)
>Thom Jones
THE JANITOR WHO CAME IN FROM THE COLD
"BEFORE I CAME DOWN WITH TEMPOral lobe epilepsy [in 1965], I was a blue-collar guy destined for a blue-collar life," says Thom Jones, 48. A native of Aurora, Ill. ("where if you made eye contact with anybody, you'd get into a fistfight"), Jones became an amateur boxer in the Marines "until I got a head injury and started losing sense of time. I had these fits called fugues"—the onset of the epilepsy. "When they happen, you actually forget who you are, but you feel something holy and wondrous is at hand. Once it passes, you get frightened."
Discharged at the end of his hitch (he never left Camp Pendleton), Jones began reading philosophy and classical literature as a way of "extinguishing the psychic pain and black depressions" of his continuing epilepsy. Finally, Jones turned to writing and in 1970 was accepted by the prestigious Iowa Writers' Workshop. There the author met his future wife: Sally Williams, now 46, was studying French. The two subsequently moved to Lacey, Wash., where they live with their 10-year-old daughter, Jennifer.
"After Iowa, for many years I turned my back on life. I worked as a janitor until I realized that writing was my Only way out," Jones says. His efforts finally paid off in 1990 when the title story of The Pugilist at Rest was discovered in a slush pile at The New Yorker. The magazine bought several more stories, as did Harper's and Esquire. "I don't find the new celebrity particularly nice; Jones says. "It's just another form of stress. Some people write and some people fix cars. There's no moral high ground."
Contributors:
Margaret Edwards,
Louisa Ermelino,
Leah Rozen,
Pam Lambert,
David Ellis,
Joseph Olshan.
by Thorn Jones
Advertisement
Today's Photos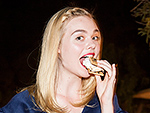 Treat Yourself! 4 Preview Issues
The most buzzed about stars this minute!