People Top 5
LAST UPDATE: Tuesday February 10, 2015 01:10PM EST
PEOPLE Top 5 are the most-viewed stories on the site over the past three days, updated every 60 minutes
Live Wire
She Says She Could Give It All Up, but Today's Katie Couric Got Where She Is by Being the Little Girl Who Would Not Go Away
That the woman behind the shades is a shameless stargazer won't surprise viewers who wake up ever morning with chipper Katie Couric—who until a few years ago was a little-known reporter training herself not to say "git" (as in, "Git off it, Bryant!") and hoping to persuade somebody, anybody, to give her a shot on-camera. These days, the geewhiz facade remains, but Couric, 36, can match any of those famous Hollywood folk for visibility. She is not only the cohost of NBC's
Today
show but, many say, its savior ever since she signed on in April 1991. (Morning talk show devotees will remember the ratings free fall that followed NBC's decision a year earlier to replace Jane Pauley with Deborah Norville, Couric's immediate predecessor.) Last month, while her co-host, Bryant Gumbel (who declined to be interviewed for this article), was off on a golf vacation, Couric led
Today
past ABC's previously top-rated Good Morning America for the first time in 34 weeks. "In the Brant-Jane combination, Bryant had the electricity. In the Bryant-Katie team, she has more," says Pauley, now cohost of NBC's prime-time newsmagazine Dateline NBC. Adds Pauley: "He seems more mellow these days, doesn't he?" ("After the show, Bryant goes into his office, turns on his music and lights his incense," Couric teases. "At night I think he plays golf in the dark.")
Beginning Aug. 18, NBC execs are counting on Couric to work her magic on yet another prime-time newsmagazine, Now, with Tom Brokaw and Katie Couric. (A harbinger, they hope, is Couric's Nielsen success with her high-ranked June 10 prime-time interview with First Lady Hillary Rodham Clinton.) "Katie is able to bring out Tom's sense of humor," says Jeff Zucker, executive producer of
Now
and formerly of
Today
. Tom Brokaw's sense of humor? The thinking is as clear as the challenge: If she could do it for the self-inflated Bryant, she can do it for earnest Tom. "Katie is a one-in-a-million find," says Zucker. "No other personality has emerged in the way she has."
What is it about Couric that clicks? Simple, says a former colleague from Atlanta, WSB anchor Chris Curle: "With Katie, what you see is what you get." Meaning a quirky, chaotic kind of Everywoman charm affirmed by everyone she touches: the makeup woman at NBC whose fake-pearl earrings Couric borrows in a panic moments before appearing on air; 2-year-old daughter Ellie's nanny, Nancy Poznek, who cleans out her employer's purse once a week ("Katie's so messy," she says. "Once I let her borrow my black coat, and the next day I took it out and it had chicken bones in the pockets"); and, especially, her husband, lawyer Jay Monahan, 37, who booted Couric out of the house for a weekend in June when they—or, rather, he—made the move into their four-bedroom apartment overlooking Manhattan's Central Park. "She's no help, because she's too sentimental," says Monahan. "I'll ask her to go through her papers to throw things away, but she'll find an old letter from a friend, and the next thing you know she's on the phone for three hours."
But anyone who has crossed Couric's professional path—George Bush, for instance—knows better than to mistake an impulsive demeanor for an airhead mind. It was during Couric's October 1992 televised tour of the White House with Barbara Bush that, on a whim, the President and his springer spaniel sauntered by. "Ranger and I want equal time," he joked, figuring on a few seconds of genial banter. But Couric figured differently. For 19 minutes she grilled him with unscripted questions on topics from his tax policy to the Iran-Contra scandal. When the interrogation paused, Bush seemed frazzled. "Aren't I great?" quipped Couric. "I'm one of those less-contentious reporters who can persuade you to stick around and talk with me because I'm so easy."
"Easy?" responded Bush. "I don't want to get in a fight with you."
Couric's essential toughness is sometimes concealed by her frisky sense of humor. "She takes her work seriously," says Curie, "but not herself." Indeed, in the backseat of a chauffeured Lincoln Town Car heading toward the
Today
studios at 5:15 a.m., Couric rambles on teasingly about a colorfully imagined personal history. "My parents were missionaries in Zaire, and I was conceived among an ancient tribe known as the Zulus," she says. "I was married at 16. I have an illegitimate child, and I'm going to search the country looking for her." Oh, and one other thing, she adds before hopping out at Rockefeller Plaza to start her day: "I've already done an hour and a half of Jane Fonda."
The fact is, pulling aside her high-powered job and her near $2 million salary, Couric is—sometimes to her chagrin—exceedingly unglamorous. "I can barely remember to put on deodorant in the morning," she says. "Actually," she adds with a sigh, "I'm so boring."
Boring, however, is not exactly the word Katie's mom, Elinor, would use to describe her daughter. (Elinor has been at various times a housewife, a department store saleswoman, a floral arranger and a volunteer at Planned Parenthood, but never a missionary.) The youngest of four children—her siblings are Emily, now 46, Clara, 43, and John, 38—Katie was raised in Arlington, Va., by Elinor, now 70, and John Couric, 73, a retired journalist and public-relations executive. They lived in a redbrick colonial house with a while picket fence and a dinner table where, each evening, the Couric kids were expected to share a new word they had learned. To that orderly lifestyle, says Elinor, little Katie brought a certain creative disorder. She dressed the neighborhood kids in feather boas and led them in off-key renditions of "Let Me Entertain You," got suspended for smoking cigarettes in Yorktown High School ("She told me she was just holding somebody else's cigarette," says Elinor), and left in her trail a swirl of ebullience and chaos. "I spent a great deal of time picking up after her," says Elinor. "I think she thought things straightened themselves out by magic."
More likely, Katie was just destined to shake things up. "I always told the children, 'Let them know you're there,' " says her mother. Katie took that literally. She memorized the names in her older sisters' yearbooks and boldly presented herself to upper-classmen at basketball games with: "Hi! I know you. I'm Katie Couric."
She adopted a similar approach in her career. After graduating from the University of Virginia in 1979 with a degree in American Studies, Couric drove to Washington with a goal—to break into TV news reporting—and a plan. With her mother waiting in the car, the 22-year-old marched into the CBS offices and announced to a security officer, "Hi, I'm Katie Couric, and I was wondering if I might be able to get a tour of your newsroom."
"Sorry," he told her. "We don't do that."
"Bummer," replied Couric.
A few minutes later she pulled the same ploy on a cameraman—and soon found herself standing in the office of the director of personnel. "He thought it was a riot how I maneuvered my way up there," says Couric.
And so began Couric's ascent. Though CBS expressed interest in her, she chose instead to become a desk assistant at ABC—under the sharp eyes of, among others, news anchors Sam Donaldson and the late Frank Reynolds. "My style is to mock-terrorize all desk assistants," says Donaldson, now coanchor of PrimeTime Live, of those early days. "I don't learn their names for the first few months. Why should I clutter my mind?" Mock or not, Katie "was never intimidated by Frank or Sam," says one coworker. "She'd go up to them and say, 'Have you ever considered looking at health care this way?' " The technique worked. Couric, says Donaldson, "was like cream rising to the top."
As far as Couric could tell, however, a woman could rise only so far at the networks, so at 23 she headed across town for the Washington bureau of the newly formed Cable News Network (CNN) and tried her hand at on-air reporting. But when CNN president Reese Schonfeld saw her footage he issued a mandate: Katherine Couric was not to appear on television again—ever. "He was right to trash me," she says. "I was green and extremely unpolished."
Over the next seven years, Couric bounced around the country—Washington, Atlanta, Miami—working behind the scenes for CNN as a producer and, whenever she could, polishing her on-camera act. In 1987, after Schonfeld had let her back on the air, she left CNN and returned to Washington, at NBC affiliate WRC, as a general-assignment reporter.
Rarely was her exuberant style on better display than at the 1988 Democratic Convention in Atlanta when Couric, on assignment, spotted an old friend from UVA in the throng. "Hey, Beth, are you married yet?" she hollered. "No," came the startled response. "Oh, good," shouted Katie. "Neither am I." The fact is, Couric's focus on work left little time for romance. So when in 1988 opportunity presented itself at a party given by a lawyer at the prestigious D.C. law firm of Williams & Connolly, Couric, dressed in a tight black miniskirt, approached a group of young men.
"What do you do?" asked one.
"I'm a reporter for WRC," she replied. "What do you guys do?"
"We're lawyers," came the response.
"Oh," said Couric. "Washington lawyers, that's fascinating." She then stuck her finger down her throat and simulated a gag.
In an instant, one quiet attorney made his play. "I'm a painter," he lied, and the strategy worked. "I thought he was so mysterious," recalls Couric. "So, do you want to have lunch with me?" she asked.
"I'll think about it," he said.
"Well," snapped Couric before stomping off, "who do you think you are, Heathcliff?"
Ten months later, Jay Monahan was standing in the living room of John and Elinor Couric's home, asking for their daughter's hand in marriage. Delightedly, they assented.
"Is there anything I should know about Katie?" Monahan asked. After a moment's thought, her father replied, "She can be a pouter."
"He's right," says Monahan today. "It's her only vice."
He could hardly have anticipated the juggling act their married life would become. Until last month, Monahan, living and working in D.C., commuted to Manhattan a couple of days a week on business. On weekends, he, Katie and Ellie traveled to one of their two other homes: a 1797 brick farmhouse in the Shenandoah Valley and a converted 1790 hay-and-tobacco warehouse in Alexandria. "It was very difficult," says Monahan of the back-and-forthing. "I missed Katie and the baby." And so, when Couric recently agreed to a new five-year contract with NBC, Monahan gave notice, signed on with Hunton & Williams in New York City and moved in with his wife and daughter.
With Monahan on the premises, Couric now has more time to relax. She shops—no longer at bargain-haven Loehmann's, but not at Giorgio Armani either. "I like buying clothes that the women out there can afford to buy," she says. "My motto is: Never buy retail unless it's on sale." She plays the synthesizer Jay gave her for Christmas. And, of course, she hangs out with Ellie, who watches her mom for five minutes each morning before switching to Sesame Street—and who already has a favorite moment from Cheers: a scene (which landed on the cutting-room floor) in which Couric, playing herself, tries to interview Woody, a candidate for city council, and is literally pushed out of the bar by Frasier. Says the toddler, wobbling about the living room in Katie's high-heeled shoes, "Push Mommy! Push Mommy!" Gushes Couric: "I'm just really happy. It's like we're a little family again."
The demands of Now, with Tom Brokaw and Katie Couric, of course, will cut into quality time. But Couric thinks she can handle the load and still be a good mother. "I don't think Ellie will be psychologically scarred because I'm not home giving her ginger ale," she says. Indeed, Couric and Monahan plan to have another baby next year—and someday even move to the suburbs. "I'd like Ellie to be able to play flashlight tag or go door-to-door selling Girl Scout cookies," she says. If two shows and two children prove too much? It won't be easy, say both Katie and Jay, but Couric may one day quit New York City—and the limelight—altogether. (Says Monahan: "I'd like to get involved in Virginia politics.") And lest her fans worry that if that happens Couric's life would be even more, well, boring than it already is, she assures them she could live without fame. "When I ride first class, it's always a little embarrassing to me," she insists with a twinkle. "I'm just a coach kind of a gal."
KAREN SCHNEIDER
SUE CARSWELL in New York City
Contributors:
Sue Carswell.
Advertisement
Today's Photos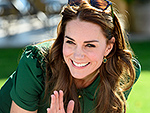 Treat Yourself! 4 Preview Issues
The most buzzed about stars this minute!