People Top 5
LAST UPDATE: Tuesday February 10, 2015 01:10PM EST
PEOPLE Top 5 are the most-viewed stories on the site over the past three days, updated every 60 minutes
Picks and Pans Main: Tube
Spotlight On...


HBO (Sat., Sept. 11, 8 p.m. ET)

B-

This film dramatizes gay activist Randy Shilts' 1988 nonfiction best-seller about the terrible swift advent of the AIDS epidemic. Director Roger Spottiswoode frames the story as a medical mystery with Matthew Modine as the hero, Don Francis, a dedicated researcher for the Centers for Disease Control.

There is a sterling supporting cast—Lily Tomlin, Phil Collins, Richard Gere, Glenne Headly, Alan Alda, Anjelica Huston, Steve Martin and others. But none of the dutiful guest stars are particularly effective in their roles, most of which amount to glorified cameos. They can't overcome the movie's choppy, forced-march pace and flat visual look. The exceptions are Gere in a small but touching turn as a Broadway choreographer (a composite character) and Alda as controversial Dr. Bob Gallo of the National Institutes of Health, who is presented as the villain of the piece, more interested in self-seeking than in science.

Then again, this is a complicated, diffuse and technical history to present cogently. (Screenwriter Arnold Schulman went through 18 rewrites.) The result is an important but not truly interesting project, one without an emotional center.

CBS (Sat., Sept. 11, 9 p.m. ET)

C

Let's play Guess That Epoch. Here's your clue: "Sass me, will you, you high-and-mighty planter's bastard?" You got it. We're back in the Old South, the TV home of bad accents and melodrama as sticky as interstate rest-stop pecan pie.

Our hosts are the Doyles, an aristocratic family in the Virginia Piedmont. In this trite TV movie, father (Robert Foxworth) finds solace from his shrewish wife (Kate Mulgrew) in the slave quarters. The roguish elder son (Daniel Markel) marries the hotheaded daughter (Tracy Griffith) of a drunken Irish peddler. It falls to the younger son (Zack Galligan) to uphold the family honor. Then, heigh-ho, it's off to the Civil War, for some remarkably small-scale battles. At the same time, back on the home front, the womenfolk get all catty while enduring hardships.

Olivia D'Abo, Victor Love and Tom O'Brien costar in this fatuous bit of Dixie-fried folderol. It all ends rather abruptly, raising the scary prospect that the network envisions this piffle as a possible series.

Fox (Sundays, 9:30 p.m. ET)

D

Richard Lewis plays a divorced psychologist whose life is disastrously remapped when his father (Don Rickles), an obnoxious retired car salesman, moves in with him.

Glowering and screaming, Rickles flings out insults like water from a lawn sprinkler. In the pilot he addresses an Arab man as "Aladdin" and "Gunga Din" and tells him, "By the way, 7-Eleven called and your camels are blocking the aisles." In the second episode he counsels his young grandson to deal with a bully by stabbing a pencil in his eye. Rickles's search-and-destroy humor may amuse in nightclubs, but in a sitcom setting it's remarkably offensive. (Archie Bunker's inflammatory comments, it was always clear, grew out of ignorance. This guy is just plain mean.) So far, at least once an episode, someone exasperatedly says to Rickles, "You are such an ass." Believe me, that's an understatement.

Rickles isn't the only problem. The show's humor is labored. The timing and delivery of the entire cast is inappropriate and amateurish (particularly Lewis's). Everyone talks too loud and walks around in a curious hunched posture, gesticulating madly. It's like a convention of very bad Charles Laugh-ton imitators. Top it all off with a strident laugh track, and you have the makings for the most grating half hour in recent memory.

Fox (Mon., Sept. 13, 8 p.m. ET)

B

In a teen farce, Corey Haim plays a kid being hectored by the school bully (Cameron Bancroft). He begins disguising himself as a girl to escape a beating, cross-dressing apparently being the better part of valor. (Hey, I don't make up these plots; I just review them.)

There is one advantage to Haim's desperate ruse: He as she gets to chum around intimately with the cheerleader (Nicole Eggert of Baywatch) he has a crush on. Unfortunately, if unsurprisingly, the bully develops a serious case of the hots for the new girl.

With his long blond wig and makeup, Haim looks uncannily like Blossom's Mayim Bialik. Most of the other ' "high schoolers," on the other hand, look more like PTA members.

This teen transvestite theme is a familiar formula, covered as recently as 1992's Ladybugs. This movie doesn't bring anything new to the game, but it does have a light, allegro comedic touch.

>Daisy Fuentes

WHAT'S DRIVING MISS DAISY?

WHO'S THE MOST PERVASIVE TV PERSONALITY in the hemisphere? Got to be Daisy Fuentes. The effervescent VJ is the reason Beach MTV has been the summer's sunniest resort. The 26-year-old also hosts, in Spanish, the weekly MTV Internacional, syndicated here and in 17 Latin American countries. Married to model Timothy Adams, Fuentes has made acting appearances in the ABC soap Loving and appears in the season opener of PBS's kid-lit/mystery series Ghostwriter (Sun., Sept. 12, 6 p.m. ET).

Born in Cuba, Fuentes lived for a time in Spain as a child before her real estate investor father settled his wife, a painter, and two daughters in New Jersey. (They were permitted to emigrate from Cuba because Daisy's mother was a Spanish national.) Fuentes started modeling while a student at Bergen Community College. The wife of a TV executive encouraged her to apply for an on-air job at a Spanish station in New York City. Recalls Fuentes: "She was really impressed with my Spanish. She said we needed more young people who knew how to speak both languages properly." Fuentes started working as a weather anchor. "I hated that whole news thing. It was extremely boring," she says. So she shipped off an unsolicited audition tape to MTV in 1987. Things have been snowballing ever since. "Yeah," she says, laughing heartily, "I'm taking over the TV completely."


David Letterman sure kicked off his CBS Late Show in high style with a wonderfully wry monologue ("Remember that woman who was breaking into my home? Now she's breaking into my home again, but she's doing it an hour earlier"), desk-defacing graffiti artist Bill Murray as first guest and silly surprises like conducting a séance to summon up the ghost of Ed Sullivan. Of course, as Dave reminded us right off the bat in acknowledging his welcoming ovation, he's had plenty of time to prepare: "If you think about it, all I really did is take the summer off." For his sake, I hope Letterman's new venture succeeds. Twice during his inaugural broadcast, car commercials came on with Dennis Miller providing the voice for a slobbery cartoon dog, a poignant reminder of what happens to out-of-work talk show hosts.
Advertisement
Today's Photos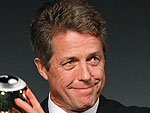 Treat Yourself! 4 Preview Issues
The most buzzed about stars this minute!