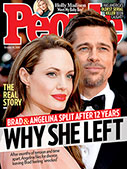 This Week's Issue!
People Top 5
LAST UPDATE: Tuesday February 10, 2015 01:10PM EST
PEOPLE Top 5 are the most-viewed stories on the site over the past three days, updated every 60 minutes
Alice Doesn't Live Here Anymore
After 23 Years as a Fugitive, Katherine Ann Power Gives Up Her Alias and Turns Herself In, Ending Half a Lifetime of Fear, Guilt and Depression
After more than two decades on the run. the woman hunted for 14 years by the FBI as one of its most-wanted criminals could hide no longer. What had finally caught up with her, she told her friends, was not the police but her own personal demons. And so it was that on Sept. 15—three days after the farewell dinner—Power, 44, stood in a Boston courtroom and pleaded guilty to manslaughter and armed robbery committed when she was a senior honors student at nearby Brandeis University. (The charges, on which she is to be sentenced Oct. 6, were reduced from murder after months of secret negotiations by her lawyers. Although she could receive life in prison, a term of five years is expected.)
At the handcuffed Power's side were her husband. Ron Duncan, and her elderly parents, who fought back tears. Later that day she released a statement expressing regret for the death of Officer Walter A. Schroeder during the "naive and unthinking" actions she attributed to her antiwar activism. "His death was shocking to me. Power said. "In response, I have lived my life as something of a penitent, ever seeking to grow as a person of peace."
The way Power spent most of her lime underground—settled in the rural Willamette Valley south of Portland spreading (he gospel of good nutrition and whipping up cookies for her son Jaime's sports teams—struck many as ironic, given her background as a political firebrand. But to those who grew up with her, it seemed clear that young Katherine Power was mother to the woman who called herself Mice Alice Metzinger.
Back in Denver, Kathy Power's world was defined by her large, close-knit family and her small Catholic girls school. The second of seven children of Winfield Power, a retired bank credit manager, and his wife, Marjorie, Kathy won a scholarship to rigorous Mary-crest High School. Affectionately nicknamed No. 9 by schoolmates after scoring ninth on a national achievement lest. she graduated as valedictorian with a clutch of honors—including the Betty Crocker Homemaker Award for her recipes. Kathy "just didn't make mistakes," remembers classmate Jerri Mapelli-Gustafson, a Denver marketing specialist. "She knew all the rules, and she played by them.
But the old rules didn't seem to apply at Brandeis, the freewheeling liberal-arts university where Power arrived as a scholarship student in 1967. As the campus turned into a nerve center for antiwar protest, Power, an honors sociology major, became increasingly radicalized. She and roommate Susan Saxe started working at a Brandeis-based national committee to organize student protests—alongside Stanley Ray Bond. 25. a charismatic convict who was attending classes under the university's prison furlough program. Both women quickly fell under his spell, and Power reportedly became romantically involved with him.
Power and Saxe were soon involved in more than romance. Along with Bond and two ex-cons to whom he introduced them—William "Lefty" Gilday. 12. and Robert Valeri, 21—they plotted a series of what Power called in her statement "outrageously illegal acts" intended to protest the Vietnam War. One was the Sept. 23, 1970, armed robbers of the State Street Bank & Trust. The plan was to use the proceeds—$26,000 as it turned out—to arm the Black Panthers and to bus explosives. Unplanned was the arrival on the scene of Officer Schroeder and his partner. As Power sat at the wheel of the second of two getaway cars, several blocks horn the bank, the highly decorated police veteran and lather of nine was shot in the back by Gilday.
Within a few days the three men involved in the heist were in custody. Evidence from Valeri (who received a 25-year robbers sentence and has since been released) helped convict Gilday. (Gilday is currently appealing his life term. Bond died before his trial when a bomb he was making in prison detonated.) But by tapping feminist and radical contacts, the two women managed to stay a step ahead of the law until 1975, when Saxe was arrested in Philadelphia. (After five years in prison, she now works for a Jewish charity and lives in Philadelphia.)
In 1984, Power was dropped from the most-wanted list for lack of leads. By then she was well-established in Oregon as Alice Louise Metzinger, a name appropriated from an infant who had died around the time she was born. She had a 5-year-old son, was living with Duncan, a soil-spoken bookkeeper and meatcutter, and had a budding career as a cooking teacher. The next year the three moved into the cream-colored house in Lebanon (pop. 10,950) where they lived quietly until Power's surrender. ""Her passion was food," says friend Alexis Chambers. "She believed that by feeding people well their lives could be changed."
In 1989, Power and chef Paula Scharf opened the now flourishing Napoli Restaurant and Bakery near the University of Oregon campus in Eugene, baler she helped friend Marilyn Sehwader launch a tea-and-coffee house. Though always ready to listen to others" problems, she never discussed her own—or her past. "One time she said, 'I don't talk about my story,' " recall-friend Molly George, "so I left it at that."
But the strain of her double life, the prolonged separation from her aging parents—whom she hadn't seen or spoken to since the hank robbery—and guilt over Schroeder's death were taking a toll that even 18-hour workdays couldn't conceal. In May of last year, Power showed up at a class on depression taught by marriage-and-family therapist Linda Carroll. "She was in the most intense psychic pain of anyone I've ever seen," Carroll recalls. ""She couldn't speak without crying." Carroll quickly diagnosed "a textbook example of depression." It was only later, in private counseling sessions when Power confided her fugitive status, that Carroll realized that this patient's road to recovery was going to be more complex than most.
First Carroll—who has been authorized by Power to disclose details of their sessions—persuaded her client to meet with a psychiatrist, who prescribed medication that gradually relieved her depression. Then the therapist introduced her to Steven Black, a Corvallis public defender who had been driven into community service by guilt over deaths he had caused as a Vietnam combat pilot. "As she got better," Carroll says of her patient, "she understood that she had to go to prison in order to be free."
Black and Rikki Klieman, the prominent Boston lawyer he contacted, next embarked on clandestine negotiations with federal and Massachusetts authorities. Furtive calls to pay phones and computer E-mail were among the devices they used to conceal Power's whereabouts. Meanwhile the fugitive began to put her affairs in order, finally marrying Duncan after 13 years of living together and revealing her identity to her son and a few close friends. (It is unclear when she shared her secret with Duncan, who still calls her Alice.)
As negotiations neared a conclusion, Schroeder's family was contacted by authorities asking their views concerning the proposed plea bargain. Although some of the slain officer's survivors expressed forgiveness and the desire, in the words of son Edward, 38, a Denver deputy sheriff, to "bring finality to the case," time had clearly not healed all wounds. "Her family can say they missed her on Christmas and all those holidays," said Schroeder's widow, Marie, 63. "What about my children who haven't had a lather?"
Emotions were equally intense, but happier, during Power's tearful four-hour reunion at a Cambridge, Mass., hotel with the parents she hadn't seen for 23 years. "We hugged for a long, long time," said her mother, 71. "She has suffered greatly over the years. I think she will find peace this way."
PAM LAMBERT
JOHNNY DODD in Lebanon. VICKIE BANE in Denver and TOM MORONEY in Boston
Contributors:
Johnny Dodd,
Vickie Bane,
Tom Moroney.
Advertisement
Treat Yourself! 4 Preview Issues
The most buzzed about stars this minute!