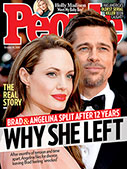 This Week's Issue!
People Top 5
LAST UPDATE: Tuesday February 10, 2015 01:10PM EST
PEOPLE Top 5 are the most-viewed stories on the site over the past three days, updated every 60 minutes
Hosts with the Most (and Least)
Not All of Late-Night's Smooth Talkers Have the Gift of Garb


DAVID LETTERMAN, 46
When he left NBC he left behind his khakis, navy blazers and sneakers; now Dave has gone strictly Continental. "He's got the best physique for those double-breasted European-cut suits," says Henry. Molloy calls him "the closest to Carson in clothing; you don't look at Letterman and say, 'Yuppie.' " Declares Cho: "He sure knows what he's doing." Hollander isn't so sure. While she thinks Dave looks "very sleek, very finished," she notes "he looks stagey and costumed. The goofy smile and curly hair make for an unnatural theatrical effect."

WHAT THE CLOTHES SAY: No Mr. Nice Guy. "Do Not Get Near, Must Not Touch" is how Hollander reads it.

PROBLEM AREA: His feet think they're still on at 12:30 a.m. Suggests Cho. "Lose the loafers—too sloppy, too Connecticut."

EXPERT CONSENSUS: Could dress a tad more cordially. " He should wear friendlier clothes," says Henry, "polo shirts, cardigan vests, even turtlenecks."

RATING: 8 JOHNNYS

CONAN O'BRIEN, 30
Late-night's youngest host has an identity problem. NBC bought him several dapper Donna Karan suits, but the redhead prefers to play the frat brat. Tugging at one plain suit that made him more banker than bankable, he said with mock sarcasm, "This will endear me to the MTV generation." But Cho rips his occasional T-shirt and open collar ("He needs a jacket to give himself substance"), while Molloy advises, "Go with dark colors for more authority." Still, Conan's no barbarian: "He's got a genial, youthful look," says Hollander.

WHAT THE CLOTHES SAY: I'm new at this, gimme a break! "He's not really into it yet," says Molloy.

PROBLEM AREA: His youthful mug. "Ties and dark jackets will give him more clout," says Cho.

EXPERT CONSENSUS: He's young, but he needn't dress that way. "Rich, coffee-colored clothes will give him warmth and weight," says Henry.

RATING: 2 JOHNNYS

JAY LENO, 43
Not only his jaw is oversized. "He has to camouflage the weight around his middle," says Henry, But Hollander feels "nice suits with big, rounded shoulders look terrific on him. He looks as though he's wearing suits because he always has. And he doesn't—as Letterman does—look as though he'd be more comfortable in a sweatshirt." Which is not to say that the ex-mechanic can't wear pressed jeans once in a while, notes Molloy, since "his suits are sometimes too authoritarian," Still, the nicest man in showbiz "has a lumbering grace," says Hollander. "He's wonderfully natural and harmonious."

WHAT HIS CLOTHES SAY: Affable. Says Henry: "He's a warm, cuddly teddy bear."

PROBLEM AREA: His paunchy middle. "He can hide it with very good quality, modern-cut suits," says Cho.

EXPERT ADVICE: Loosen up. "Get sportier, more creative," says Henry. "Go with a funkier style."

RATING: 7 JOHNNYS

CHEVY CHASE, 50
Corporate-looking suits and aging-preppie outfits may be the least of his problems—the show, which is on life support, is frantically being doctored as you read this. "He's clueless," says Henry. "You can't really tell if he wants to be liked or not. He has no sense of style at all, and I don't know if he can be helped." Ouch. Newly hired consultants will surely try to lighten him up. "Take the tie off, open up the shirt," says Cho. "He's too Tom Brokaw." Carson rarely wore suits—mainly sport coats—notes Molloy, "and he made fun of network executives who did."

WHAT THE CLOTHES SAY: What am I doing here? Observes Hollander: "He looks uncomfortable and evokes uncertainty."

PROBLEM AREA: From the neck down. "The suits are dull, the fabrics uninteresting, the shirts traditional and the ties boring," says Henry. Adds Hollander: "He has a lot of chin, so checks are a mistake."

EXPERT ADVICE: Start from scratch. "Try sport jackets or silk T-shirts," says Henry.

RATING: 6 JOHNNYS

ARSENIO HALL, 34
The host who made PEOPLE'S 1992 Worst Dressed list was a surprise hit with our consultants. "He looks terrific all the time," says Hollander. "He's never scruffy, never contrived." Henry likes "his pizzazz. He's aware of the connection between personality and wardrobe. He's a showman who really knows how to work the crowd." Cho goes for his bright colors, "aimed at a hipper, younger audience," though Molloy thinks he can be "too hep—he turns off Middle America. He should wear jackets all the time." All agree Hall stands tall. "You can't dress like that unless you're him," says Hollander.

WHAT THE CLOTHES SAY:
I'm so hip. "The lines of his clothes are very up-to-date," says Cho. "He's got flair."

PROBLEM AREA:
His ear. "If I were his producer I'd say nay to the earring," says Molloy. Adds Cho. "He doesn't need it."

EXPERT CONSENSUS:
Connects with his audience—sometimes too much. "Forget the jeans and sporty stuff," says Cho. "They make him look like a guest and not enough like a host."

RATING: 9 JOHNNYS


Advertisement
Treat Yourself! 4 Preview Issues
The most buzzed about stars this minute!