People Top 5
LAST UPDATE: Tuesday February 10, 2015 01:10PM EST
PEOPLE Top 5 are the most-viewed stories on the site over the past three days, updated every 60 minutes
Exit Laughing
Gentle Giant John Candy Had a Supportive Family and a Hot Movie Career—but in the End, Neither Love nor Money Could Save Him from the Weight Problem He Knew Might Be Fatal
So elated was the genial actor that after cooking a late-night spaghetti dinner for his assistants, he put in calls to Lewis and Picardo, and for a few minutes the actors reveled in their own and each other's accomplishments. "He was like a little kid who had had a great day at camp," says Picardo. "He wanted to thank us."
With that, Candy hung up, soon turned out the light and went to sleep. He never woke up. The next morning, when Lewis and Picardo arrived on the set, they had not yet stepped from their car when an ashen-faced production assistant broke the news: At about 6 a.m., the 43-year-old Candy had suffered a heart attack and died in his sleep. Picardo slumped down in his seat. Lewis ran into a field and fell to the ground. "And then," says Picardo, "we both began to weep."
Candy's family was stunned. "None of us believed it would happen," says Frank Hober, 56, the elder brother of Candy's wife, Rosemary. "The whole family is in turmoil." Meanwhile, in Los Angeles, colleagues who considered the star of such hits as 1987's Planes, Trains and Automobiles and last year's Cool Runnings a fixture in their community reeled in shock. "Are you sure he's dead? Did you gel it right?" demanded comedian Paul Rodriguez. "He looked so healthy."
That reaction is testament to Candy's aura of boyish innocence. Before he died, he looked cherubic, rosy-cheeked, hardly a day older than he did in 1984's Splash—but he did not look healthy. Carrying some 330 lbs. on his 6'3" frame—and often smoking a pack of cigarettes a day—Candy was tempting fate. His father, Sidney, a Toronto car salesman, had died of heart disease at the age of 35, leaving his wife, Evangeline, to raise 4-year-old John and his older brother, Jim, on her own. Gnawing at Candy was the knowledge that each pound he gained—and each cigarette he smoked—put him in further peril of leaving his own wife, Rosemary, 44, a potter, and their two children, Jennifer, 14, and Christopher, 9, in the same tragic situation. "It was always in the back of everybody's mind," says Hober. "No one talked about it, but it was in the back of John's mind too."
Candy's obesity, of course, was not without its benefits. It set him apart as an actor in a career that spanned two decades and nearly 40 feature films; in recent years, he was making upwards of $4 million per picture. The excess heft heightened the humorous effect, whether he was playing polka enthusiast Yosh Shmenge on the Emmy Award-winning SCTV series or Irv Blitzer, the coach of the Jamaican bobsled learn in Cool Runnings. "He doesn't add weight," wrote Pauline Kael in her New Yorker review of Candy's star-making turn in Splash, "he adds bounce and imagination."
Years of practice readied him to respond with spontaneous humor to even the most unexpected references to his size—such as a question posed by Playboy magazine in 1989.
"Reveal a big man's sex secrets," he was asked.
"Patience," Candy replied.
Still, behind the self-deprecating jokes, Candy harbored considerable pain. "I'm the one who has to look in the mirror," he told PEOPLE in 1981, "and after a while it begins to eat at you." Those who watched Candy go from diet to diet, trainer to trainer, hot dog to hoagie, bore sad witness to a constant struggle between his good intentions and his self-destructive desires. "I know what I have to do if I want to lose weight and stay healthy: eat a proper diet and exercise," Candy said. "All I've got to do is apply it."
Easier said than done. Candy was a walking contradiction. While the specter of his father's death pushed him to strive for self-discipline, it also released in him a sense of fatalism: If he was doomed to die anyway, he seemed to reason, hell, pass the potato chips. "He felt he had inherited in his genes a Damoclean sword," says Carl Reiner, who directed Candy in 1985's Summer Rental, "so it didn't matter what he did."
Candy, from childhood, showed a penchant for living large. Growing up in East York, a middle-class borough in Toronto's east end, he attended the all-boys Holy Cross Separate School and later Neil McNeil High School—focusing in fast on his priorities. "His passion," says Father Michael Doyle, former principal at McNeil, "was football." Adds his former economics teacher, Karl Wysotski: "He was so big, no one got by him." Though his size limited his social life—"I didn't go out on a lot of dales," Candy said—he never let on if it disturbed him. Says Wysotski: "He was a happy, funny student. He loved to make you laugh."
In 1969, Candy enrolled in Toronto's Centennial Community College to study journalism and acting. Between classes he honed his craft in the local underground theater. In 1971, he met fellow Canadian Dan Aykroyd, who urged Candy to audition for the famed Second City comedy troupe, home to future Saturday Night Live stars John Belushi, Gilda Radner and Bill Murray. "The next thing I knew," Candy told PEOPLE, "I was in Chicago, where I learned how to drink, stay up real late and spell 'd-r-u-g-s.' "
In 1974, he left the fast life behind and returned to Toronto, where, along with Harold Ramis, Rick Moranis, fellow Shmenge brother Eugene Levy and others, he starred in the hit television series SCTV. for which he eventually won two Emmys. In 1980, Candy made his movie mark as cop Burton Mercer in The Blues Brothers, and his career went into fast-forward after he appeared with Bill Murray in Stripes. Said Candy: "I went from macaroni and cheese to macaroni and lobster."
Over the years, friends say, Candy changed very little, sticking close to his working-class Catholic roots. He married his high school sweetheart, Rosemary, in 1979 and bought a 20-acre farm near Newmarket, about 50 miles north of Toronto, where they raised their children along with a few horses, cows and cats. Extremely protective of his privacy (he refused to let his wife or family do interviews), Candy nonetheless gave generously of himself. When a neighbor he didn't know well, Mary Broome, lost her husband in 1986, he sent flowers to her home. Afterward, says Broome, "he made sure someone came and shoveled my walk and cut my lawn." When he learned that his financially strapped high school had suspended its football program, Candy offered to finance the team. And he always took extra time to chat with his fans. "He wanted to make it personal," says Carl Reiner. "He had that need."
It was Reiner, more than anyone else, who broke through to Candy about his weight problem. It was no easy task: Candy loved not just food but the rituals that went with it. Fun, to him, meant inviting 100 guys to his private box at Toronto's Skydome (he became part owner of the Canadian Football League Argonauts in 1991) and serving up a feast of pizza and hot dogs. Or ordering 40 pounds of fresh lobster for a blowout bash on a movie location. Or simply preparing a meal in the 11-room, $2 million home in West Los Angeles he bought in 1986. "John was always most relaxed when he was cooking," says Levy. "In fact, he was so relaxed that come 10 o'clock you'd realize John was just pulling the turkey in the oven. You'd eat at 2 a.m., leave at 5 a.m., and later on you'd realize it was one of the greatest nights you ever had."
Still, for Candy, there was a price to pay. The comic never got used to the barbs from critics—like the one who dismissed him in Stripes as "the elephant." Encouraged by Reiner, who had a cook prepare healthful food on the Rental set, Candy checked himself into the Pritikin Institute in Santa Monica for a month in April 1984. He returned a changed man. He hired a personal trainer, with whom he worked regularly until his death, and began a routine of jogging, biking and swimming. The Pritikin push worked: Candy lost 75 pounds that summer.
That success, however—like the ones before and the ones after—didn't last. "For a while he would eat nice," says Reiner, "but then he would say, 'Let's go have a bucket of shrimp.' He just couldn't resist." Why Candy continually lost his resolve no one can say. Was food comfort? Did cigarettes soothe his nerves? As Candy himself said, he was riddled with anxiety. "I don't watch my movies," he said. "I just get too critical of myself." Live television bothered him too. "I did the Tonight Show once, and I choked up," he said. "I get intimidated."
When he turned 40, Candy began suffering from what he called "panic attacks" so severe he sought professional help from a therapist. "He would just stand backstage before he went on with his eyes shut, breathing in and out," says producer Peter Kaminsky, who befriended Candy when the actor hosted the Montreal Comedy Festival in 1988. "Eating, ingesting, smoking," says Kaminsky. "For John, it was a way of swallowing that anxiety."
Whatever his excesses, Candy grew increasingly testy about references to his size. In 1992, he was scheduled to serve as host of the Canadian Genie Awards for feature films when he got a glimpse of the promotional television ad: "We got the biggest star we could find." Incensed, Candy backed out of the broadcast. Since then, those close to him had to watch in silent frustration as his weight. crept up from his usual 275 pounds. "At a point, you just couldn't push it," says his close friend Levy. "Otherwise you stop being a friend and start being an irritant."
In the end, of course, no one can say for certain whether diet and self-denial would have prolonged Candy's life a single day. Only one thing is sure: Already Candy is missed. Last week, while his colleagues in Chupaderos worked to finish the film they have dedicated to his memory, a somber line of 200 family and friends—including Martin Short. Tom Hanks, Rhea Perlman, George Wendt, Chevy Chase and Bill Murray—filed into a small white church in Brentwood, Calif., to pay the comedian their final respects. "It hasn't sunk in yet," says Levy. "We don't realize yet that John will be no more. Feeling his absence will be tremendously hard. Like the air has been sucked out of the world."
KAREN S. SCHNEIDER
JOSEPH HARMES in Durango, NATASHA STOYNOFF and FANNIE WEINSTEIN in Toronto and VICKI SHEFF-CAHAN in Los Angeles
Contributors:
Joseph Harmes,
Natasha Stoynoff,
Fannie Weinstein,
Vicki Sheff-Cahan.
Advertisement
Today's Photos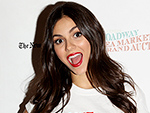 Treat Yourself! 4 Preview Issues
The most buzzed about stars this minute!