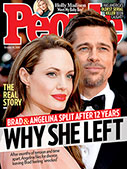 This Week's Issue!
People Top 5
LAST UPDATE: Tuesday February 10, 2015 01:10PM EST
PEOPLE Top 5 are the most-viewed stories on the site over the past three days, updated every 60 minutes
Dangerous Liaison
A New Book Tells a Tale of Love and Blackmail in Princess Margaret's Past
WITH PRINCESS DIANA IN SEMIRETIREMENT AND THE DUCHESS of York under wraps, the royal family has been without a Scandal Queen to amuse the masses. No longer, however: This week, the title goes to Princess Margaret Rose, 63, the subject of a racy new biography that portrays her as a sex-bomb manqué. In excerpts from Margaret, the Untold Story, a book by Noel Botham, The News of the World has recycled accounts of long-ago indiscretions including her alleged affair with cocktail pianist Robin Douglas-Home (whose Tory uncle Alec was prime minister from 1963 to 1964). Complete with snippets from Margaret's florid letters ("...our love has the passionate scent of new-mown grass and lilies about it"), the series suggests that Douglas-Home's 1968 suicide was triggered by the depression that struck when she ended their 30-day liaison.
While the book's portrait of Margaret may be undignified, there has been no official challenge from the Palace. "The letters are genuine," says a well-placed royal watcher. "If they weren't, they would have been officially denied." Ironically, the Queen's younger sister apparently is untroubled by the fact that her billets-doux are appearing in common newsprint. Although she was "absolutely livid" when she saw the headlines on April 10, says royal author Brian Hoey, "she realized that there was nothing new in [the book] anyway, and she is quite enjoying the notoriety."
Author Botham, 54, also is basking in the publicity—even if much of it is negative. On April 15, London's Evening Standard revealed that the love letters had been published—18 years ago—in the Italian magazine Oggi. A Fleet Street veteran who claims he knew Douglas-Home and received the letters from a mutual friend, Botham maintains that he was unaware he had been scooped by Oggi, which ran the story in the wake of Margaret's 1976 separation from Lord Snowdon. (The love notes never surfaced in Britain: in that more-discreet era of Palace reporting, "the climate was wrong," says a veteran journalist.)
Whatever Botham may have known about the letters, the princess seems to have been well aware that Douglas-Home had shown them to others. On April 11, the Daily Express reported that the notes had been used in two blackmail attempts. Weeks before he overdosed on alcohol and sodium amytal, the spendthrift Douglas-Home reportedly threatened to sell them if Margaret refused to buy him off. After his death, an anonymous source offered lo return them to her for $400,000. (Notoriously-frugal, she refused.)
As Botham tells it, Margaret was in emotional disarray when she encountered old acquaintance Douglas-Home at a London restaurant in December 1966. Her seven-year marriage to Lord Snowdon (whom she wed after giving up divorced RAF Group Captain Peter Townsend) was foundering, and she was, in Botham's words, "subject to frequent bouts of extreme depression." In February 1967, Snowdon went to Japan, and an allegedly drunken Margaret phoned Douglas-Home and "sobbed that her life was in tatters." A divorced roué described by the London Times as "a harmless loon with a slight but well-bred talent lo amuse," Douglas-Home allegedly lured Margaret days later to his house in Sussex, where, Botham claims, he played the piano in the nude after they consummated their relationship. Later she wrote him from Kensington Palace, saying, "Thank you for helping me live again."
Botham reports that the two parted precipitously when gossip reached Snowdon, who confronted Margaret. The Queen reportedly commanded her to repair her marriage, and she dismissed her lover in a wistful epistle. "A real effort must be made...to make the marriage work," she told him. "[But] know always that I want you."
Douglas-Home committed suicide 18 months later, and Margaret went on to other well-documented infidelities—most notably, with landscape gardener Roddy Llewellyn and wealthy wine producer Anthony Barton, godfather of her daughter, Lady Sarah Armstrong-Jones, 29. Until lately, Margaret seemed almost to have forgotten the man to whom she allegedly declared her love. According to the Sunday Express, she recently told a chum, "Robin Douglas-Home was a musical friend....We never had an affair." Besides, she said, "most of what was said in those letters was a joke, anyway."
MICHELLE GREEN
MARGARET WRIGHT in London
Contributors:
Margaret Wright.
Fleet Street's treat: Reheated scandal
Advertisement
Treat Yourself! 4 Preview Issues
The most buzzed about stars this minute!