People Top 5
LAST UPDATE: Tuesday February 10, 2015 01:10PM EST
PEOPLE Top 5 are the most-viewed stories on the site over the past three days, updated every 60 minutes
Lady of the Spirits
With a New Grandchild and a Movie of Her Novel, Isabel Allende Puts a Painful Chapter Behind Her
Spirits, magic and dreams that foretell the future are the stuff of Allende's life and of her dense, imaginative fiction—most notably her first novel, The House of the Spirits (released in the U.S. in 1985). Begun as a letter to her dying grandfather, it is a loosely autobiographical, multigenerational tale of an eccentric South American family. The conservative landowner at its center, Esteban Trueba, was inspired by her own domineering grandfather, and his mystical wife, Clara, was based on Allende's clairvoyant grandmother. Spirits has sold 6 million copies in 27 languages, and this month marks the release of a movie version starring Meryl Streep, Jeremy Irons and Glenn Close, which New York Times reviewer Janet Maslin called "a cool, ravishing film filled with...understated miracles." Says Close, who plays Trueba's repressed spinster sister: "It's a passionate story, and Allende is a passionate woman."
Yet Allende admits that she was at first taken aback by the casting. "I thought, 'My gosh, all these tall, blond people!' " she says. "But when I saw the movie, I surrendered to its charm." Still, it is hard to forget the drama of her own past. Born in Peru to a Chilean diplomat and his wife, Allende was still a young child when her father, Tomas, suddenly disappeared. Her mother, Panchita, has never explained why. "In Chile social class determines people's lives," says Allende. "I imagine that my father stepped out of his social class and therefore disappeared." She and her two younger brothers returned to Chile with her mother, who remarried when Isabel was 10, leaving her primarily in the care of her grandfather. "I was brought up to be a housewife," she says, "but somehow I knew that I needed to work, because the house was very boring to me." After high school she took a secretarial job at a U.N. office, which led to work as a TV interviewer and magazine writer. At 19, she married Miguel Frias, a young engineer, with whom she had two children, Paula, born in 1964, and Nicolas, three years later.
In 1973 their lives were uprooted by the military coup that deposed Socialist leader Salvador Allende, her father's cousin. Overnight her family's life became endangered. Allende smuggled names of those who had been tortured and addresses of the torture centers out of the country. "I was so afraid, I couldn't sleep," she says. "My skin was covered with a rash."
In 1975, Allende and her family fled to Caracas, Venezuela, where they lost their savings in a black-market exchange that proved to be counterfeit. While Isabel took a job as a school administrator and began The House of the Spirits, Frias could find work only in the provinces. The separations put a strain on the relationship, and in 1987 the couple divorced amicably.
A mere two months later, while on a lecture tour in San Jose, Calif., Isabel met Willie Gordon, 56, a twice-divorced attorney. He had read her second novel, Of Love and Shadows, in Spanish and wanted to meet her because, he says, "I fell she had a profound sense of what love and affection were." At a dinner following her lecture, they were introduced. "It was love al first sight in the most melodramatic way," says Allende. "I thought, 'Oh, great, this must be the last heterosexual bachelor in San Francisco. He probably has a penthouse with a cactus at the door, and we'll have champagne and a romantic night.' In fact, he had a hyperactive 10-year-old son [who is doing fine now], his house was a mess, but we were together in an intense way."
They married in 1988; three years later, Paula, then 27, became ill with porphyria, an inherited enzyme deficiency, and lapsed into a coma. Allende cared for her at home in San Rafael for a year until Paula's death. "The TV would be on, the cat would be on her bed, we would sit her in a wheelchair out in the sun," says Isabel. "She was part of the family." During that time, Allende started writing her memoir, still unfinished. "I began it not knowing that Paula was not going lo wake up," she says. "It was a way of keeping a record of what was going on to tell her. Afterward, it helped me through the process of grieving."
Five months ago, Allende's third grandchild by her son Nicolas and his wife, Celia, was born in the room where Paula had spent her last hours. "I cut the umbilical cord," says Isabel, "and had the same feeling as when my daughter died. I had been in bed with her, holding her. There was a feeling of stillness, silence, awareness that coming to life and leaving it are two moments made of the same fabric."
Today, Allende seems to have an appreciation for the whole cloth. She is happy, she says, "to love, make love and play with my grandchildren." Death does not frighten her. "I've lived a wonderful life. I feel I can die tomorrow, and it would be okay," she says. Besides, there's the hereafter to look forward to. "I have to admit," says Allende, "I'm very curious."
MARJORIE ROSEN
NANCY MATSUMOTO in Sausalito
Contributors:
Nancy Matsumoto.
NOVELIST ISABEL ALLENDE BEGINS HER working day by summoning up the Otherworld. With the shades still drawn in the Sausalito, Calif. carriage house where she writes, Allende, 51, sits cross-legged on a rose-patterned pillow, surrounded by photographs of her departed family. Lighting a candle, she closes her eyes and begins to meditate. "I have photographs of my daughter and my grandparents," she says in her slightly accented English. "I surround myself with their spirits."
Advertisement
Today's Photos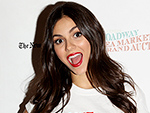 Treat Yourself! 4 Preview Issues
The most buzzed about stars this minute!