People Top 5
LAST UPDATE: Tuesday February 10, 2015 01:10PM EST
PEOPLE Top 5 are the most-viewed stories on the site over the past three days, updated every 60 minutes
A Taste of Love and Mercy
Bringing Solace to the Housebound, Ganga Stone Offers Dying AIDS Patients
That day, Stone bought food from the corner deli for Richard. Nine years later she is known as the charismatic founder and president of God's Love We Deliver, an organization with a $5.5 million annual budget, which cooks and delivers more than 1,400 meals daily to AIDS patients throughout the New York City area. To Stone's clients, the food is both physical sustenance and spiritual comfort. "I really appreciate it, you just don't know," says Miel Saan, 61, an HIV-positive woman who lives alone and is too weak to cook. "I'd go days without eating."
Today nearly 2,000 volunteers carry on her merciful mission. Joan Rivers now holds fund-raisers, New York City Ballet star Heather Watts chops vegetables, and Blaine Trump, sister-in-law of The Donald, makes home deliveries. "Ganga has a wonderful gift," Trump says. "The people around her work hard to make her vision happen."
An ecumenicist, Stone believes helping the dying also heals the living. "I see what we do as worship and not social work," she says. "We're tendering respect and love to the Lord." But behind this lofty notion is an earthy woman, a '60s survivor who has seen more than her share of adventure. And to Ganga, God is a friend and protector, rather than an abstract concept. "I talk about Him not as some dirty little secret but as the root of my existence—which is unusual for someone who's not a nun," she says. Yet Stone—who maintains her serenity by playing taped Hindi chants in her office—is hardly a marshmallow. "I've had people try to bring me down," she says, "but I know how to push back hard."
She learned early in life what to do when push came to shove, as it frequently did in the household of her father, Hedley, a labor union organizer. Ingrid (as Ganga was named) and sister Elsa (now 50 and a pediatrician) were scarred both by Hedley's physical abuse and by mother Winifred's 1952 breakdown. "I wouldn't be as empathetic as I am to suffering if it weren't for those experiences," Stone says.
In 1964, Stone saw the approach of death up close for the first time after her mother was diagnosed with Lou Gehrig's disease. Stone nursed her until the end, in 1965, then decided to live—with a vengeance. Immersing herself in sex, drugs and rock and roll, she began waitressing at Manhattan's legendary Max's Kansas City, a playground for Andy Warhol's crowd. There, she met fellow hippie Gerard Hill, who fathered her son, Clement, now 23. By 1973 their marriage was over; deeply depressed, Stone worked odd jobs and explored radical feminism and yoga.
Finding a guru transformed her. In 1975, Stone became a devout follower of India's Swami Muktananda, who gave her the Hindu name Ganga. Her son chose to stay with his father, and she spent two meditative years at the swami's ashram near Bombay. By the time she returned to the U.S., Stone says, "I knew I had to serve or die."
And serve she did. After her 1985 encounter with Richard, Stone began cooking meals for AIDS patients in her own kitchen and delivering them by bicycle. As demand grew, she prevailed on restaurants to donate meals. Says Marvin Paige, owner of Claire, a Manhattan seafood restaurant: "You could never say no to Ganga." By 1987 a $90,000 gift from the Men's Fashion Association and a state grant provided the seed money to set up a kitchen.
Stone's other major production during the '80s was daughter Hedley, now 7, the product of a one-night stand with one of the customers of a Wall Street coffee cart she operated while God's Love was getting off the ground. Although she had no interest in the man, who is not a part of her or her daughter's life, she desperately wanted the baby when she became pregnant in 1986—even though she was broke and a habitual marijuana smoker. "I struck a deal with God," Stone says, and instantly quit smoking. "I loved getting high, but I promised to give it up if He gave me a little girl with all her marbles."
God came through, and Stone kept her bargain. Today, Hedley, who lives with her mother on Manhattan's Upper East Side, is Ganga's joy—and her only commitment outside of work. For her 50th birthday, in fact, Stone bought herself a gold wedding band to wear on her left hand like a nun. Not that she's ruling out romance. Rather, she explains, "the ring means that the primary thing in my life is my work and my worship—which are the same."
JUDITH NEWMAN
MARIA SPEIDEL in Manhattan
Contributors:
Maria Speidel.
Advertisement
Today's Photos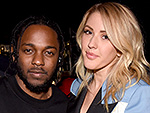 Treat Yourself! 4 Preview Issues
The most buzzed about stars this minute!