People Top 5
LAST UPDATE: Tuesday February 10, 2015 01:10PM EST
PEOPLE Top 5 are the most-viewed stories on the site over the past three days, updated every 60 minutes
Cookin' for Oprah
Chef Rosie Daley Has Her Boss's Seal of Approval—and the Fastest-Selling Cookbook in History
Oprah Winfrey
's weight this month?"
How big a question is that? So big that when Rosie Daley, the personal chef responsible for helping Winfrey trim off 72 pounds in eight months, published a cookbook, it became the fastest-selling hardcover volume in history: So fervidly do many women in America identify with the talk show host's lifelong struggle to control her weight that, even before its official May 8 publication date,
In the Kitchen with Rosie: Oprah's Favorite Recipes
(Knopf) had rung up sales of 1.4 million copies and sent booksellers scurrying to keep it on the shelves. When Daley, 32, showed up to sign the 129-page volume at Marshall Field's in Chicago, 1,000 books were snatched up within 15 minutes. Nationally, the Barnes & Noble bookstore chain sold 20,000 copies in a single day. Says B&N executive Maureen Golden: "It's bigger than Scarlett, bigger than
Madonna
, bigger than Rush and Howard Stern." And that was before Oprah devoted her entire April 28 show to Rosie's low-fat, low-sugar, low-salt meals (see page 91 for recipes) and declared, "Rosie changed my life."
Lord knows it needed changing. Like many of her fans, Winfrey has watched her weight not just yo-yo but loop-the-loop. In 1988, she lost 67 pounds on a medically supervised Optifast liquid diet. But by November 1990, she had gained most of the weight back and confessed on the air, "Diets don't work. Now I'm trying to find a way to live in a world with food without being controlled by it. That's why I say I will never diet again."
Six months later, Winfrey retreated to the $3,500-a-week Cal-a-Vie spa in Vista, Calif., where Daley was chef. No fan of typically bland spa cuisine, Winfrey was startled when she tucked into the spicy Oriental soup with sweet potatoes. "I thought it couldn't possibly be spa food," Winfrey writes in In the Kitchen with Rosie. Before leaving for the airport at the end of her two-week stay, Oprah lured Rosie into her limo for a heart-to-heart chat and begged her to come work in Chicago. Daley put her off. She'd previously received similar offers from the spa's well-heeled clients—including one from
Paula Abdul
—and had turned them all down. "I liked my job and didn't want to leave California," says Daley, the mother of a 12-year-old son, Marley. who lives with his father in Encinitas, Calif. "So I told her I would find someone for her."
But Winfrey persisted. "She said, 'I want you to come,' " says Daley, who held out for three more weeks before deciding to pack her bags. "Talking to her assistant was one thing," recalls Rosie, "but when Oprah gets on the phone and says, 'I really want you to come and work for me,' you feel, 'Whoa, I think I should go.' "
Converting to Rosie's low-cal creed did not come naturally for Oprah, who grew up on deep-fried, butter-smothered southern eats. Oprah turned her nose up at vegetables, and iceberg was the only lettuce she knew. "Food meant security and comfort. Food meant love," Oprah writes in the book's introduction. "It didn't matter what you ate, just that you had enough. I've paid a heavy price for believing that." According to Daley, Oprah didn't do herself any favors by dieting either. "Her metabolism was all messed up after the liquid diet," she has said.
When Daley went to work for Oprah in September 1991, she started with her standard spa dishes, then began tinkering with ingredients that conformed to Oprah's tastes for texture, crunch and spice. "I knew-that she liked French fries," says Daley, "so I came up with a recipe that has less than one gram of fat."
Oprah and her fiancé, Stedman Graham, took to it right away. "I just focused on making healthy foods that taste good, and she got used to eating that way," says Daley, who notes that Winfrey also learned to wedge two hours of rigorous exercise with her personal trainer, Bob Greene, into her busy schedule each day. "He has a lot to do with her losing weight too," says Rosie.
Daley, who politely rebuffs questions about her salary with "I'm getting paid very well for what I do," works five days a week (her days off vary), splitting the time between Oprah's high-rise apartment in downtown Chicago and the Indiana farm where Winfrey retreats on weekends. (In the winter, she also cooks at Oprah's Colorado ski chalet.) At the farm, Rosie cooks with fresh vegetables and herbs from the garden; a pond on the property is stocked with catfish. "Stedman loves anything that comes out of the water," Oprah, who is more partial to pasta, has said.
Daley's philosophy—and expertise—are the product of years in the kitchen. The ninth of 13 children born to Fred Daley, a sand-and-gravel-pit owner, and his wife, Joan, in South Seaville, N.J., she began helping out at age 6, inspired by a family rule: "If you cook, you don't have to wash dishes." By 11, she was weaseling out of class at her Catholic elementary school by volunteering to cook soup and sandwiches for the nuns' lunch. (Consequently, she admits, "I'm not very good at math.") As a teen, she got a job as a dishwasher in a roadside diner called the Girls' Wayside Kitchen and eventually advanced to waitressing.
After high school, Daley moved to Encinitas to be near her older sister, Christine, and pursue a career as an artist. To pay the bills, she found on-the-job training at a series of seafood and health food restaurants. "It's not like I said I wanted to be a cook," she recalls. "It just happened." In 1980 she met Billy St. John, a carpenter with whom she had Marley. Hired as a chef's helper at Cal-a-Vie in 1989, Daley was promoted to top cook within six months and launched her popular weekly cooking classes for the spa's guests. "Food is a creation that people eat," she says. "Not having the traditional background has actually helped me. I like to change things around."
Each morning, Daley walks the four blocks to Oprah's apartment from her brownstone flat in Chicago's Gold Coast area. She makes and delivers lunch and snacks to Winfrey at the TV studio (where Oprah often shares the food with her colleagues), then prepares dinner at home for Oprah and Stedman. Before leaving the apartment, around 7 p.m., she makes sure there is fresh juice and muffins in the fridge for snacks and breakfast the next morning. A full-time maid cleans up.
Off duty, Daley jogs and spends time with her boyfriend, who works in a restaurant. She insists she's not a health food fanatic. "It's a matter of eating the right way and then treating yourself," she says. "If you want to have a milkshake, go ahead and have a milkshake. Just don't have one every day."
Every other month, Daley flies back to California to visit Marley. He gave his approval to the move, she says, and once wrote a school paper calling his mother "the most courageous woman in the world" for relocating to Chicago alone.
Now that she has successfully weathered the move, however, Daley must cope with unexpected fame and fortune, and at times she can seem rather overwhelmed. Fellow" shoppers at the supermarket stop to compliment her, and fans have begun asking Winfrey about her. One thing is certain: For now, at least, Rosie is not about to be lured away from Oprah. "She has given me the opportunity to create and work for wonderful people and feel appreciated," says Daley. "We depend on each other—like family, but better."
How much better? No one knows better than Winfrey that the Oprah seal of approval is surely worth her (old) weight in gold. Certainly in book sales. Last December, after presenting Rosie with the book's cover photo of the two of them together, Oprah grinned at her cook and declared, "Merry Christmas—for life!"
CYNTHIA SANZ
LUCHINA FISHER in Chicago
Contributors:
Luchina Fisher.
Advertisement
Today's Photos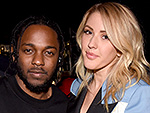 Treat Yourself! 4 Preview Issues
The most buzzed about stars this minute!