People Top 5
LAST UPDATE: Tuesday February 10, 2015 01:10PM EST
PEOPLE Top 5 are the most-viewed stories on the site over the past three days, updated every 60 minutes
Playing House
Clint Black and Lisa Hartman Move to a New State—Euphoria
Apparently not. Ten months and hundreds of spin cycles into matrimony, the singer and actress seem as hopelessly enraptured as ever, given to frequent cuddling, adoring gazes and rhapsodies about the wonders of romance. Says Clint: "I look at Lisa and think, 'Boy, did I get lucky.' "
But then, around this household good fortune seems as bottomless as the oil wells in the couple's native Texas. Lisa, 36, who spent one season as chanteuse Ciji Dunne (who was killed off) and later as Cathy Geary on Knots Landing, takes up residence at 2000 Malibu Road, the steamy new CBS sudser costarring
Drew Barrymore
, Jennifer Beals and Tuesday Knight, which premieres Sunday, Aug. 23 (9 P.M. ET). Thirty-year-old Clint, meanwhile, whose previous two albums sold more than 5 million copies over the past three years, has seen his newest, The Hard Way, debut in the upper reaches of both the pop and country charts.
The singer—once Nashville's most eligible bachelor—has found success sweeter when shared. "I always thought Clint needed somebody to be there for him when he came offstage," says pal and fellow country star Lorrie (Something in Red) Morgan. "As much as Clint smiled before, he's got a better smile now."
Malibu's Tuesday Knight, who met Lisa when both were pursuing singing careers in the mid-1980s, has noticed a change in her co-star too. "When she went out with other people, she looked different," says Knight. "Now she looks genuinely happy all the way through."
Still, there have been a few sour notes in this country-TV duet. The first came last spring when Clint fired Bill Ham, his manager of five years, and installed Lisa's mother, Hollywood publicist Jonni Hartman, as his personal assistant. In a statement, Black said, "It was shocking to recently discover that the financial aspects of my business relationship with Mr. Ham were grossly one-sided and served to advance Mr. Ham's personal interest at my expense financially and professionally." Ham, who also manages rock group ZZ Top and is generally credited with plucking onetime construction worker Black from the obscurity of the Houston nightclub circuit and propelling him to superstardom, responded by calling the charges "gross distortions" and accused Jonni of orchestrating what he termed "a thinly disguised, self-serving attempt to escalate a business dispute and degrade it into a personal smear campaign."
Although Ham filed a breach of contract suit in Los Angeles County Superior Court and Black has filed a $2 million countersuit claiming the contract is "unfair, improper and unconscionable," both parties refuse to discuss it any further. But that hasn't slopped wags from dubbing Lisa "the Robin Givens of Nashville"—a reference to the influence that Givens and her mother had over boxer Mike Tyson—and predicting that Lisa and her mother would soon be running (and ruining) Clint's career. That suggestion turns the normally low-key Clint apoplectic. "Anybody who knows me and knows how strong-minded and how fair I am knows that's not true," he says. For her part, Jonni claims that she is hands-off the whole affair. "I don't even tell my daughter how to run her business, why would I tell my son-in-law?
Despite the protestations, Black's sound—and his image—have changed since the Hartman women came into his life. Although Clint still sports a trademark cowboy hat onstage, he often appears bareheaded around town, showing off a slick new haircut that Lisa likes. Likewise, some of the tunes on The Hard Way aw more interstate than country blacktop. But, says Lisa, "it's not like we got married and I came in and cleaned house. When you full in Love with someone and you think that somebody's not doing right by them, you have to question it."
Even more stressful than outsider sniping, though, has been reconciling their dual careers. "Other couples talk about how they need space to themselves sometimes," says Black. "But we can't stand to be apart." Until last month, that hadn't been a problem. Thanks to a self-imposed acting hiatus on Lisa's part ("I didn't want to work, and Clint didn't want me to work, so I didn't," she says), the two had not spent more than three days apart in almost a year, settling in mostly at Lisa's Los Angeles place, with a few stints at Clint's lakefront house in Hendersonville, Tenn. "She did what traditionally the wife does—sacrifice for the home and the family," says Black. "I would have never asked her for that, but I wasn't above hinting."
But when the offer came last spring for Lisa to play Malibu's ex-call girl Jade O'Keefe, neither Clint's hinting nor his eight-month, 150-city tour, which started July 22, was enough to keep her away from the cameras. "It was really hard," admits Lisa. "Clint wanted me to be on the bus when it pulled out, and I love that he feels that way, but I really wanted to give this a shot."
Since the tour began, the two have had to rely on daily phone calls and brief visits whenever Lisa can get away from the studio to join Clint on the road. "It's hard on Lisa," says Knight. "It doesn't affect her work, but when she hasn't seen him in a while, she's a little quiet, not as talkative." Says Lisa: "For a long time, I thought I'd never get married. Now it's so hard to be without him."
The couple met in 1990 when Lisa and her mother attended Clint's New Year's Eve concert in the couple's mutual hometown, Houston. Though never a big country music fan ("I'm kind of rock and roll," she confesses, favoring Genesis, the Eagles and Foreigner), Lisa had heard Clint's first album and had been impressed by his performance on a television talk show. "I didn't have anything else to do, so I thought why not go see him?" she says. "I was really knocked out."
Lisa went backstage after the show, and it was Clint's turn to be floored. "I didn't know who she was," admits Black (who has yet to see an entire Knots Landing episode), "but when I saw her standing there with those beautiful blue eyes, I knew I wanted to see her again."
Though their first few dates were less than magical ("We were both really busy, so whenever we saw each other, we were exhausted," recalls Lisa), things heated up when Clint visited Hartman on the set of the NBC TV movie The Return of Eliot Ness, starring Robert Stack, in Toronto in August. "He had four days off, and so did I, and they were the same four days," says Lisa. "It was like somebody was watching from above and saying, 'Y'all need to be together.' " Although she admits to some nervousness about the visit, the butterflies disappeared when Clint arrived at her hotel. "It wasn't like I said, 'Oh, God, I'm in love with this guy,' it was just there he was and everything was all right," says Lisa. Slack seconded the notion. "I'm not going to say I played Cupid, but I certainly supported the idea," he remembers. "I told Lisa I think this is one hell of a nice guy, he's got character, and when he opens his mouth to say something, it's something he believes. That's rare in this business.
When the movie wrapped, Lisa joined Clint on the bus for the last two months of his tour. "With Lisa with me, it didn't matter if I was in a bus or a hotel room or a Winnebago in the middle of the desert, it made it home," says Clint, who admits that their one routine on the road was "locking ourselves in a hotel room and ordering room service."
Having weathered a painful 1984 breakup with actor Barry Bostwick, with whom she lived for two years, Lisa was hesitant about marriage. "I always fell you go through life and you have relationships and you learn and you grow and you change, and that's what life is," she says. "The thought of spending my whole life with just one person didn't make sense to me.
And Black had commitment jitters of his own. "Clint was always the one saying, 'I'm never getting married, I'm having too much fun being single,' " recalls Brad Thompson, Black's former bus driver, who married Lorrie Morgan last October. Says Clint: "I always liked the idea of a relationship, but with my schedule it never worked out."
In September he found the time. Clint proposed during a preshow workout on a Salt Lake City college running track. "We started talking about life and how much we meant to each other," says Lisa. "It was probably an endorphin high or something, but lie asked me to marry him, and I said yes."
Their wedding, last Oct. 20, on Clint's 180-acre farm outside Houston, was a family-only affair. Clint wrote the vows himself, including in them a piece of advice the couple had received from cowboy legend (and Clint's onetime duet partner) Roy Rogers. "He told us to never go to bed angry," says Lisa. "As Roy Rogers and as cowboy as it may seem, it really is important."
After the wedding, the couple settled down, with Clint penning songs for his album and Lisa wrapped up in running their household. "I was surprised," admits Black. "I was anticipating we're both busy, we both have careers, and I'm going to eat out like I always have, and taking my laundry to be done like always, but she was down there doing the laundry, and suddenly my dresser drawers filled up, and there were my shirts I'd worn the week before. Even when she's tired, if I'm hungry, she'll get up and fix something. If I have to have a shirt, she's washing it in the sink and drying it."
Though someone comes in twice a week to clean, Lisa insists on doing the cooking, as well as the clothes, herself. "The feeling that I get from taking care of him is very potent," she says. "I'd never felt that before."
And she says she doesn't mind playing a supporting role in terms of public attention either. "Fans are always saying, 'Lisa, Lisa, get us Clint's autograph,' but I don't ever feel threatened or ignored," she says. "I'm like a mother in that way. I'm so proud of him." As for a family of their own, the two are hesitant. "We love kids, and when a baby commercial comes on TV, we'll drop everything," says Lisa. "But we're not planning any of our own right now."
Lisa's age, say the couple, has not played a part in their decision about starting a family. "At this point," says Clint, "we don't have much time to ourselves, and when we do, we want to be with each other." But, he adds, "as I've learned, things change." The couple's six-year age difference has, they say, little bearing on their love. "When I met him," Lisa recalls, "I thought he was in his middle 30s, and when I found out he was 29, I was like, 'Oh, God, run for your life!' But once we sat down and started talking and communicating, I just realized that he was an old soul."
At present, the old souls are concentrating on each other. By Hollywood standards, they live modestly enough. Despite Clint's musical money and Lisa's new series income, their only splurges have been a Porsche for him, a Mercedes for her. Even so they don't drive—or live—in the fast lane. Up to now, most nights off they spend at home alone, noshing Lisa's home-cooked pastas and salads ("I have, like, four things that I cook, but I put them on different plates, and he thinks I'm real accomplished," jokes Lisa) and watching television favorites Murphy Brown and David Letterman. As for their own romantic series, "We know that flames don't just keep burning on their own, we have to fan them," says Clint. "Love and passion is something that you have to nurture, and if you do, it'll grow. I think we're smart enough to know it's all up to us."
Advertisement
Today's Photos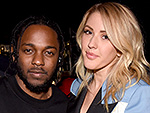 Treat Yourself! 4 Preview Issues
The most buzzed about stars this minute!