People Top 5
LAST UPDATE: Tuesday February 10, 2015 01:10PM EST
PEOPLE Top 5 are the most-viewed stories on the site over the past three days, updated every 60 minutes
Facing a Photogenic Future
With a Mannequin Mom and Rocker Dad, This Model's Success Is Tyler-Made
Liv Tyler
, 15, who graced eight pages in the July Mademoiselle, is hopelessly entangled with Steven Tyler, Aerosmith's 44-year-old lead singer. But relax, he's her dad.
Liv is a perfectly normal ninth grader with a yen for marine biology. She also has a 16-year-old boyfriend named Carlos and a leg up on her "How I Spent My Summer Vacation" essay. Less than six months after family friend Paulina Porizkova snapped some portfolio pictures of Liv in something other than her usual baggy jeans and sneakers, Liv has been spending the three-month break from her Manhattan private school on assignment for Seventeen and Mirabella.
"It happened sort of naturally, since I've been around this all my life," says Liv, who was genetically preordained to become another pretty face back in 1977, when her mother, '70s model Bebe Buell, now 36, had an eight-month romance with Tyler. The 5'10½" Liv inherited her mother's blue eyes and, she says, her father's "skinny" ankles and "general hyperness," not to mention what Porizkova calls "that amazing mouth."
But Liv didn't know that Tyler was her father until she was 10. When Liv was 3, the free-spirited Buell repaired to the klieg light—free zone of Portland, Maine, where her cousins lived, so that her daughter could grow up among family. "I could give her a better life there," says Buell, who had a series of bands and continued to model occasionally. (Buell only last June got married for the first time, to Canadian songwriter-guitarist Coyote Shivers.) Because Tyler was in the midst of his well-documented drug excesses when Liv was born, Buell's former lover, rock star Todd Rundgren, was listed as father on the birth certificate. Stepping in as a father figure, Rundgren saw Liv several times a year and paid her private-school tuition. "Todd's my spiritual father. I love him," says Liv, though she had an early inkling that things were not the way they appeared to outsiders.
"Liv would overhear Steven and I talking on the phone late at night, wondering how and when we should tell her," recalls Buell, now "good friends" with Tyler. "Everyone wanted to protect everybody's feelings. Nobody wanted anyone to be hurt."
Meanwhile, when Buell introduced Liv to Tyler at a Rundgren show in 1986, Liv felt a psychic bond that made the eventual revelation easier. "I didn't know what it was, but I started to see him more, and it would mean so much to me that I would write about it in my diary," she says. "I was very confused." The penny dropped at an outdoor Aerosmith concert in 1988 when Liv saw her half sister Mia (by Tyler's first wife, Cyrinda) standing stageside, looking every inch Liv's spitting image. "I turned to my mom and said, 'He's my father, isn't he?' " she remembers. "And we went out under a tree and talked and cried for two hours."
These days the elder Tyler is ready to role-model. "I can be a real, sound power of example now because I'm sober," he says. Since their rapprochement, Liv has learned that she takes after her flamboyant father not only physically but also in the deportment department. "I'm a real bug-out kind of person, not shy at all," Liv laughs. "I'll do anything in front of people. With modeling, I stand in front of the mirror all done up and get a rush, like a sugar high. It's like I'm a different character, and I go in front of the photographer and do my show, my movie. It's just like acting."
In fact, Liv, who moved to Manhattan with her mother three years ago, is already fielding calls from Hollywood. Disney execs had her read for a role in Hocus Pocus, a planned Bette Midler film about witches in Salem, Mass. "Basically, I always wanted to be famous," she says only half jokingly. "That was my goal in life."
In the meantime, she continues with her studies. Porizkova, who thinks of Liv as a "surrogate little sister," is not above helping out on especially taxing homework nights—like when the crawfish has to be dissected. The veteran supermodel is also Liv's mentor. "There's a move away from the blond, blue-eyed look to girls who look a little different," says Paulina. "Everything on Liv's face is right, and with the dark hair and pale skin, she looks very now."
And how. "She's a little miracle," boasts Tyler. "In four years she's gone from a little kid with baby fat to this beautiful, exotic flower" who talks with him "about everything, and I mean everything," he says. "If she comes home with a rock star, I'll just have to go see the guy, feel him out." Tyler also appreciates the differences between father and daughter. "She's got the talent, but she also has the character to go with the talent," he says. "And she sure as hell didn't get that from me."
SHE'S A HOT YOUNG MODEL. HE'S A rock star. Sound familiar? Now try this.
Advertisement
Today's Photos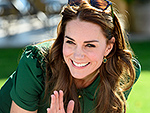 Treat Yourself! 4 Preview Issues
The most buzzed about stars this minute!