People Top 5
LAST UPDATE: Tuesday February 10, 2015 01:10PM EST
PEOPLE Top 5 are the most-viewed stories on the site over the past three days, updated every 60 minutes
Comeback Kidder
A Crippling Injury Left Her Broke and Broken—but Lois Lane Wouldn't Quit
Injured two years ago in a car accident that left her a virtual invalid, Kidder, 43, came precariously close to losing a great deal more than her home and savings. She nearly lost her will to live. "There were many times when I just so desperately wanted to die," she says, glancing at her 16-year-old daughter by her first husband, novelist Tom McGuane. "But I thought Maggie would be grief stricken. I could not bear that." Though Kidder declared personal bankruptcy three months ago, and neither mother nor daughter knows what the future holds, a terrible time is clearly behind them. Says Maggie: "We're just coming out of it now."
"It" began on Oct. 15, 1990, on the Vancouver set of Nancy Drew and Daughter, a 13-part series being produced by Toronto-based Nelvana Ltd. for the USA Network. Cast as the detective, Kidder was driving a 1961 Rambler convertible—without a seal belt—for a scene in the first episode. As Kidder tells it, she touched the brake pedal only lightly, but the car jerked to a sudden halt. "My head went whip, whip, whip, back and forth and into the steering wheel," she says. At first, she didn't think she was injured and simply continued with the shoot. But that night, says Kidder, "I couldn't move my neck and my left hand started blowing up and turning blue."
Reluctant to give in to her pain—and mindful of Nelvana's eagerness to continue production—Kidder returned to work. After three days, though, the pain had become unbearable. She consulted a doctor, who told her she was suffering from neck spasms and a loss of circulation in her left arm. for a week Kidder rested and worked with a physiotherapist, provided by Nelvana, then returned to the set. Hut two days later, she suddenly lost feeling in both her legs and was rushed to St. Paul's Hospital in Vancouver. After extensive testing, doctors there speculated that two herniated disks were pressing against nerves in her neck. They suggested that she consider an operation—whose risks include paralysis—to relieve the pressure. Kidder refused: "The thought of someone slicing into your spinal column is a little nerve-racking.
Instead, she turned to less traditional remedies, including acupuncture, but nothing eased her pain. Kidder could not return to work, and on Nov. 20 she was fired. "I was furious. " she says. (She immediately filed a $1 million negligence and breach-of-contract suit against Nelvana in British Columbia's Supreme Court. Nelvana denies all her allegations, and last January countersued, claiming, in part, that it had advanced her money for work she never completed. Both eases are pending.)
Back at her beloved while-clapboard home in bucolic Sneden's Landing (pop. 300), N.Y., where Kidder had lived with Maggie since 1984, her anger began slowly turning to despair. She was unable to work, but since under Canadian law she could not accept workmen's compensation and initiate a negligence suit, Kidder opted against filing for compensation. Instead, she was living on her modest residual payments from past movies ($27,999 in 1991) and her admittedly meager savings. "I never paid any attention to money," she says. More distressing than her financial worries, though, was Kidder's continual pain. "I thought I was invincible," she says, "one of those people who would bounce back right away." But she did not. When she consulted New York City neurologist Robert Barrett, he said her body might mend on its own. but suggested that surgery was probably the only cure. Months alter the accident, Kidder, a natural athlete who has a passion for sports such as high-speed skiing, found herself hobbling around on her best days, confined to a wheelchair on her worst. More often than not, muscle spasms and numbness made even everyday chores nearly impossible. "She would try to drive me back to school, but halfway there it would be too much," says Maggie now a senior at a Vermont prep school, where tuition is paid by her father. "Her whole body would freeze up, and we'd have to pull over and wait."
Dejected and confused, her mind "muddied, she says. by pain pills, Kidder remained stubbornly opposed to surgery. "I tend to believe things will heal themselves.'' she says. At first. Kidder turned to close friends, including Richard Pryor. her costar in the 1981 movie Some Kind of Hero, who has been fighting multiple sclerosis since 1986. "He'd say, 'You're worthwhile. Your daughter needs you,' " says Kidder. "He was a saint." But before long. Kidder began shutting out even her pals. "After a while," she says, "you can't just call up your friends and go, 'I'm miserable. Come watch me be miserable.' "
For solace. Kidder focused on her only child. But Maggie was in no shape to be supportive. Though Margot was unaware of it. Maggie—who had been bulimic for some five years—was passing out at school. "I fell like such an idiot," says Kidder. "I knew early on that she had been throwing up. But I assumed it was all over." In March of 1991, alerted to the problem by Maggie's school. Kidder checked her into the exclusive, $725-per-day Sierra Tucson clinic in Arizona. (Her dad helped foot the 42-day bill.) There, says Maggie. "I realized it's OK to be not perfect."
In May, Maggie returned to school feeling healthy and in control. Her mother, though, felt anything but. "I was in a bleak depression," says Kidder. "I would just lie there and stare at the ceiling."
In December, frantic to salvage her public image—"I was so afraid of Hollywood finding out I was a permanent cripple"—she agreed to a week-long stint performing in the L.A.-based play Love Letters. Her condition aggravated by the work, Kidder returned to New York in agony. On Christmas Eve, Margot went out to dinner with a friend, attorney Denis John Cavalier, and nearly collapsed. Says Cavalier: "I had to practically carry her out of the restaurant."
Cavalier called Dr. Barrett, who checked Margot into Manhattan's Columbia-Presbyterian Hospital. Says Kidder: "I finally said, 'My God, this is real.' " On Jan. 27, she underwent a four-hour operation to remove a disk. "I woke up, and my girlfriend was there," says Kidder. "I went to grab her hand, and it worked. My legs worked. Everything worked!"
Everything, that is, except her insurance. Her carrier, through the Screen Actors Guild, insisted that Kidder's injuries would have to be covered by her employer at the time, Nelvana. But Nelvana's insurer rejected Kidder's claims, denying she was injured on the set. Until the dispute is settled, she is struggling to handle her mounting bills. Even with the $1.4 million she received when she sold her Sneden's Landing home this winter, she remained more than SHOO.OOO in debt. "The most horrible thing for me was calling my friends and saying, 'I'm in deep shit. Can you help me in any way?' " One after another, loyal friends sent a few thousand here, a few thousand there. For her part, Kidder gathered her jewelry and went to Manhattan's diamond district. "I was going into these shops saying, 'What will you pay for this?' " recalls Kidder. "It's what had to be done."
Maggie also wanted to help. "I had a friend who was making a lot of money as a go-go dancer...," she says, eyeing her mother with a smile. "Oh, no!" breaks in Kidder, playful but aghast. "I've given you very few rules in your life—but that is one of them."
Teasing aside, Margot believes that though she will make ends meet, it won't be easy. An outspoken political activist who condemned America's involvement in the Gulf War, Kidder has made enemies in Hollywood. But she has also made friends. "She's as good an actress as they come," says Superman director Richard Donner. "I'll do anything in my power to make the town aware of her." Would she, if asked, reprise the role of Superman's sweetie? No way, declares Kidder: "You can't have Lois approaching menopause." At this point, she concedes, parts don't have to be big, just interesting. "I have no expectations," she says. "This is melodramatic, I know, but I feel like I lost everything, and now I've got it all back. I got a second chance," says Kidder, and she means not to waste it.
KAREN S. SCHNEIDER
ANDREW ABRAHAMS in Los Angeles
Contributors:
Andrew Abrahams.
THREE MONTHS AGO, MARGOT KIDDER HAD LTTTLE MORE TO HER name than $238 in cash, a pair of used skis and a beat-up 1986 Chevy Blazer. She had 85 creditors banging on her door, and on her desk a pile of unpaid medical bills, six figures' worth. For Lois Lane, the character Kidder brought to life in four Superman movies, rescue would be just a phone booth away. But for Kidder, there was no superhero to swoop down and save her from the terrifying free-fall that her life had become. Says Kidder, dragging on a cigarette in her cramped, one-bedroom apartment near Hollywood: "I was down to nothing."
Advertisement
Today's Photos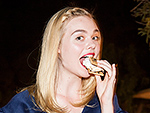 Treat Yourself! 4 Preview Issues
The most buzzed about stars this minute!