People Top 5
LAST UPDATE: Tuesday February 10, 2015 01:10PM EST
PEOPLE Top 5 are the most-viewed stories on the site over the past three days, updated every 60 minutes

Roger Daltrey, ex—lead singer of the Who, is writing a movie about Keith Moon, the band's drummer and legendary wild man, who died from a drug overdose at 31 in 1978. "He was the funniest, most outrageous, kindest and most selfish person I've ever met in my life," says Daltrey, 48, whose latest solo album is called Rocks in the Head. "He was just mega over the top. It's a wonderful comic tragedy, or tragicomedy, about his days off. But I don't want to make another Doors film. One is enough." What did Daltrey object to in Oliver Stone's rockumentary about Jim Morrison? "I was there," says Daltrey. "I knew Jim, and I found the movie a nasty piece of work. What depressed me was how it glamorized drugs and all the bad things about rock and roll." Would he agree with Hilly Joel, who has said a typical day for a rock star now is a round of golf and an AA meeting? "I hate golf," says Daltrey, with a laugh. "It spoils a good walk."

AISLE OF LOVE
Connie Sellecca isn't pregnant (despite a recent tabloid story claiming she is), but she does have a new baby. She's the co-creator of a TV movie, A House of Secrets and Lies, which airs on CBS next Sunday (Sept. 27). In House, Sellecca plays a successful newscaster obsessed with making her marriage work long after the point of no return. "I talked to lots and lots of women and drew from my own experience of having lived through a failed marriage," says Selleca, 37, who divorced actor Gil Gerard (E.A.R.T.H. Force) in 1987 and married Entertainment Tonight's John Tesh last April. "I lived through that, when people thought, 'Oh, she's got it all.' But now I do! Being married to the right person is far beyond what I imagined. It's easy and comfortable, and we have a terrific relationship. Of course I say that as a newlywed. I'm realistic, so talk to me in five years!"

GUEST WHO'S NOT COMING TO DINNER
Whoopi Goldberg has entered the talk show wars with plenty of ammo: Elizabeth Taylor was the first guest on her new syndicated The Whoopi Goldberg Show, and pals Robin Williams and Hilly Crystal are wailing in the wings. But Whoopi's wish list goes beyond show business. "I want Carl Sagan to explain the sky to me," Goldberg, 42, says. "I'd love to talk to Jackie Kennedy [Onassis] about publishing and why she chose that field. I'd ask Maurice Sendak about why his books are sometimes banned for children. If I'm talking to [white supremacist] Tom Metzger, I'll want to know what makes someone a bigot. Was he frightened by some black mammy when he was a baby?" Why would she invite him at all? "We'll probably have lots of people I wouldn't want to go to dinner with," says Goldberg. "I want the show to be what the United Stales is supposed to be—a melting pot with different ideals and beliefs."

THE AGE OF WEASIN'
Pauly Shore, whose stoned-out surfer "Weasel" dude became an MTV staple, has never been mainstream. At 17, he felt more at home doing stand-up before strangers than hanging out with his high school buddies. "I've always been the same—a weird, eccentric sort of guy—and now I get paid for it," says Shore, 24, who is among the comedians making guest appearances on The Comedy Store's 20th Birthday special airing this Thursday (Sept. 24) on NBC. (Shore's mom. Mitzi. owns the Comedy Store in Los Angeles.) "I wasn't a loser in high school, but I wasn't Chad, No. 7 on the football team will the spiked hair. I was the guy who used to sit in the stands, weasin' the quarterback's girlfriend, and then I'd get cold-cocked for it later."


BEHIND BLUE EYES
Advertisement
Today's Photos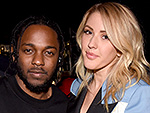 Treat Yourself! 4 Preview Issues
The most buzzed about stars this minute!