People Top 5
LAST UPDATE: Tuesday February 10, 2015 01:10PM EST
PEOPLE Top 5 are the most-viewed stories on the site over the past three days, updated every 60 minutes
Loose Cannons
For Some People, Running for Office Means Politics as Unusual


A homespun candidate from South Dakota

Charlene Haar supports the baking of cookies and freely offers up her recipes for rhubarb coffee cake, watermelon pickles and potato casserole. She goes by Mrs., not Ms., thank you very much. But you wouldn't be likely to confuse her with Betty Crocker. She hunts, and she's against a South Dakota motorcycle-helmet law. So she's stumping for "the right to bear arms and bare heads." Haar, a former schoolteacher, is the only woman Republican running for the U.S. Senate, and the National Rifle Association couldn't be happier with her. "I'm pro-life and pro-gun." she declares.

Though Haar, 51, has only $300,000 in her coffers to counter Democratic incumbent Tom Daschle's $3.2 million and 23-point lead in the polls, her campaign has won the respect of GOP bigwigs, and she was tapped to give a speech seconding Dan Quayle's nomination at the Republican Convention. Says her campaign manager Lon Anderson: "By the sheer force of her personality, she bowled her way to the top."

Haar, once a painfully sin girl who would break out in hives when she had to speak in class, grew up on a farm near Madison, S.Dak. In 1964 she married Robert Haar, a law student she'd met at the University of South Dakota, and settled into life as wife, mother (to Elizabeth, now 22) and high school English and French teacher.

But all along Haar was a politician in teacher's clothing. For nearly a decade she served as a leader of the state Republican Party. When her husband, a former assistant U.S. attorney, first suggested in 1990 that she challenge Daschle for his Senate seat, she says, "I didn't take it seriously because I thought I was too old to start on a new career path."

But after mulling over the idea and consulting with friends, she filed papers in July 1991 declaring her candidacy and set up campaign headquarters in a cottage in Madison (pop. 6,257) squeezed between a Pizza Hut and a gas station. She began publishing a monthly newsletter, The Road to Washington, filled with tidbits of Americana, thank-you notes to volunteers and those irresistible recipes.

Her opponent has started to take notice. According to Daschle's campaign manager, Steve Kinsella, "This is 1992. He won't let down his guard for a moment." He'd better not. Saws Mrs. Haar: "I'm tenacious and I work harder than anyone else. That's why I'm going to win."

An L.L. Bean heiress tries to give an incumbent the boot

Once upon a time, sleeping bags, flannel shirts and hunting boots were warm, trusty and nonpartisan. But no more. Someone has stuck L.L. Bean's famous label on a ballot. Linda Lorraine Bean, that is. The granddaughter of the L.L. who founded the mail-order giant 80 years ago, Bean is a Republican candidate for Congress in Maine. "I'm proud of my name," the 51-year-old heiress told a reporter recently. "It means integrity and reliability."

It also means an unwelcome controversy for the rustic clothing company that shares the Bean name and reputation. After all, not all the company's patrons support Bean's vocal opposition to abortion rights, gay rights and gun control. After she filmed a campaign ad in the company's boot-stitching room, L.L. Bean was barraged with angry telephone calls. Bean president Leon Gorman, Linda's cousin, was forced to write a letter to the Maine Times emphasizing that L.L. Bean never endorses candidates.

Bean, who ran unsuccessfully for the same seat in 1988, makes much of the fact that she worked as a waitress before coming into her fortune (now estimated at $7.6 million) in 1975. Nor was Bean always so conservative; that transformation occurred in the late 1970s while she was married to Verne Jones, a conservative Maine farmer nearly 40 years her senior. (In 1990, five years after Jones's death, she married Donald Folkers, a businessman.)

In her uphill battle against Tom Andrews, the popular Democratic incumbent who has a 26-point lead, Bean has been compared to Ross Perot since she has lent her campaign close to half a million dollars, spending much of that on a blitz of television ads. And like the billionaire who would be President, Bean is notoriously uncooperative with the press, frequently canceling or refusing interviews.

Bean, however, remains unfazed by accusations that she is trying to buy the election. "I don't use my money to live ostentatiously," she once said. "I want to make a down payment on better government."

What's in a name? A lot, if you're a political unknown

Pitting himself against Chicago Rep. Dan Rostenkowski, a 17-term Democratic incumbent who is chairman of the House Ways and Means Committee, political novice Elias Ramo Zenkich, 57, saw his inexperience as an advantage: So he gave himself a second middle name—Non-incumbent. His listing on the ballot now reads Elias R. "Nonincumbent" Zenkich.

And with anti-incumbent fever sweeping the nation, and Rostenkowski having been subpoenaed to testify in an investigation of the House Post Office scandal, it looked as if Zenkich's name change wasn't such an outrageous idea after all. But Zenkich, a Republican, will still need all the help he can get. Rostenkowski has millions of dollars to burn in this campaign; Zenkich has raised a mere $125,000.

No matter. Zenkich has faced far harder tasks in his life. Born in what is now Bosnia-Herzegovina, he was 9 when his father was killed by the Nazis. (His mother now lives with his sister in Croatia.) Zenkich immigrated to Chicago when he was 21 and four years later started his own medical machinery business, Zenex Corp. Zenkich and his wife, Margaret, have three children. Margaret distributes campaign flyers for her husband on her daily walk.

Zenkich has won the support of many of his district's senior citizens who are outraged at Rostenkowski's championing of additional taxes on their catastrophic-care benefits but ironically he still has little name recognition against his well-known opponent. Maybe that's because those Chicago ballots are too small. Says Zenkich: "If there had been room, I would have changed my name to Elias 'I Am Not a Politician' Zenkich."

Love me, love my horse, says one candidate for Governor

The Man on Horseback has long been a symbol of bold, courageous leadership, so what the country needs now is a Woman on Horseback, right? Dorothy Bradley thinks so. Running for Governor of Montana, she has ridden her 13-year-old gelding, Jackson, hundreds of miles through blazing 100°F heal and lonely rattlesnake-infested terrain. "Is riding the horse a gimmick?" the lean, blue-jeaned candidate asks. "Sure. But more importantly it was a chance to spend some time with Jackson and talk to voters who've never seen a politician in real life."

This quality time with her horse—and her straight-from-the-saddle tour of the sparsely populated state—seems to be paying off. A popular eight-term slate representative from Bozeman, Bradley, 45, is now in what she terms a "horse race" against state attorney general Marc Racicot, her Republican rival. To that end she recently visited parts of the 3,000-square-mile Crow Indian reservation on an Indian pony and spent the night there. "We don't see many white politicians out here, and we've never had one sleep in our tepees." says Janine Windy Boy, a community leader. "I imagine she'll gel most of our votes."

If Bradley wins—she's now slightly ahead in the polls—she will be Montana's first female Governor. And she's even won over the rancher contingent, including Jake Frank, 76, who says, "She's tough. Course, if toughness was the only question, we'd elect a rassler. But I trust her to do the right thing."

Bradley, who was first elected to the Montana House of Representatives in 1971 at the age of 23, is divorced and childless and lives alone in a log house in Bozeman. Her opponent, a pro-life Catholic with five children, has criticized Bradley's pro-choice stance and independent lifestyle, but Bradley says, "I've given this campaign everything I have for the past two years. If I had kids I'd be accused of neglecting them."

Hitting the road with Jackson, she adds, has made all her years of political jockeying pale by comparison. "Win or lose," she says, "it's been the greatest experience of my life. You can't know about people's lives by reading position papers."

Can the family that runs together win together?

They're not in the same league as the Rockefellers or the Kennedys, but in Solana Beach, Calif., a little (pop. 12,962) town on the Pacific 25 miles north of San Diego, the Bauers are the hot political family. If Louise Bauer, her husband, Laurence, and their son, A.J., all win seats on the town council this November, the trio will constitute a council majority. And if more of the Bauers' eight children had decided to join the race, the family could have bid for all five seats. Unfortunately, says Laurence Sr., 58, "some are too young to run, and the older girls couldn't tie themselves down."

The Bauers, political newcomers, say they were inspired to seek office out of righteous anger at what Louise, 51, calls "a busybody, mother-knows-best council, nibbling away at everyone for this and for that." Such as asking the Bauers, who have several vintage cars in various states of disrepair on their front lawn, to clean up their act. For his part, A.J., 20, a sometime student at Mira Costa College, has one major plank: repeal of a statute banning skateboarding in some local areas. "It's fun," he says. "It's athletic. Why would any city council try to lake skateboards away?"

Though the Bauers' chances of winning against better-known community leaders are slim, they think they've got Solana Beach covered. Louise, a homemaker and co-owner of her husband's business, plans to do her vote-getting in the supermarket parking lot. Laurence, a data-processing consultant, will be speaking to civic groups. And A.J. says he's "going after the young vote, naturally."

The Bauers are unlikely to sweep to victory en masse, but if they did, their family dinners might become a thing of the past. Under state law, city business may only be discussed by council members in public meetings. So would the Bauers have to open their home up to the press and the public? "No problem," says A.J. "I'll move out. It's about time I left home anyway."

A would-be First Lady stands up for her sense of style

Can we, as a progressive nation, face another four years of triple-strand pearls and stuffy suits? Or Hillary and Tipper's matching hairdos? Setting the While House style is a tough job, says Beth Lapides, but somebody's got to do it, and—not surprising—she thinks she's the one. So Lapides, 35, a Los Angeles performance artist and comedian, is running for First Lady under the slogan "Free Barbara!"

Of course, Lapides's own style—short, short dresses, big, big hair—is not exactly a return to the classic days of Jackie, pillbox hats and Oleg Cassini outfits. But Lapides believes the time has come for Americans to choose their' First Lady—-regardless of who gets elected President. "We expect her to work for us," says Lapides, from her combination home and headquarters. "Why should we buy one and get one free?"

Lapides opened a workshop version of her campaign at the New Mexico Repertory Theater in Santa Fe last July; it was so well received she moved it to West Hollywood this month. But her First Lady campaign is more than a stand-up routine. Lapides recently made an official offer to moderate a debate between Barbara, Hillary and Margot, which Mrs. Bush, so far, has politely declined. The New Haven, Conn.-born Lapides—who as a teenager wanted "to be Van Gogh, only a little less tormented, and with both ears"—now has $400 in her war chest, nearly enough to cover the cost of her hot pink Lapides First Lady '92 buttons and flyers.

Lapides's husband of seven years, screenwriter Gregory Miller, enthusiastically supports his First Lady. "Should she get in, and should she elect to serve, I'm not sure what my role would be," he says. But, he warns, "I'm not going to sit there and smile and look attentive when Beth speaks. I'll be slipping her little notes."

ELIZABETH GLEICK, with bureau reports


Some things just can't be blamed on Mount Pinatubo. Maybe the explanation is celestial, or maybe this time it really is something in the water. The same year that brought America the now-you-see-him-now-you-don't candidacy of Ross Perot has also spawned some highly unusual electioneering by candidates for other offices—and, in one case, for an office that doesn't exist. What follows are prime examples of the inventiveness, the ingenuity, the sheer indefatigability of some of 1992's most unlikely office seekers.
Advertisement
Today's Photos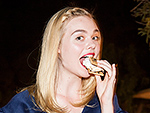 Treat Yourself! 4 Preview Issues
The most buzzed about stars this minute!