Archive Page - 12/1/12 39 years, 2,079 covers and 53,260 stories from PEOPLE magazine's history for you to enjoy
On Newsstands Now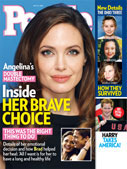 Angelina: Inside Her Brave Choice

New Details on the Ohio Three

Prince Harry Takes America!
Pick up your copy on newsstands
Click here for instant access to the Digital Magazine
People Top 5
LAST UPDATE: Tuesday May 21, 2013 02:10AM EDT
PEOPLE Top 5 are the most-viewed stories on the site over the past three days, updated every 60 minutes
A Triumph of Love and Will
In the Shadow of AIDS, Magic Lives One Day at a Time with An Optimism Born of Faith, Hope and Family


IT IS 9 A.M., AND MAGIC JOHNSON, A trim, muscular, easygoing giant, is stirring in his castle. Rising from the kitchen table after a breakfast of fruit and cereal, Johnson moves slowly into the family room of his multimillion-dollar Los Angeles mansion, which is decorated in earth tones with a mix of Santa Fe and African influences. The sounds filtering down from upstairs—his 4-month-old son, Earvin III, cooing; his wife of little more than a year, Cookie, chatting with a friend; a phone that doesn't stop ringing—are those of a full and active life.

"It's been almost a year since I got the news," says Johnson, "and what I've really learned is that life doesn't slop. You don't die. You've got to keep on going, keep on working, fighting and living life with the same attitude as before."

That certainly didn't seem to be the case last Nov. 7, when the NBA star told a stunned nation that he was retiring from pro ball. "I didn't know anything then," explains Johnson. "I was full of fear. Trying to be brave, but so scared."

Over the past 11 months, Johnson has come to terms with his medical condition, educated himself and countless others throughout the world about AIDS and rediscovered the magic many feared was lost forever. Two weeks ago he announced his return to the Lakers. "Oh, man, the difference between the two press conferences," sighs Johnson. "It was silence and fear versus feeling good and happiness."

But why is he coming back? It can't be money. His fortune is estimated in the tens of millions. According to Cookie, "Earvin is coming back simply because he loves the game, and he felt as if it was snatched away from him. He wanted to go out like Dr. J or Kareem. He didn't want some doctors to tell him he couldn't play anymore."

Nearly a year after his diagnosis, Johnson has settled down, partly out of necessity. He has found unexpected joy in marriage to a woman who hung in there with him for 14 years. "My biggest regret is that I waited [to get married]," says Magic. "I said to Cookie, 'If I knew everything was going to be this good, this great. I would've—and should've—done it a long time ago.'

"I rely on her every day," he continues. "She's become like my coach, making sure I'm eating right, taking my pills, not overdoing it. But it's Cookie's smile that is the best medicine."

The 33-year-old former clothing buyer admits to having been "very scared and very shocked" when Magic told her he was HIV positive. "But it only lasted one day," she says, "and not even a complete day. Because the next thing was, 'OK, how do we fight this thing?' "

She was concerned about how the rest of the world would receive Magic's news. "I asked myself, 'Are they going to treat us as if we have leprosy? Are they going to hate us? Or are they going to still love us?' "

The answer arrived in the mail. In the two weeks following the announcement, Johnson was deluged by nearly 200,000 letters from well-wishers; the letters have continued to pour in at a rate of 30,000 a week. "Everywhere we go we feel that outpouring of love," says a clearly moved Cookie. "It's so amazing that perfect strangers care so much. It gives you faith."

Thus far Johnson's condition is not just stable; it's downright great. He has taken AZT—without any side effects—since the virus was diagnosed in him, and he gets his blood checked monthly. He watches his diet, passing up junk food and dairy products in favor of chicken and pasta. He has added 15 lbs. to his 6'9" frame, bulking up to 235 lbs., the heaviest in his career, by lifting weights.

Meanwhile, Johnson's attitude has been unflaggingly sunny. "I'm sure people wonder if I'm sad or depressed," he says. "But why should I be like that? My attitude is, "OK, let's go ahead and beat this.' "

As early as last January, Johnson started to think about returning to the sport that made him famous. He trained on his own, keeping his game so sharp he was able to follow his All-Star heroics last February with a golden performance at the Summer Olympics in Barcelona. Johnson remembers with delight his Dream Teammates telling him, "You look too good. You're coming back, man."

This was no secret to Cookie. "I had a feeling," she says with a grin. "I feel that attitude is very important to Earvin's condition, and if playing basketball is where he's the happiest, let him do it. I also feel that the Lord is watching over him."

So is Laker team physician Dr. Michael Mellman. "It's a fact he is assuming a risk, the magnitude of which we don't know," Mellman said at Johnson's press conference. "We've had 10 months, and he has been monitored on a regular basis....We fed him all that information back, and he has gone ahead and based a decision on that."

Ironically, Johnson's announcement came just four days after he resigned from the President's National Commission on AIDS. But he has more than lived up to his promise of becoming a highly visible spokesman on AIDS prevention and awareness. He has also learned with AIDS activist Elizabeth Glaser to fund the Ariel Project for the Prevention of HIV Transmission from Mother to Infant. For Magic, the project strikes uncomfortably close to home.

When Johnson made his HIV announcement, Cookie was nearly two months pregnant. She was tested immediately and several more times during the pregnancy. Each time, the tests proved negative, a tremendous relief since current research shows that the virus is not transmitted to the infant if the mother remains negative. "But it was still a major fear in my life," says Cookie. "I couldn't help but think, 'What's going to happen to my baby? Am I going to have to abort it? And what's going to happen to me?' "

All signs were good when she went into labor last June. The only difficulty came as the baby was on its way out. "I was telling Cookie to push," laughs Johnson, "saying things like, 'Come on, it's the fourth quarter, the game is tied, we need a basket...push, push...come on, you can do it...'

"Finally," he continues, "the baby's head was coming out, and Cookie's pushing, and then I suddenly yell, 'Stop! Everybody stop!' The doctors looked at me like I was crazy. But I said, 'You got to put in this CD, and then I handed them a Luther Vandross CD, because I wanted the first thing my baby heard to be one of Luther's love songs."

Though he once partied every night, Johnson now tends to more sedate rituals, like bathing Earvin III. "That's their bonding thing," says Cookie with a smile. "It's very cute."

Fatherhood, says Magic, "has changed the way I look at things. A lot of times I'll just stare at him and realize that what I want to do isn't as important as what he needs."

Johnson was already close to his older son, Andre, now 11, who lives with his mother, Melissa, in Lansing. But Magic believes the ordeal has strengthened their bond. "It wasn't as hard telling him what happened to me as it was trying to explain exactly what the virus was and how I got it," says Johnson, who had flown to his hometown of Lansing last Thanksgiving after his momentous press conference.

"Here I was, trying to tell a 10-year-old boy about sex and about unprotected sex. Real hard stuff. And as I looked into his face, I saw me, because we look so much alike, and he gave me that quizzical puppy-dog look I always give other people. Well, it was real emotional. And I just ended up hugging him."

Life in the Johnson household has settled into routines. He works out in the mornings, she works out in the afternoon, and they meet up at dinner. "Our favorite thing is to go to a movie," says Cookie. "Like anybody else with a newborn, we're thrilled whenever we can get out. We're laughing all the way to the theater."

Both have come to expect that any venture into public space is going to get them a ton of unsolicited advice on AIDS treatment from well-meaning people. "Everybody knows someone who knows someone who has tried something new that works," says Johnson. "Everybody has a different remedy. Some guy sent me something that was like spoiled milk and told me to drink it. Another said I should have all my blood drained."

With training camp about to begin, neither Magic nor Cookie seems to have any concerns about his health. "He's in the best shape of his life," says Cookie. Adds Magic: "I'm just going to go out and do it. I've played all my life. This is what I do and what makes me feel good."

As for the future, he's optimistic. "Things are coming up all the time," he says. "If you take care of yourself and your attitude is right and you just take it day to day, then things will work out. I pray even clay, and I have no doubt my prayers will be answered."


Advertisement
Treat Yourself! 4 Preview Issues
The most buzzed about stars this minute!