People Top 5
LAST UPDATE: Tuesday February 10, 2015 01:10PM EST
PEOPLE Top 5 are the most-viewed stories on the site over the past three days, updated every 60 minutes
Picks and Pans Main: Tube
The Edge
B
A man's voice is on the other end of the line, with the same message for a dozen or so aging literary Londoners—poets, writers and their spouses and friends. "Remember," the voice says, "you must die."
The ultimate point of this Masterpiece Theatre adaptation of a 1959 Muriel Spark novel is, of course, to identify that voice, but for the most part it's the chance for such first-rate actors as Maggie Smith and Michael Hordern to play off each other in a mild comedy. Hordern is one of the people being warned; Smith is the paid companion of his wife, a senile novelist (Renee Asherson). Smith is in comic-sinister mode, plotting to pack Asherson off to a nursing home and take her place beside Hordern.
Memento Mori treats the elderly as sweet, bumbling buffoons making inappropriate remarks at funerals, knocking over teapots, and so on. The seventh stage of man is, apparently, cuteness. The saving graces are Smith, saucer eyes taking a silent inventory of the furniture, and that ultimate revelation, which is both whimsical and suitably grave.
NBC (Mon., Oct. 26, 9 P.M. ET)
B
Rosanna Arquette is an odd choice to be the heroine in a thriller about a serial killer; she is too prickly, too edgy—too crabby, even. Long before she worries about being the next victim of a psychopath who preys on professional women, Arquette (who plays a children's book illustrator) is already strung out. She seems to have drunk too much coffee, not gotten enough sleep, been through too many codependent relationships, maybe listened to too much Suzanne Vega. And she's a bad screamer.
Woods doles out red herrings among the men, all of them mildly creepy. They include Tony Perkins as an enigmatic: private detective; Chris Rydell, son of director Mark, as Arquette's too devoted brother; D.W. Moffett as her too charming boyfriend; and Will Patton as a police inspector. Perkins, in particular, is enjoyable in what was his final role. (He died of complications of AIDS in September.) He darts about in a trench coat, discussing crucial evidence with a devil-may-care breeziness.
Lifetime (Tues., Oct. 27, 9 P.M. ET)
C
In this mushy cable movie, Blair Brown is a three-star Army general drafted to run for President after winning a Schwarzkopfian victory in a Desert Storm—like war. As she charges down the road to the White House though, she becomes less of a military pro and more of your basic tele-female, crying when she's alone in her hotel, trying to connect with the daughter who resents her success. There's not a hint of the greasy joys of political scrapping.
Brown is likable, with a relaxed dignity that should be the envy of all spin controllers, but this movie is too removed from reality. (For instance, the general's admission that she had an abortion causes less furor than reports of her daughter's affair with a married professor.)
Fox (Sundays, 7:30 P.M. ET)
B
Fox (Saturdays, 9:30 P.M. ET)
B-
From Fox, here are two comedies that are too hip for their own good. It can be said for Stiller, son of comedians Jerry Stiller and Anne Meara, that 1) he does an astounding
Tom Cruise
impersonation and 2) there is a subversive glint in his eyes.
Still, it isn't clear yet whether this show is the right vehicle for Stiller. On the plus side, it boasts beautifully produced sketches that include mock rockumentaries (with Stiller as Bono, resembling a less gossamer Daniel Day-Lewis) and parodies of Aaron Spelling teen dramas. But the jokes are, for the most part, more clever than funny. The biggest laugh in one episode went to guest Garry Shandling, playing an obsessive-compulsive hand washer. "Oh, my hands are so dirty," Shandling whined. "I'm such a dirty boy." Stiller needs to be more like that. He needs to weird out.
The Edge, on the other hand, is a half-hour ensemble comedy that tries to be daring. It's as if Carol Burnett's show had been reconfigured by Batman director Tim Burton: very broad, occasionally very unpleasant. One sketch, "Bad Plastic Surgery," about a talk show featuring grotesquely disfigured guests, was scarcely watchable.
Some of the ideas are fun (the house jocks from American Gladiators are sent to fight our next world war), and one running gag, showing what celebrities are doing right at that moment (Prince is having problems opening a carton of milk), is even inspired.
PBS (Sun., Oct. 25, 9 P.M. ET)
Advertisement
Today's Photos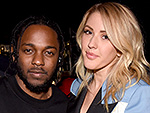 Treat Yourself! 4 Preview Issues
The most buzzed about stars this minute!