People Top 5
LAST UPDATE: Tuesday February 10, 2015 01:10PM EST
PEOPLE Top 5 are the most-viewed stories on the site over the past three days, updated every 60 minutes
Picks and Pans Main: Tube
Viewer's Choice
MTV (Saturdays, 11 a.m. ET)
C-
The music video channel has come up with its own version of America's Funniest People. Viewers are encouraged to send in letters about odd experiences. These are arranged into themes (school, dating, pets, the strangest person I've ever met) and then dramatized in cheap, exaggerated, often gross skits.
The problem so far is that the anecdotes are astoundingly mundane. ("I know this guy who like works out all the time." Remarkable! "My econ professor came to class one day with his zipper wide open." Get out! "I guess the coolest thing I ever did is...my friends and I in high school?...we climbed up on a roof and stayed up there for a whole weekend, and nobody could like do anything about it." Too bizarre!) The banality of the stories does serve to make the amped-up interstitial palter of host Jon Stewart seem clever. The funniest part of the show is the dis-disclaimer that runs at the beginning: "The stories you are about to see are true. The names have not been changed so that your friends can make fun of you tomorrow."
Maybe once the show has been on for a while and the mail starts pouring in, the material will gel richer. It would almost have to. For now,
ABC (Sun., Feb. 28, 9p.m. ET)
A-
A woman (Joanna Kerns) finds herself plunged into a deep depression after the birth of her first child. She begins to experience frightening, fragmented childhood flashes that eventually coalesce into a memory of sexual abuse by her father (George Grizzard), a prominent banker and community leader. What makes it more painful is that Kerns believes Grizzard is perpetuating his perverse behavior with her 5-year-old niece.
This is by far Kerns's strongest performance to date. The rest of the cast, which includes Michael Brandon, Richard Gilliland and Shelley Hack, is excellent too. The real standout, though, is Dina Merrill, who gives an Emmy-worthy performance as Kerns's mother, a scornful woman wrapped in a blanket of denial more impenetrable than Superman's chest.
Though the script has some facile moments, the direction of Linda Otto (A Mother's Right) is very surehanded, from the first subtle hints that something is amiss to the final bitter confrontations. This is the most shattering family drama since Fox's Doing Time on Maple Drive.
CBS (Sun., Feb. 28, 9p.m. ET)
B
Kenny Rogers is no gambler. He returns in his usual TV vehicle: a western (see story, page 90). He's joined, though, by a couple of acting tenderfeet: country singing stars Travis Tritt and Naomi Judd.
Rogers plays a bounty hunter riding after a pack of murdering bank robbers. Trailing behind him is a young farmer (Tritt), whose bride those desperadoes stole. The elder Judd plays the proprietor of a rather sumptuous desert hostelry. There are some slow patches, but overall the movie presents a good, sustained conceit.
While Trill and Judd need a little seasoning as actors, they both have very nice smiles. Nevertheless, I hope this doesn't start a flood of country singers making the transition to film. I sure don't want to sec I lank Williams Jr. wearing makeup and emoting.
NBC (Mon., March 1, 9p.m. ET)
C+
In this two-parter based on events that took place in L.A. in 1985, Sam Wanamaker and Kim Hunter play an elderly Jewish couple (Gerald and Vera Woodman) who are gunned down in the garage of their condo by hooded assailants. At the funeral a woman with a thick accent comes up to one of their sons. Elliott Gould, and, like the portentous gypsy woman in a werewolf movie, points at him and screeches, "You! How could you do this? Your own parents. Everyone knows how you hated him. [You] wanted him dead." Eventually Gould and his brother (John Pleshette) are charged with hiring hit men to collect on their mother's insurance policy.
The movie, which concludes the following night, is an odd hybrid: half murder prosecution and half feminist manifesto. The focus soon settles on the oh-so-slow transformation of Gould's wife (Mimi Rogers). She begins as a submissive spouse. But once her husband is jailed, her affluent friends turn away, the money dries up, and she grows more independent and assertive—getting a job, starting a romance, dealing with creditors and struggling to keep her rebellious kids in line. (As evidenced by the Amy Fisher movies, TV's true-crime projects are invariably shaped by which of the principals involved sold his or her rights to the producers. In this case it was the daughter-in-law.)
The flashbacks depicting the wrangling and acrimony among Woodman's family, all in the plastics manufacturing business, hold a certain crass, lurid fascination. But the emergence of Rogers is tedious. Clancy Brown, Joe Spano and Andy Romano costar.
>HANDICAPPING THE GRAMMYS
IT'S BEEN A DYNAMIC YEAR FOR MUSIC as a colorful array of styles—rap, country, hip-hop, grunge rock, dance and metal—have mingled on the mainstream pop charts as never before. Some of that diversity is reflected in the nominations for the Grammy Awards. But when the winners are announced on CBS (Feb. 24,8 p.m. ET), I think you'll find the Grammy voters are like a maudlin drunk pumping quarters into a bar jukebox: They go for the sentimental and the familiar. That's why I predict the big winner this year will be old Slowhand, Eric Clapton (see story, page 85), who has nine nominations. As far as the four major Grammy categories, here are my predictions.
Record of the Year: "Achy Breaky Heart," the Beauty and the Beast theme and
Vanessa Williams
's "Save the Best for Last" are strong contenders. In fact, k.D. lang is the only candidate you can rule out. This is Clapton's night: "Tears in Heaven" wins.
Album of the Year: Clapton again in a walkover. His only competition: U2.
Song of the Year: "Save the Best for Last" would win on merit. Beauty and the Beast could surprise. But if you study past winners, this category should really be called Weepy Ballad of the Year. Gotta be "Tears in Heaven." You can't get more lachrymose than that.
Best New Artist: Jon Secada challenges, but the big-hoss stud, Billy Ray Cyrus, takes home the statue.
My prediction: In winning, Cyrus will give his self-serving mock-humble stump speech, about how the award "really belongs to my fans, 'cause without you I sure wouldn't be here."
What's going on with Roseanne? The most resolutely blue collar of sitcoms is becoming like Night of 173 Stars. First Morgan Fairchild was brought on for several episodes as Sandra Bernhard's lesbian lover. In the past month both Loretta Lynn and Joan Collins have been guest stars. The living room at the home of the Connors, who are supposed to be a lower-middle-class family in a small Midwestern town, is starting to look like the VIP lounge at LAX. Finally last week, dropping all pretense, the Connors loaded up the clan in an RV and headed out to Hollywood, where they mingled with (no surprise here) the star of The Jackie Thomas Show, Tom Arnold. All these famous cameos are distracting and contrived and rob the show of its greatest asset: a gravy-stain air of realism. Could you imagine what it would have done to The Honeymooners if Jackie Gleason had started inviting the likes of Jack Benny, Jayne Mansfield and Milton Berle over to the Kramden flat?
Advertisement
Today's Photos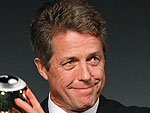 Treat Yourself! 4 Preview Issues
The most buzzed about stars this minute!