People Top 5
LAST UPDATE: Tuesday February 10, 2015 01:10PM EST
PEOPLE Top 5 are the most-viewed stories on the site over the past three days, updated every 60 minutes
Endangered Species
A Man of Private Torment and Public Fury, Robert Blake Returns to TV as a Killer
SEVEN YEARS AGO, A SPIRITUALLY EXhausted Robert Blake walked off the set of his NBC series, Hell Town, and into his own private wilderness. First, he joined the Great Peace March, with a thousand people slated to walk from Los Angeles to Washington, to promote nuclear disarmament. When money problems temporarily hailed the march short of the Nevada border. Blake just kept walking. "I figured it was the only thing I could do," he explains. "Couldn't go back to work. Didn't want to live. Didn't know how to live. Didn't know nothing about living."
Or about his public. He says that out there in windswept desert towns, he was dumbfounded to meet "thousands and thousands" of people who knew him from his work—movies such as In Cold Blood (1967) and Tell Them Willie Boy Is Here (1969) or his TV detective series, Baretta (1975-78). He also encountered his past. One night on the road, Blake recalls, visions began to assail him. "They were still pictures," he remembers, "like 8-by-10 glossies from a movie. Pictures of a kid being hurt. Didn't know who it was. Then the pictures started moving. Pretty soon I recognized them as me." Blake pauses. "Thai's the first time I had any inkling of what really happened to me."
What happened to young Michael Gubitosi—better known in his early days as Little Mickey in The Little Rascals movie shorts and Little Beaver in the Red Ryder westerns—was, according to him, child abuse. The grim details of that abuse at the hands of his parents, James and Elizabeth, a onetime song-and-dance team who both died years ago, were elaborately documented by Blake, 59, in a rambling, 26-page autobiographical treatise he distributed at a recent press conference to promote his title role in Judgment Day: The John List Story. Airing on CBS Feb. 23, this lurid drama of the man who murdered his family in Westfield, N.J., nearly 22 years ago, then built a new life under an assumed name in Denver, is Blake's first performance since his epiphany in the desert. He wants the world to know how deeply, and for how long, he was hurt—and how he has been reborn.
"I'm living for the first time. It's my first childhood," says Blake. "Mine is the happiest story you'll run into in your entire f—ing existence."
But at the moment he is settling, with a scowl, into a sofa in his four-bedroom ranch house in Studio City, Calif., letting his visitor know straight off that he can understand what makes the John Lists of this world. "I could very easily have killed myself at some point, which is no different from murdering someone else," he says. "There's no difference between me and a lot of people on Death Row, except that they crossed the line."
It's a wonder, even to Blake him-sell. that he has newer crossed that line—although an impressive gallery of directors, producers and agents think he has come pretty close. His tantrums on the set, his drinking bouts, his decking a director, his 30 years of therapy, all are the stuff of Hollywood legend. Indeed, when Blake agreed to end his self-imposed exile to play List, nervous Republic producers held his salary, rumored at around 8250,000, in escrow to ensure that he would behave himself on the set. (20th Century Fox did the same thing when Blake played Jimmy Hoffa in the 1983 TV movie Blood Feud.) "I don't give a s—t," says Blake. "Money has never been an issue in my life."
Self-destructive behavior. That, by Blake's own admission, has been the problem. It had its roots in his childhood, he claims, when he supported his parents and his elder brother and sister, only to get bashed for his efforts. The abuse, he maintains, was physical, emotional and sexual. It began, he says, some time after his parents moved the family from Nutley, N.J., to Los Angeles when he was 2. They played their song-and-dance act in local nightclubs, with Mickey part of the routines. But by the time he was performing in The Little Rascals, his parents' act had died, and they turned on him. Blake says his mother would invent stories of his misbehavior so that his father could "throw me in the bedroom and beat me up." That, and worse, he recalls: "My parents locked me in a closet and left me there all day long. They made me eat on the floor like a dog. You see," he says, "they already had a son and a daughter. They didn't want me. They had two abortions before me, and if they'd had enough money, they would have had another abortion instead of me." He claims his mother "encouraged" his father "to sexually abuse me," though he says he can't remember the specifics.
At 17, when the youthful film parts dried up and the abuse became unbearable, Mickey, renamed Bobby Blake by MGM Studio executives, left home and his family—for good. (His sister, Jovanny, and his parents are long since dead; he says he hasn't seen his brother, James Jr., since 1955.) He joined the Army, eventually making corporal and working in Special Services in Alaska. But when he fell in love with a local girl, he wound up in the stockade on a charge of statutory rape. The charge was dropped on the condition that Blake never see the girl again.
After getting an honorable discharge, he returned to Hollywood as Robert Blake, working as a stuntman and picking up a few small but pungent roles, like the impotent Army private accused of rape in 1961's Town Without Pity. In 1960 he married actress Sondra Kerry and in 1967 was widely acclaimed for his savage portrayal of the psychotic killer Perry Smith in the film based on Truman Capote's In Cold Blood.
Success, a wife and two children—Noah, now 28 and an actor (he starred in TV's Harry and the Hendersons), and Delinah, 26, currently studying for her master's degree in clinical psychology at Pepperdine University—might have made Blake happy, but they didn't. "Every time I do something good for myself, for my career," he says, "I have to do something terrible. I mean, when I did Cold Blood, Dustin Hoffman did The Graduate, Warren Beatty did Bonnie and Clyde, Jack Nicholson did Easy Rider. They went on to be actors with important careers. I did Baretta and The Tonight Show. What kind of insanity is that?"
Baretta, the funky cop with the cranky cockatoo and the signature line "And you can take dat to duh bank!" made Blake an Emmy winner and a household staple. His 20 years' worth of Tonight show confessionals—his "junkyard dog" persona, as he calls it—made him TV's longest-running psychiatric outpatient. Meanwhile, at home, he and Sondra repeatedly fought, broke up, reconciled, until they separated for good in 1980. Noah chose to live with his father, and Blake was awarded custody of the underage Delinah by the court (neither of the children nor Blake have maintained any contact with Sondra). Both children were still living with him in Studio City when he walked off the set of Hell Town, in which he played a streetwise barrio priest. Emotionally, says Noah, who has fitful contact with his dad, "he was pretty unreachable at that point." Says Delinah, who gets on much better with her father: "He fell apart and stayed there." And how. Blake roamed the mountains and the desert in a pickup truck, hanging out in cheap motels and pool halls. "I didn't know what I was looking for," he says. "I was just running and hiding."
Blake began turning his life around by firing his psychotherapist after "30 years and $250,000" and finding a new therapist, who has patiently led him back through his childhood during their three-hour sessions. Son Noah isn't impressed. "That's par for the course for him," he says, "completely giving his life over to somebody, and then on the drop of a dime going, 'He's horrible, and giving it over to someone else."
Still, Blake is making his own determined steps toward recovery. To him, accepting the role of John List was another piece of harsh therapy. Indeed, it's the most difficult part he's ever played, he says, because capturing List's murderous impulses on camera meant "going way down into my soul and lancing a boil." He adds, "Two years ago, I couldn't have played John List."
His fellow cast members—particularly costar Beverly D'Angelo—found Blake's soul-searching worked well on the set. "I'd heard about this ferocious beast," she says, "so I got a whip, a chair and a piece of red meat. But he's just as ferocious about doing good work. He knows what he knows from experience."
Delinah also finds the new Blake marginally mellowed. "A lot of the time he can be my best friend," she says. "Other times I have to tell him to shut up."
Of course, it's no mean hick getting Blake to pipe down—or slow down. "I'm as busy as a rat burying s—t in a hurricane," he says. "I love to work out. I love dancing. I love singing. I love playing the guitar." With Delinah, Blake scours toy shows for items like the antique Lone Ranger radio on his living-room coffee table and the extensive collection of BB guns and pocket knives on display in his bathroom. Another new passion is congeniality. "Now when I find myself driving to the desert," says Blake, "I say, 'When you come back tonight, you're going out to dinner, and you're going to smile at people.' "
Has it worked? "The good news is, I'm alive and I'm here; I didn't kill myself. So I have a lot to be thankful for," he admits. "But would I do it differently if I lived life over again?" He smiles darkly. "You bet your ass!"
MARK GOODMAN
CRAIG TOMASHOFF in Los Angeles
Contributors:
Craig Tomashoff.
A troubled star comes to terms with his anger
Advertisement
Today's Photos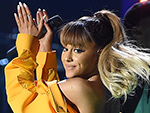 Treat Yourself! 4 Preview Issues
The most buzzed about stars this minute!