People Top 5
LAST UPDATE: Tuesday February 10, 2015 01:10PM EST
PEOPLE Top 5 are the most-viewed stories on the site over the past three days, updated every 60 minutes
Bye-Bye, Bad Boy
After His Extended Walk on the Wild Side, Eddie Murphy Met Nicole Mitchell; Now They've Got Two Kids and a Wedding Date
Well, it isn't exactly tomorrow—and Murphy presumably has his prenuptial, signed, sealed and ironclad—but this Thursday (March 18), five years after he first laid eyes on model Nicole Mitchell, the moment of commitment will come. Vans filled with lilacs, tulips, gardenias and orchids are scheduled to arrive at Manhattan's Plaza Hotel by early evening. (Other vans have been reserved to deliver the flowers to a hospital in Harlem after the reception.) The low-cut off-the-shoulder White wedding gown and the coral bridesmaids' dresses have been fitted and pressed. The RSVPs have been counted. The caterers are ready, and security is tight. When, at 6:30 p.m., Murphy stands in the Plaza before Rev. Calvin Butts of Harlem's Abyssinian Baptist Church, 500 guests, including Prince, Arsenio Hall,
Bruce Willis
,
Demi Moore
,
Queen Latifah
, Sugar Ray Leonard, Bill Murray and Wayne Newton, will have assembled. And all that will stand between Eddie "Party All the Time" Murphy and his blessed bachelorhood are two little words: not "Who me?" but "I do."
So, Eddie, are you ready? Best intentions notwithstanding, there is reason to wonder. This is, after all, the same rough-edged comic who strode onstage in the 1987 concert film Raw and proclaimed that the only woman he would trust would be one he found sitting "buck naked on a zebra in Africa." It is the same Eddie Murphy who paraded across the tabloids with scores of beautiful women on his arm—not just before he began dating Mitchell, but even after she gave birth to their daughter, Bria, now 3. And it is the same Eddie Murphy who was still hemming and hawing about matrimony lour months after he proposed. "If me and Nicole get married, we'll just run off and do it," he said last April, "If we do it."
But couldn't Murphy, who is obviously a doting father, make the transition from playboy to family man? In many ways, he already has. Kicked back on a mauve lounge chair in Bubble (slang for party) Hill, his $3.5 million, 22-room colonial estate in suburban New Jersey, the superstar is still surrounded by such requisite party-boy trappings as an indoor racquetball court, bowling alley and swimming pool. And yet the scene is quite different from that of four years ago, when the actor last invited PEOPLE into his home. The wooden floors, then spit-and-polish clean, are now smudged with little footprints, and the blaring jukebox has been united, lint the most remarkable change is in Eddie himself.
In the '80s, Murphy's movies—
Beverly Hills Cop I
and
II
,
Trading Places
,
The Golden Child
,
48 Hrs.
,
Coming to America
—-attracted such crowds that he earned the nickname Money. Recently, though, his fabled star power has lost some of its wattage. Last summer's
Boomerang
wasn't the breakout hit that Paramount had been hoping for, and
The Distinguished Gentleman
, his Christmas movie for Disney, fell even flatter. Though he has just released a new album,
Love's Alright
, work on
Beverly Hills Cop
is stalled because the film is mired in production problems.
Yet for the moment, the man to whom career was once all important seems most interested in wooing the three-person audience in his living room. These days, their 4-month-old son, Myles, can be found sleeping quietly in Nicole's arms while Bria heads to the jukebox to push Curtis Lee's "Pretty Little Angel Eyes"—the only button she can reach. And Eddie? Well, Eddie virtually clucks with pride. "I'm the disciplinarian," he says, glancing at his little girl. "With Nicole it's, 'Oh, conic on, Bria, please have something to eat.' I don't negotiate with her. It's yes or no. Once she turns 18, she can do what she wants to. For now, I'm the parent, and she's the child."
No question. Eddie seems ready for the family life—less a bad boy in temporary check than a devoted partner for whom wedding vows will be a mere formality. Still, it's a formality that his mother, Lillian Lynch, will be delighted to see him go through. "He keeps us happy, and my biggest effort is to make him happy," says Lynch, "but I think he should settle down. Nicole is a great woman."
Neither Murphy's mother nor his fiancée needs a psychologist to tell them that, for Eddie, "settling down" will not come easily. His vituperative outburst against women in Raw was not, he says, just a clever comedy routine; he really distrusted—and disliked—women at that point in his life. The reason? According to Murphy, it was former fiancée Lisa Figueroa. In 1984, she was a biology student at Adelphi University on New York's Long Island; he was just a couple of years out of Saturday Night Live and a fast-rising star. Rightly or wrongly, Murphy became convinced—some say with the help of his friends—that the woman he loved was more interested in spending his money on jewelry and furs than in Eddie himself. Later, Murphy angrily called off the engagement and proceeded to get in his last verbal licks before the whole world. Figueroa, who could not be reached by PEOPLE for comment, has never spoken publicly about the split. "It was a bitter time," Murphy once said of those Ran days. "I was hostile."
When Eddie first spotted Mitchell at the 1988 NAACP Image Awards dinner in Los Angeles, he was still in a romantic slump, feeling dejected and sorry for himself, hanging out in clubs and overeating. His take on life was simple: "Everything's a drag."
But a beautiful woman was a welcome distraction. And Nicole Mitchell, the daughter of a white British homemaker and a black U.S. Air Force pilot, was stunning. Murphy sent a friend to her table to ask for an introduction. Though flattered by the attention, Mitchell, a successful print and runway model, was far from giddy when she first met the superstar. "We got to know each other slowly," she says.
Very slowly. At first, Nicole was just another pretty face to Eddie, who continued to pop up in the tabloids with a string of beautiful dates. But far from the public eye, says Eddie, he and his future bride were making progress. "It wasn't a Harlequin romance, sitting around the fireplace and sipping champagne," he says. "It started that way, but it turned into something real."
To Murphy's delight, Mitchell didn't seem interested in basking in his fame, barhopping on his arm or charging furs on his credit cards. She, after all, had been modeling since age 10, riding in limousines and Hying first-class to picture shoots from her family's home in Sacramento. "She had already adjusted to the fuss," says a longtime family friend, painter Kathryn Garcia Smith. "She helped him to grow more comfortable with himself and with his fame too." The courtship was very un-Murphy-like. The couple cuddled while watching old Elvis Presley movies and tapes of Amos and Andy shows on TV. "She was the first woman I had met on that whole romantic level," says Murphy, struggling to put his feelings into words. "Most of the girls I've gone out with are really nice girls. Nicole is a woman. You can talk to her. She's honest. She's straightforward. She's got a sense of humor. And," he adds, laughing that Eddie Murphy laugh, "on top of that, she's fiiine.' "
On Nov. 18, 1989, Nicole gave birth to a daughter. Bria was her first child, but Eddie, though never married, had others. He reportedly fathered a daughter, Ashlee, by ex-girlfriend Nicolle Rader in 1987 and a son, named Eddie Murphy Jr. by Paulette McNeeley in 1989. For years, Murphy denied reports that the children were his. (Rader filed a paternity suit in 1987.) But recently his response has changed. "I am not denying the existence of other children," he says now. "I have always and will continue to live up to my obligations."
Murphy's reaction to Nicole's initial pregnancy was upbeat from the start; he not only acknowledged his responsibility, he celebrated it. "I got a kid coming, and I'll have my first Christmas with my baby in December," he proudly told Pierce O'Donnell, coauthor of Fatal Subtraction. (O'Donnell's book deals with a successful suit against Paramount Pictures by columnist Art Buchwald, who claimed that he had originated the idea for the Murphy movie Corning to America.) Says Murphy of what were then uncharacteristic paternal stirrings: "I wanted to have a kid with Nicole because I was in love with her."
Love is one thing; commitment another. For the first year of Bria's life, Murphy was scared and confused, he says, and kept his distance. His lover and child luxuriated in a SI million lakefront mansion he bought for them in Sacramento. Murphy flew in from New Jersey sporadically, more like an amiable uncle than a devoted dad. "I associated the whole family thing with being a middle-aged person," Murphy said. "I was holding on to my youth. I could feel it pulling in me, but I was like, 'I'm still Ed. Still single. I'm a bachelor.' "
To his mother, Eddie's antics came as little surprise. "He's very, very tricky," says Lillian. "It couldn't have been easy to court Eddie." But if anyone could ride out Murphy's moods, it was Nicole Mitchell. Her parents had separated when she was a child (though they later reunited), and Nicole and her three brothers, Trevor, now 41, Nathan, 28, and Darius, 19, were raised by their mother, Ellen. "Her mom never made single parenting look tough," says family friend Garcia Smith. "Nicole learned by example."
While her nervous boyfriend clung to his bachelorhood. Mitchell, financially comfortable with her own $100,000-a-year income in addition to Murphy's support, went serenely on with her life in Sacramento—exercise classes five times a week, bowling with friends. shopping with Bria. She did not pressure Eddie. "Nicole sits on the side and observes," says Garcia Smith. "Her strength is her reserve."
By Bria's second birthday, Murphy had begun shifting gears. "After a while, going to a disco all the time ain't that much fun," says Murphy. "Sitting in a room and shaking people's hands all night—it's not like you're having a great time." More fulfilling, he discovered, were the daily duties of daddyhood—like answering Bria's endless questions about her favorite singer, Michael Jackson. "To her, I'm just Daddy," says Murphy. "He's a star." For once in his life, he says, second billing wasn't so hard to take. "Fatherhood," he says, "made me a much more serious person."
Murphy was in just that frame of mind when, on Christmas Eve 1991, he peeked out from his Bubble Hill bathroom at Nicole, stretched out on the bed. "Bria wasn't feeling well," recalls Nicole, "and I was talking to Eddie about her fever. He came out and laid on the bed, and all of a sudden he grabbed my hand. I thought he was looking at my nails," she says, laughing. "But then he slipped this big rock on my finger and said, 'Let's get married.' I was so happy I couldn't sleep all night." Jokes Eddie, smiling tenderly at his fiancée: "I had to do the right thing."
Now the Reverend Butts is set to make Eddie's honorable impulse official. At their homes in New Jersey, Murphy's brothers, CB4 star Charlie Murphy, 34, and actor Vernon Lynch Jr., 25, and his cousin Ray Murphy Jr., 34, are practicing their groomsmen's toasts. His stepfather and best man, Vernon Lynch, is polishing his best shoes. And Bria, as head flower girl, is working on her most ladylike walk. But most excited is Murphy's mother, Lillian. "Marriage is a lot of give and lake, and they're going to have to work harder than most people," she says, injecting a note of realism before a statement of faith. "But they're going to be good for each other."
KAREN S. SCHNEIDER
SABRINA McFARLAND in New Jersey and KAREN G. JACKOVICH in Sacramento
Contributors:
Sabrina McFarland,
Karen G. Jackovich.
Advertisement
Today's Photos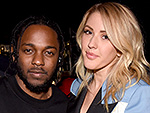 Treat Yourself! 4 Preview Issues
The most buzzed about stars this minute!