People Top 5
LAST UPDATE: Tuesday February 10, 2015 01:10PM EST
PEOPLE Top 5 are the most-viewed stories on the site over the past three days, updated every 60 minutes
Howard Stringer
The Man Who Won the Great David Letterman War Finds That Making CBS No. 1 Is All in the Stars
Soon after, Stringer dispatched to Letterman a special videotape of CBS correspondent Connie Chung, for whom Dave has jokingly lusted for years. In a low voice she vowed that if Letterman signed with CBS, whenever she made love with her husband, talk-show host Maury Povich, she would moan, "Oh, Dave! Oh...Dave!"
Finally, when Letterman had agreed to move to CBS but was waiting to see if NBC would match Black Rock's offer, Stringer delivered a Steuben eagle, accompanied by a note reading: "If the eagle hasn't landed, at least it's in flight."
David Letterman was the latest showbiz personality to be snared in the bear hug of affable, imposing (6'3", 216 lbs.) Howard Stringer. Part teddy, part grizzly, the Welshborn Stringer, 51, knows talent and how to nurture, cajole and flatter it. "I was constantly exuding a sense that we were comfortable, confident and cheerful," says Stringer of his Letterman-winning strategy. And that is the essence of the Stringer Touch—a style that has made hi in a key player in taking CBS from a sorry third ranking in prime time four years ago to its current first place.
Stringer's clout has grown out of a combination of relentless personal contact and judicious arm-twisting. By phone and in person, he constantly monitors the emotional temperatures of CBS's powerhouse producers, such as Linda Bloodworth-Thomason (Designing Women; Evening Shade; Hearts Afire) and Diane English (Murphy Brown; Love & War), and the network's sometimes twitchy stars.
On his desk is a bronze statue of a bronco rider, a gift from Evening Shade star Burl Reynolds, inscribed "To the only network president I can hang out with and still love." Candice (Murphy Brown) Bergen cites Stringer's "charm and wit—a very unusual combination for a network executive." And Angela Lansbury, who was then considering leaving the highly rated Murder, She Wrote, recalls how, after he was appointed to his post five years ago, Stringer immediately flew to L.A. and took her out to dinner. "It was the first time that am of us at the show fell appreciated, she says. Now, having re-upped for two more seasons, Lansbury says, "We all feel we're in a family again."
In the rough-and-tumble world of network politics, of course, not everyone is enamored of Stringer. One highly placed former colleague insists that "people who have battled with him and lost would say he was pretty cutthroat." Only a personality that cuts both ways could explain Stringer's Horatio Alger-like rise to the top. He was raised in England by his father. Harry, a sergeant in the Royal Air Force, and his wife, Marjorie, who worked as a coal trimmer and later as a schoolteacher. (His brother, Robert, 30, is a music executive in London.) At 11, Howard attended, on scholarship, England's top-ranked Oundle School. "It was very much survival of the fittest," he says. "My parents didn't own a car—and everyone else's had Rolls-Royces." As a result, he says, "I worked very hard to fit in. I became chameleon-like"—running track, singing in the choir and playing trumpet in the orchestra. At 19 he won a full scholarship to Oxford, where he was student-body president and captain of the rugby team. The year after his 1964 graduation, he sailed to the U.S. and from a fortuitous, unscheduled interview landed a job as a $70-a-week desk assistant at WCBS-TV—the New York City flagship station of the network that had mesmerized him in his British youth with The Jack Benny Show. I Love Lucy and Gunsmoke.
Six weeks later, he was drafted by the U.S. Army. "I wrote to Bobby Kennedy," he says, "and said, 'Look, I've been here for four months and you want me to die for you? Don't you think that's a little premature?' " Stringer ended up serving 10 months in Vietnam. After his discharge, he was rehired by CBS, and, in 1968. was assigned to the network's election research unit. He spent eight months drying through 35 states to analyze voter registration for the 1968 election. "That's how he learned about this country," says Stringer's friend, 60 Minutes correspondent Ed Bradley, then a local radio reporter. After the election, Stringer worked as a researcher for the network's prestigious documentary unit and rose through the ranks to producer. While making The Palestinians in the Middle East in 1974, he picked up some flak-dodging experience that would benefit him as a network head. "Bullets were flying all around us, and the cameraman pulled me down and said, 'You know, we're going to get killed,' " he recalls. "I hadn't been aware of that. I'd kept thinking, 'Hey, this is great footage.' "
Named in 1981 as executive producer of the then third-ranked CBS Evening News with Dan Rather, Stringer helped lift the show to the No. 1 spot by the next year. It didn't hurt that one of his strongest allies was anchor Dan Rather. "He was my choice," says Rather. "Other people were concerned that this would be a big mistake, but I had no doubt about him." Leapfrogging in 1986 to the president slot in the news division under new network CEO Laurence Tisch, Stringer was forced to preside over $30 million in budget cuts and some 200 layoffs. Says Stringer: "It was the loneliest moment of my life." He became president of the CBS Broadcast Group in 1988.
Despite Stringer's intense work ethic, he was never married to his job. Twenty-two years ago, Jennifer Patterson—prompted by her mother, headmistress at the school in England where Howard's mother taught—looked Stringer up during a trip to the States. "There was chemistry at first sight," he says. The two wed in 1978 and last December he and Jennifer, now a Manhattan dermatologist, adopted 2-week-old David Ridley Stringer. "I keep waiting for him to speak," says the enraptured new papa. "I want him to either lean over and play the piano or show extraordinary technical skills."
When not on the network firing line (he travels twice a month), Stringer can be found at New York Giants games with pal Andy (60 Minutes) Rooney, at the opera with Jennifer or at the couple's contemporary weekend home in East Hampton, named Bear Cottage after Jennifer's bear collection, which fills the house-There, Stringer enjoys cooing over David and poring over his collection of autographed books (Ian Fleming, Thomas Hardy, Graham Greene). Domestic bliss plus a new 4½-year contract with CBS have apparently relaxed him. Says his friend—and David's godmother—writer Nora Ephron, "Howard looks healthier than he has in five years. His complexion is nicer."
On the other hand, there are always more stars' egos to massage—plus the persistent conjecture that the networks may go the way of the dinosaurs. "Dinosaurs," Stringer notes, "lived for millions of years."
SUSAN SCHINDEHETTE
SUE CARSWELL in New York City
Contributors:
Sue Carswell.
SOMEHOW, MERELY OFFERING DAVID Letterman $42 million over three years didn't seem quite sufficient. So, even while he was wooing Letterman's negotiator, Hollywood superagent Michael Ovitz, CBS Broadcast Group president Howard Stringer came up with a few more inducements for the mercurial late-night star. First, he sent Letterman a Civil War photo of one Dr. Jonathan Letterman, a surly-looking battlefield surgeon, along with a note that read: "This has got to be a relative. He looks too miserable not to be."
Advertisement
Today's Photos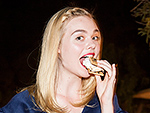 Treat Yourself! 4 Preview Issues
The most buzzed about stars this minute!