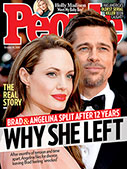 This Week's Issue!
People Top 5
LAST UPDATE: Tuesday February 10, 2015 01:10PM EST
PEOPLE Top 5 are the most-viewed stories on the site over the past three days, updated every 60 minutes
The Difference in Diffie
When Joe Was Country's Human Balloon, His Career Was All Ballast, No Lift


Less than a year later, Diffie only laughs at the slight. After all, with the release this month of his newest album, Honky Tonk Attitude, the onetime foundry worker with the booming tenor and a wide-open vocal range is no longer a face in the crowd among Nashville's new guard. Says country colleague Vince Gill: "There are plenty of singers in this town, but not many with a range like his." The latest CD is Diffie's third, the first two having spun off five No. 1 country singles, including the jukebox hit "Is It Cold in Here (Or Is It Just You)?"

Ironically, as Diffie's celebrity has grown, his corporeal presence has shrunk. Once a round mound of country sound at 5'10" and 260 lbs., he remembers being turned away by a record exec who "told me that if I looked like George Strait, he'd sign me immediately but that I needed to lose weight. So much of this business is about image. You have to compete with the Clint Blacks and Alan Jacksons. So you can't just sing—you have to look good too."

Diffie took the advice and shed the fat. Now a tidier 205, the singer-songwriter chugs through two-hour daily workouts, takes a personal trainer on the road and turns away grease-and-gravy fast foods for lean and low-cal (a diet that he blames for his pack-a-day cigarette habit). Even so, his weight continues to yo-yo, sometimes as much as 40 lbs. "It's a battle," says Diffie. "But I know I have to play the game and play on their field."

For Diffie the game started in the back of the family pickup, where he and his younger sisters, Meg and Monica, used to sing during family drives. Back home in Velma, Okla., he would mimic the vocals on records collected by his father, Joe Riley Diffie, a sometime teacher, rancher and welder. "Dad would say, 'Boy, nobody in the world can sing like George Jones,' " recalls Diffie, "and I'd think, 'Well, I can.' "

Then at 19, after his first semester at Cameron University in Lawton, Okla., Diffie married Janise Parker, took a machinist job to pay the bills and relegated his singing to weekend gigs with local bluegrass groups. "Real terrible-sounding bands," Diffie admits.

In 1986 his life went sour as well. He was laid off by the foundry and forced into bankruptcy. Then his marriage foundered, and his wife and their two kids (Parker, now 11, and Kara, 7) moved out. With nothing left to lose, he revived his dream of a music career and headed to Nashville, where he found work recording demo tapes for songwriters. There he met Debbie Jones, a nurse technician he married five years ago.

As his career began taking off, however, music and matrimony have proven a tough mix. On the road for 200 concerts a year, he must often leave Debbie back at their rented three-bedroom Nashville home to care for sons Tyler, 4, and Drew, 1. "When you spend so much time concentrating on one thing, something else is going to suffer," he says. "Invariably it's the marriage." Adding to the strain: a paternity suit filed last summer by a Tennessee woman naming Diffie as the father of her 5-year-old son. Diffie won't discuss the case, which is still pending.

Harder still have been the ongoing medical problems of Tyler, a Down syndrome baby who almost died two years ago from complications after a tonsillectomy. "Debbie had to deal with it more than I did," Diffie admits. "I had to go on the road. It was tough leaving your child behind knowing he may not be there when you get back, but you have the responsibility of having a band and all their families depending on you too."

In the future, Diffie says he hopes to find more time for his kids. In recent years he's seen Kara and Parker only two or three times a year, and "I don't think Drew knew who I was for a while," admits Diffie, claiming some progress on that front, at least. One night at home recently, the toddler spotted the singer on TV and began squealing happily. "He knew his daddy," says Diffie. "That was pretty cool."

CYNTHIA SANZ


SITTING ON HIS TOUR BUS DURING LAST summer's June Jam in Fort Payne, Ala., Joe Diffie noticed Billy Ray Cyrus' bus parked nearby. A good time to welcome the new kid to Nashville, figured Diffie, strolling over to greet the achy-breaky star. Could he wait five minutes, Diffie was asked? "I said, 'Hey, that's cool,' " says Diffie, who stationed himself outside the bus. Five minutes passed—no Billy Ray; 10 minutes—still no sign. "Twenty minutes later I'm still standing out there, and Billy Ray gets off the bus and blows right by me in this mob of bodyguards and screaming women," says Diffie. "Boy, did I look silly."
Advertisement
Treat Yourself! 4 Preview Issues
The most buzzed about stars this minute!