Archive Page - 12/1/12 39 years, 2,079 covers and 53,260 stories from PEOPLE magazine's history for you to enjoy
On Newsstands Now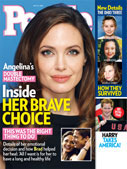 Angelina: Inside Her Brave Choice

New Details on the Ohio Three

Prince Harry Takes America!
Pick up your copy on newsstands
Click here for instant access to the Digital Magazine
People Top 5
LAST UPDATE: Tuesday May 21, 2013 03:10PM EDT
PEOPLE Top 5 are the most-viewed stories on the site over the past three days, updated every 60 minutes
New Face, New Body, New Self
Five Teens Talk About the Trials and Triumphs of Plastic Surgery
And that is the problem, agrees Marie Wilson, president the Ms. Foundation for Women, an organization that supports projects devoted to women and children. "Most of this is about [already] having a face that is just fine and hoping to make it perfect," she says. Susan Faludi, author of the best-selling Backlash: The Undeclared War Against American Women, which chronicles the media assault on women during the past decade, is even more critical of our cut-and-stitch-happy society where 87 out of every 100 plastic surgery patients are women. Blaming plastic surgeons for "wanting to play the role of Frankenstein, wanting the power to shape the female form as though it's putty," she observes: "Young women are much less free to come up with individual ideals of beauty than men, and the pressure to conform that causes young girls to have plastic surgery is one more way to confine them."
But apparently teenagers don't all see it that way. The girls—and boy—on the following pages were determined to change their lives through cosmetic surgery, and they did. They share their stories below.
Thinner thighs in an hour and a half—all for just $10,000
For years, Robyn Notrica, now 21, wore boxer shorts to the beach and bought pants five sizes too big in the waist because otherwise she couldn't squeeze her thighs into them. The pants she did wear were frayed between the legs where her flesh rubbed together. "My thighs were humongous," recalls the 5'2" sophomore at the New York School of Design in Manhattan. "I was small in my upper body, but my hips were huge." And not for lack of dieting. All the while she was growing up in suburban Roslyn, N.Y., she fought a nonstop battle against lower-body bulge. At one time weighing 175 lbs., she spent five summers at weight-loss camps and even followed the Nutri/System program. But nothing helped.
Thoroughly frustrated. Notrica began to think about a more drastic solution: liposuction. Finally, 2½ years ago, she went to see New York City plastic surgeon Dr. Helen Colen. "She said she'd never seen a girl my age with so much fat on her legs," says Notrica. Supported by her mother, Mania, a housewife, and her father, Jack, a retired cop, Robyn underwent a 1½ hour. $10,000 procedure, during which fat was suctioned from her hips and thighs. Explains Dr. Colen, who cautions patients to look for surgeons certified in liposuction techniques: "When the procedure was first done here in 1983, people died from shock because when you remove fat and fluid, you lose electrolytes too. But if you do it right, there is no problem." In fact, she says, teenagers respond better to liposuction than older women because their skin is more elastic and will shrink back into shape.
Notrica did experience discomfort though, ""for a week it felt as if I'd worked out too much," she says, and her legs remained bruised for a month. These days she can barely recall the unpleasantness. The only telltale signs are 12 fading scars, each the size of a pinky nail, that mark the spots where the liposuction cannula pierced her skin. Notrica, delighted by the new "great shape" of her legs, says the surgery eliminated six inches from her hips. Best of all, she has achieved her "biggest goal": to fit into a pair of Levi's—size 29 waist. "Liposuction," she says, "made me happy."
A new nose—and a chin to match
Growing up in East Brunswick, N.J., she was an accident-prone girl who broke her nose badly in ninth-grade gym class when she caught a basketball with her face. So Andrea Rudow visited Dr. Alvin Glasgold, the Highland Park, N.J., plastic surgeon who had straightened her older brother Gary's nose when he was 16. Since she was only 13 and still growing, Glasgold advised her to come back in six months. She did—"with a huge red bump on my face. The nasal bone, instead of growing down, was now growing out," she says. Classmates at East Brunswick High School noticed, too, and began calling her Rudolph.
During Andrea's consultation, Dr. Glasgold suggested not only a nose job but an implant to improve her receding chin. "He said that the line of your nose has to fit with your chin," says Rudow, "and I trusted him." According to Glasgold, 25 percent of all rhinoplasty patients also have receding chins. "Sometimes the chin is the real problem and the nose just a minor one," he says. "Correcting a chin is much simpler than doing rhinoplasty, and the results, using FDA-approved silicone rubber, are extremely consistent." Making an incision either under the chin or in the gums between the chin and the lip, the surgeon slips the implant into place, then anchors it with a surgical stitch to the tissue surrounding the bone. In 1988, when Andrea, now 19, had it done, the operation cost her father, Richard, a real estate appraiser, and her mother, Ricki, a medical secretary, $3,500. (Insurance paid most of the cost because her nasal bone was growing improperly.)
When her bandages came off, "I was laughing and crying at the same time," Rudow says. "Crying because I was so happy and laughing because it didn't look like me."
Rudow was so elated with the results that she was inspired to lose weight too. Back at school, she says, "they looked at me like, 'Oh, did you get a haircut?'" But Rudow felt the difference profoundly. Happier, and feeling prettier, she became less reclusive, making friends and dating regularly. Now a liberal arts student at Middlesex Community College in Edison, N.J., she sees only one drawback to her surgery. "Men whistle at me on the street," she says. "At first it was funny, but now it's like, enough."
A teenage Cyrano divests himself of a showpiece
Joe Mann's parents gave him a nose job for his high school graduation present in 1991. The $3,200 operation was something that the lanky, 6'1" Houston teenager had contemplated ever since junior high when, he recalls, "kids would tease me by saying things like, 'Is that your real nose?' And once there were these pegs in the locker room for us to hang our clothes on, and someone drew eyes and a mouth around one, like it was supposed to be me."
Even Mann's plastic surgeon, Dr. Charles Bailey, admits, "His was probably the largest nose I've ever seen." But Bailey believes that Mann was a good candidate for surgery for another reason. "Joe seemed very well adjusted," he says. "I'm generally more cautious with young males than young women. Women have a grasp of what they want, but with young men, it's more common to have an underlying problem—something else they don't feel good about." Not Joe. "He was not withdrawn and has a great sense of humor," says Bailey.
When the operation was finished, Mann asked for the pieces of bone and cartilage that were removed from his schnozz and keeps them in ajar of formaldehyde. He loves to show off his old nose—now that it's not on his face. "I'm glad I did it," says Mann, 19, a freshman at Houston Community College. Although he has no steady these days, he notices that since his transformation, "I have more dates, and I think it's because I look better." That's not all. "People are more courteous," he says. "Like salespeople. They'd rather talk to a good-looking person than a not-so-good-looking one."
Seeking the perfect nose: After three strikes, success
One year ago, after three botched rhinoplasty attempts, Jill Fugler of suburban Houston was beside herself with frustration and disappointment. Today the 22-year-old boasts a perfect profile, thanks both to her own resolute spirit and to Houston plastic surgeon Dr. Benjamin Cohen.
Fugler's odyssey began in 1987 when, at 17, she decided to fix the nose she had broken in a neighborhood foot-ball game during junior high school. After the surgery the tip had a permanent "swollen" look, she says. When she complained, her surgeon scheduled a second operation. And a third. But the tip remained puffy.
Enter Dr. Cohen, whom Fugler's mom had seen on a local Houston TV show about plastic surgery. Cohen's explanation for the puffiness: "Too much cartilage had been taken from the tip of her nose." Using a new cartilage-graft technique, Cohen removed excess scar tissue and filled out the tip. "Before, I wanted people to look me in the face and not see my profile," says Fugler, who is completing an associate degree at North Harris Montgomery College in Houston. "Now I look at my profile every day."
There are times when a nose opens doors
Ever since she was 3, Stacy Hirsch had her heart set on becoming an actress. Singing and dancing lessons were part of the plan. So, too, after she turned 14, was a nose job. "I had made a real commitment to the profession," says Stacy, 16. "I thought having my nose done would give me a new look that would increase my marketability."
Before her surgery, says Stacy, "people weren't really seeing me; they were speaking to me and thinking, 'She's got a big nose.' " Because of Stacy's unhappiness about her appearance, her parents, Larry, a manufacturer's representative, and Linda, a preschool teacher, backed Stacy's decision. "I'd had a nose job myself at 16," says Linda. "I never said anything to Stacy about her nose, but she knew I'd had mine done, and maybe that stuck in her mind."
Still, Stacy worried that friends would perceive her as vain and only told those closest to her. "I asked myself, 'Should I not do this because it's not the good thing to do?' " she admits. "But I decided I didn't want to ask, 'What if? Would I have gotten that job if I looked different?' "
In July 1991, after her freshman year at Glenbrook North High School in Northbrook, Ill., Stacy scheduled surgery with Dr. Jack Kerth, who asked Stacy to bring in pictures of noses that she liked. "I looked through my teen magazines and tore off the noses of
Julia Roberts
and Cindy Crawford," says Stacy. "But I asked Dr. Kerth for a nose that fits my face, that looks natural." And, she believes, she got one. "It was the nose I was born to have and didn't get," she says.
When Hirsch returned to school in September, she says, "boys noticed me." What's more, she got a part on Energy Express, a Chicago TV show for teens about sports, which has been picked up nationally for syndication. "I would never have had this response if I had looked a different way," says Hirsch. "When your outside equals your inside, you're going to get twice as much as you already have."
MARJORIE ROSEN
ALLISON LYNN in New York, JOAN JENKINS in Houston and BARBARA SANDLER in Chicago
Contributors:
Allison Lynn,
Joan Jenkins,
Barbara Sandler.
In high school a teenager's looks can become a life-absorbing obsession, a source of painful and disabling self-consciousness. So what's the problem with using a knife to put right what nature seems to have done all wrong? "Nothing," says Camille Paglia, author of the controversial Sexual Personae, a study of cultural decadence, "as long as there is a serious defect which plastic surgery can correct and help a young person feel more confident. But unfortunately the model that has evolved is the Barbie doll.
Advertisement
Treat Yourself! 4 Preview Issues
The most buzzed about stars this minute!