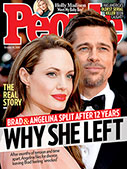 This Week's Issue!
People Top 5
LAST UPDATE: Tuesday February 10, 2015 01:10PM EST
PEOPLE Top 5 are the most-viewed stories on the site over the past three days, updated every 60 minutes
Picks and Pans Main: Tube
Black Widow Murders: the Blanche Taylor Moore Story


CBS (Saturdays, 9 p.m. ET)

C +

This series came to TV with high hopes. After all, it is based on director Penny Marshall's hit movie of last summer about two sisters competing in a women's baseball league during World War II. Marshall shepherded the TV project as executive producer and directed the pilot. The writers of the movie, Babaloo Mandel and Lowell Ganz, also wrote a few of the episodes. There's a lot of talent involved, but the show's a bust.

It lacks the sentimental, sororal spirit at the center of the film. Mostly what it's missing, though, is humor, which is a not unimportant element when you're putting on a sitcom.

As far as the acting goes, it ranges from the weak (Carey Lowell in the Geena Davis role as lanky catcher Dottie) to the game but doomed (Sam McMurray, following Tom Hanks as manager Jimmy Dugan) to the good (Christine Elise as Dottie's competitive sister, Kit). In fact, Elise's performance as the scrappy pitcher is the only improvement over the big-screen version. (Lori Petty played Kit in the movie.) Judging by her tortured motion, however, I'd wager that if the camera ever followed the trajectory of one of Elise's pitches after it left her hand, we'd see it land about four feet from the mound. That's fitting. Most of the gags are weak and off-target too.

This is strictly bush League. (One trivia note: The second episode was directed by Ted Bessell. Veteran TV viewers may remember him as Marlo Thomas's flustered boyfriend, Donald, on That Girl.)

ABC (Mon., May 3, 9 p.m. ET)

A-

This often spellbinding two-parter is based on the murderous rampage of Charles Starkweather in Nebraska in 1958.

Tim Roth (Reservoir Dogs), who looks like a demented, ducktailed Eric-Idle, is marvelous as the vile 19-year-old Starkweather. Fairuza Balk (Return to Oz) is also excellent as Starkweather's 14-year-old girlfriend, Caril Ann Fugate. Starkweather is a dirt-poor Midwestern delinquent with a taste for guns and rock and roll. When he loses his job hauling trash and is forbidden to see Caril Ann by her parents, he drags her on his senseless shooting spree, which claims 10 lives and shocks the Eisenhower era's veneer of decency and politesse.

Over the first night, which details Starkweather's killings, director Robert Markowitz maintains a shatteringly spooky mood along with a perfectly achieved sense of time and place. The conclusion (the following night) shifts to the capture and trials of Starkweather and Fugate. Though it brings in fresh acting troops (Brian Dennehy as her lawyer and Randy Quaid as the prosecutor), it never recaptures the mesmerizing power of the first half. (Starkweather was executed in the electric chair—a 1959 event graphically depicted here. Fugate received life imprisonment and was paroled in 1976. She now works as a nurse's aide in Michigan.)

Roth plays Starkweather as a punk, smirking and snapping gum even as he's sentenced to death. But he's a very image-conscious punk. When his lawyer (Milo O'Shea) counsels him to plead insanity, Roth responds, "No way. I'd rather skip the trial and go straight to the [electric] chair.... I got a reputation to uphold.... Nobody remembers a crazy man." Nobody who sees this movie will forget Roth's Starkweather.

NBC (Mon., May 3, 9 p.m. ET) [P] [GRADE "B"] [P] In this fact-based drama, Elizabeth [Bewitched) Montgomery stars as Moore, a North Carolina woman currently on death row. [P] As the movie begins, this trailer-park dolly always has some man on the hook while she's flirting with the next. Romantically she runs hot and cold, seductive one minute and dismissive the next. But, as you might have surmised from the title, this isn't the tale of a mere serial lover. [P] After eating her banana pudding, her boyfriend (John M. Jackson) takes sick and is hospitalized with severe gastrointestinal problems. On his deathbed, he makes her executor of his will. She then marries a minister (David Clennon), who develops the same grave symptoms. That leads authorities to examine her past. They start exhuming the bodies of men in her life—including her father—and find arsenic in all of them. Seems she's been using Anti-Ant, an insecticide, in her recipes, the way some cooks use Mrs. Dash. [P] The chronology and. narrative are a little confusing and the childhood flashbacks murky. But as far as grotesque reenactments go, this one's pretty gripping. Montgomery is a marvel. [P]
The May sweeps are upon us, which means a steady stream of movies with the word murder in the title. So the battle for ratings goes on, even though the war is over. The 1992-93 Nielsen TV season officially ended last week with CBS winning for the second year in a row, ABC finishing a respectable second and NBC, which a short time ago seemed invincible, limping along in third, several lengths behind. Fox, banging its drum of excess and experimentation, loudly brought up the rear. Someday Fox's turn will come. In the cyclical TV ratings war, it is ever true that the last will be first. CBS dominated the '60s, ABC the '70s, NBC the '80s. CBS has the jump on the '90s, but it's early yet, and the playing field is shifting all the time.
Advertisement
Treat Yourself! 4 Preview Issues
The most buzzed about stars this minute!