People Top 5
LAST UPDATE: Tuesday February 10, 2015 01:10PM EST
PEOPLE Top 5 are the most-viewed stories on the site over the past three days, updated every 60 minutes
Cheetahs' Champions
Slower Only Than a Speeding Bullet, the Cats Get Help from a Pair of Yanks
It is here that Laurie Marker-Kraus, 38, and her husband, Daniel Kraus, are waging a desperate campaign to defend one of the world's last populations of wild cheetahs. "People were surprised that we would leave a well-paying job [in Washington] to do something like this," says Daniel, 44. Asks Laurie: "Why sit in Washington and talk about cheetahs? We have to be in Namibia to talk about cheetahs."
Certainly something needed doing. At the turn of the century there were an estimated 100,000 swift, slender cheetahs roaming Africa and Asia. By 1980 hunting and habitat destruction had reduced their number to around 10,000. Today the world's largest population of wild cheetahs—about 2,500—survives in Namibia.
It is a poignant fate for a species once prized as court pets by Egyptian pharaohs and African emperors. Built like greyhounds with small heads, the 4'-long, 100-lb. cheetahs, with their long, powerful legs, are the fastest land animals over short distances—able to reach speeds of 70 mph. Daniel explains that cheetahs are often persecuted for crimes they don't commit. Even when caracals and jackals take livestock, the cheetah gets blamed. "They're indiscriminately trapped and killed," says Daniel.
In April 1991 the Krauses, who were codirecting a research center on endangered species, including the cheetah, within the National Zoo, decided on a more direct approach. By selling land they owned in Oregon and obtaining a few grants, they raised $40,000 and moved to Namibia. Their goal was to educate Namibian farmers about cheetah conservation.
But first they had to educate themselves. Since arriving, the Krauses have crisscrossed 4 million acres of Namibia, finding out everything they could about farmers' problems with the cheetah. "Even if they've killed hundreds of cheetahs, we have to show them how they can farm profitably with cheetahs on their land," explains Daniel. Instead of killing a predatory cheetah, the Krauses urge farmers to protect their herds with large dogs and biting, kicking donkeys. "Cheetahs aren't aggressive animals," says Daniel. "A person with a stick can chase off several of them." The Krauses cite the success of one farmer, who raised a baboon with his goats. "Not only did it fiercely protect the stock," says Daniel, "it ate the parasites off the animals too."
The Krauses came to the cheetah's defense via independent but parallel career paths. Laurie Marker grew up in Rolling Hills, Calif., then studied wildlife management at Eastern Oregon Slate College. She took a job at Wildlife Safari Park in Winston, Oreg., where she began working with cheetahs bred in captivity. It was there she met Daniel Kraus, a wildlife expert specializing in elephants and big cats. Reared in East Norwalk, Conn., Daniel had worked with naturalist George Adamson in Kenya, releasing captive leopards into the wild. The couple married in 1988 and moved to Washington to work on behalf of endangered species. From there, Namibia was a natural next step.
So far, the Krauses are encouraged by the support they have received from the Namibian government, which has given them full clearance for their research. And increasingly local farmers call the Krauses when they trap a cheetah. Over the last six months the couple have tagged nine captured animals, which have then been released back to the wild. Five more cheetahs have been placed in large holding areas awaiting future release. "It's a question of adapting farmers to fit in with cheetahs," says Arthur Bagot-Smith, the owner of a 32,500-acre cattle ranch, who now calls himself a cheetah conservationist. "They're not as serious a problem as people think."
For the Krauses, this sort of sentiment makes their work worthwhile. "We're not just here to do a little research project and leave," says Daniel. "We've come to work with the people to accomplish something on a long-term basis. We want to try to make Namibia the cheetah capital of the world."
SUSAN REED
LUCHINA FISHER with the Krauses
Contributors:
Luchina Fisher.
THERE'S NO RECEPTIONIST. NO CARPETING. The electricity is diesel powered, and the telephone is a party line shared among eight neighboring farms. The compensation is this: The headquarters of the Cheetah Conservation Fund, in a remote town in the sparsely populated southwest African nation of Namibia, is probably closer to the animals it exists to protect than that of any other international wildlife organization.
Advertisement
Today's Photos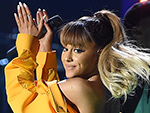 Treat Yourself! 4 Preview Issues
The most buzzed about stars this minute!